MUSICIANS CAN BE A SOUND INVESTMENT IN YOUR PROPOSAL
Chicago Proposal Guitarist, Eric Taylor, remembers taking group piano lessons in preschool with his neighbor. "I was probably the worst student, but I really enjoyed putting the headphones on and being in my own little musical world."
Taylor's parents didn't play any instruments but when they purchased a Eric a Casio SK-10 Keyboard when he was 4 years old, "that was just the coolest thing to me I wrote little riffs and mini songs, and hit the demo button and danced along to it."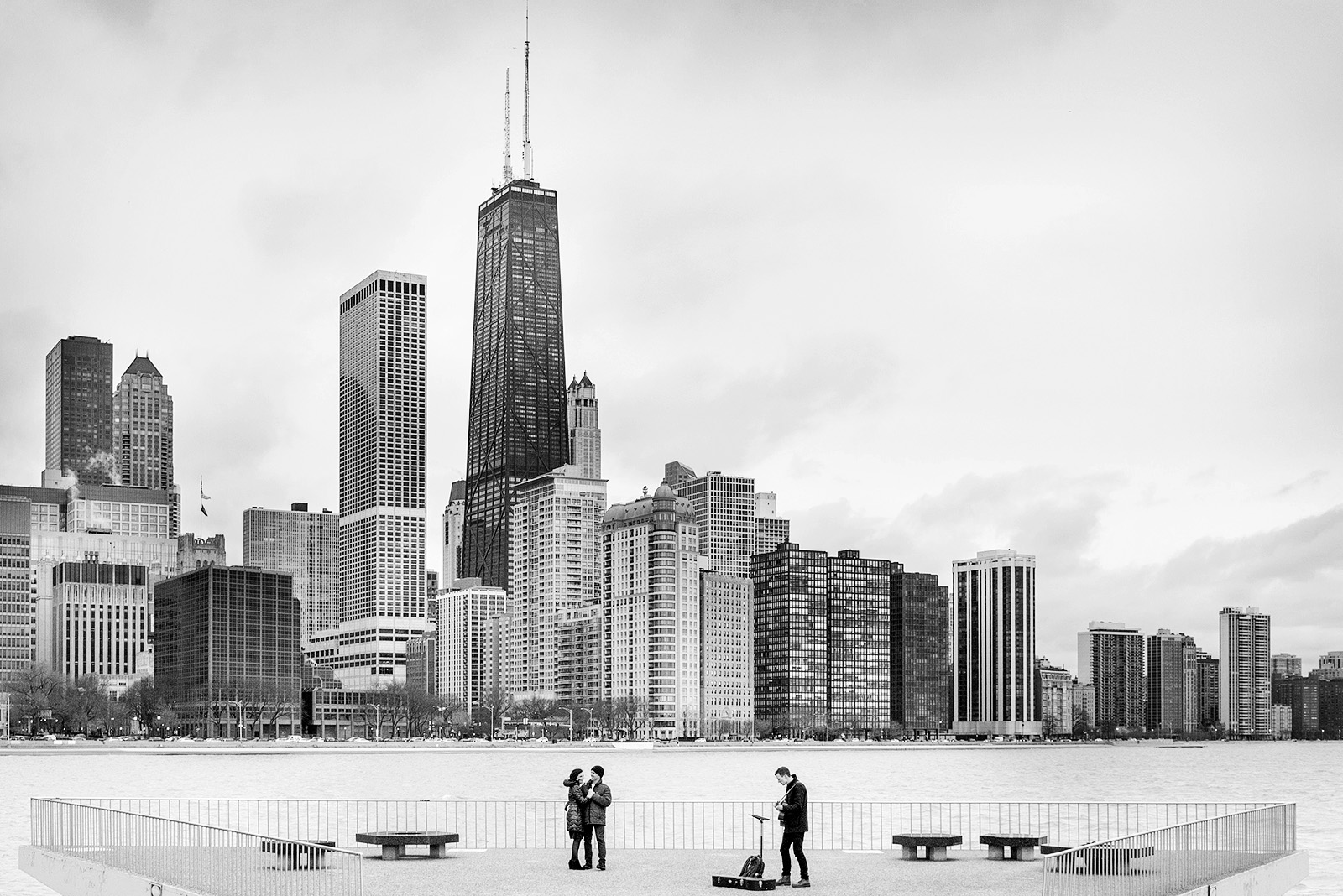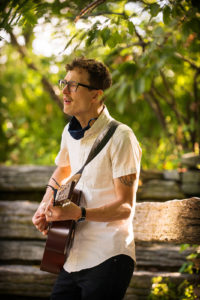 Later in life, Eric became very interested in violin because thanks to his older brother who inspired him by performing in an orchestra. "I think that played a huge part in my interest in music" said Taylor.
Music is more than an accompaniment in our lives: For many like Taylor, music is a driving force behind their life.
Music activates many parts of our brain, including the limbic system, which is involved in motivation, emotion, learning, and memory. In fact, music is now known to stimulate almost every part of the brain.
One of the most important issues in the psychology of music is how music plays a huge role in emotional experiences. Music has the ability to evoke powerful emotional responses such as chills and thrills in listeners. Positive emotions dominate musical experiences which leads to the release of neurotransmitters associated with reward, such as dopamine.
Memories are one of the important ways in which music evokes emotions. Have you ever tried to watch a scary movie without the sound? It isn't the film that makes a movie scary; it's the sound. Since we can't see in the dark, we rely on our ears to bring about a fight-or-flight response. That fight-or-flight response comes with a huge rush of dopamine, which is enjoyable as long as part of you knows you're only watching a film, riding a roller coaster or high on a drug and not in any real danger. We're evolutionarily disposed to react to sound before light.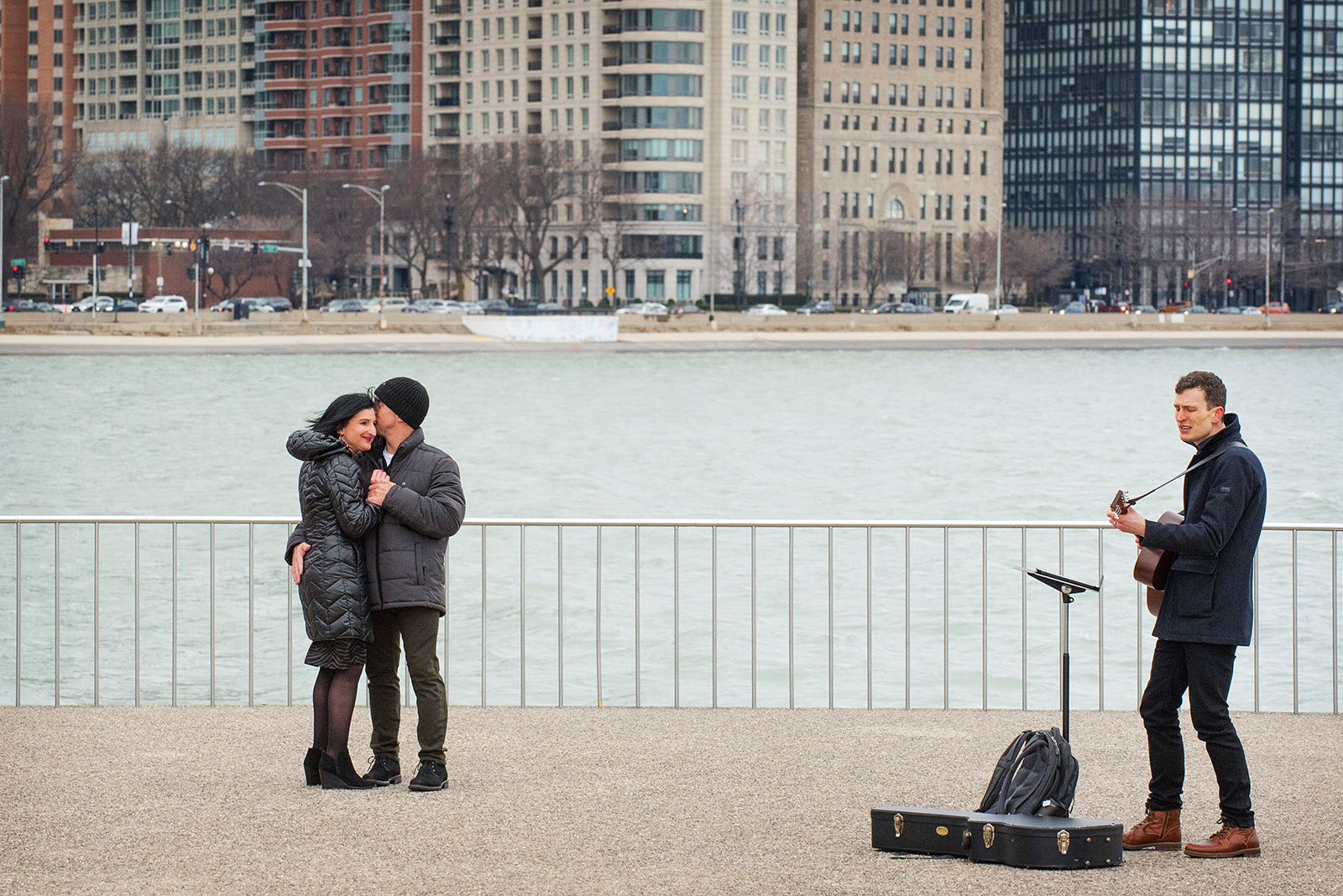 "I love watching live music because it helps bring people together into the present moment. So, when I play a proposal, I try and bring that spirit into the performance, aiming to create a unique experience that will be exclusive to the client. My hope is to enhance the experience that they will remember for the rest of their lives" exclaims Taylor.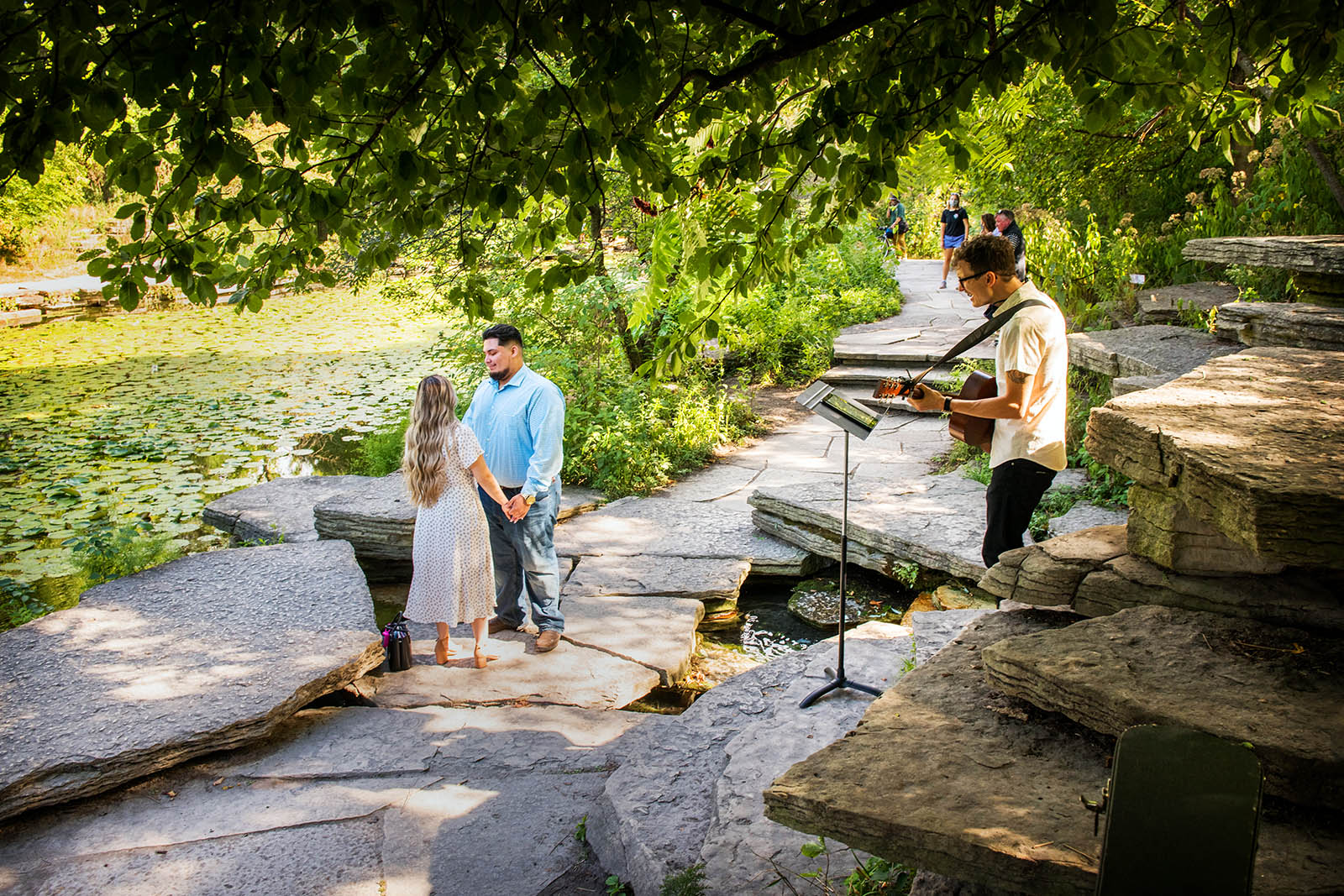 Though Taylor is a guitarist at heart, he can also play the bass, piano, violin, drums – and he sings too! "Guitar will always be my favorite instrument, but piano is a close second. I grew up playing in bands where we would rotate on instruments for fun. We practiced in my friend's attic, and I'm sure we drove the neighbors insane. Playing all those different instruments really helped me understand the function of all the instruments in a band, and what makes a good song."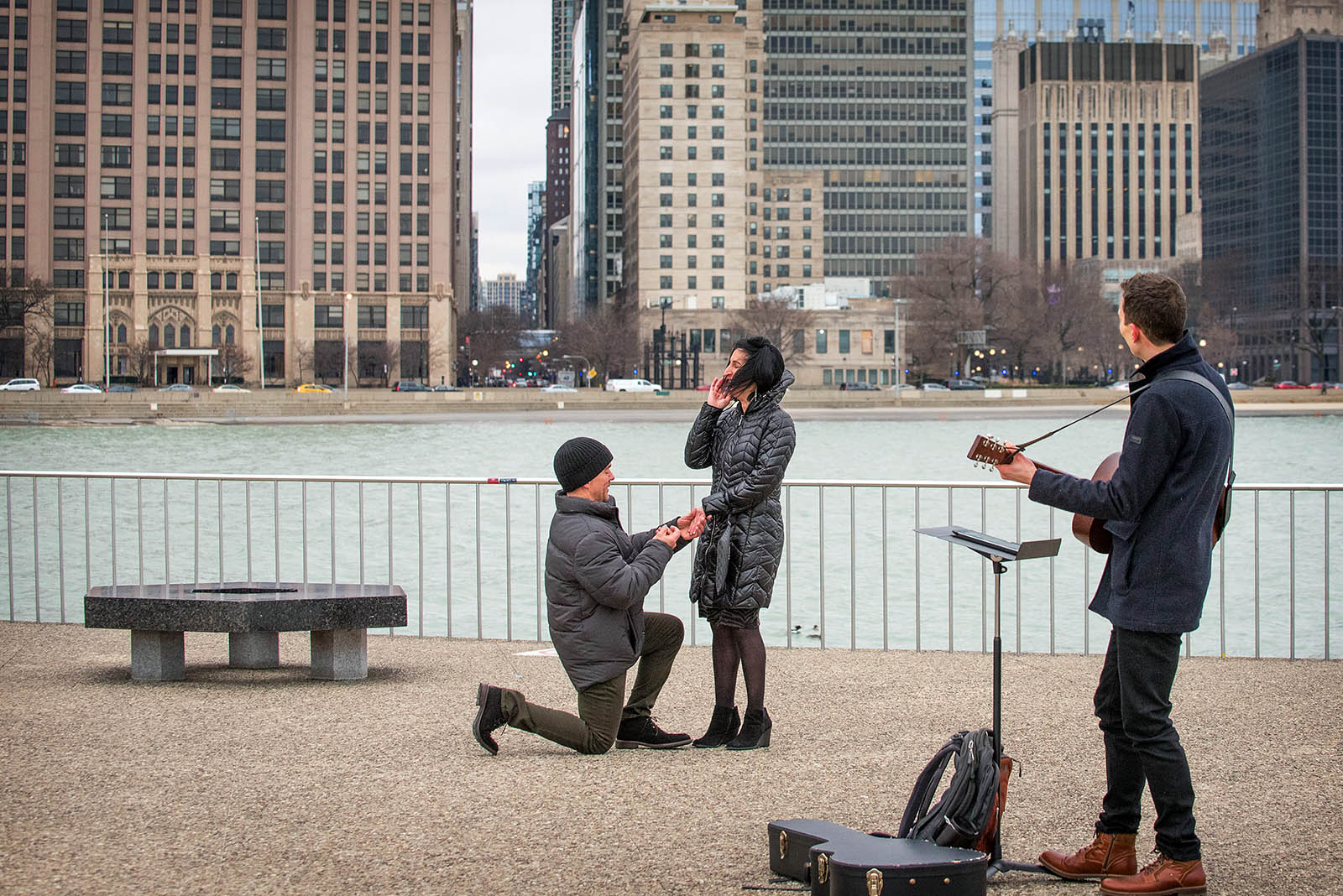 When asked what his favorite type of song is to perform he say, "I grew up in the 90's, so I have a soft spot for any 90's music. Third Eye Blind, Nirvana, Del Amitri, Blink 182, Notorious B.I.G., … I mean there's just so much good music from that decade. I also have a soft spot for 70s rock – The Band, Little Feat, Tom Petty, anything that has kind of a southern rock and roll vibe to it." However, we asked if if has any advice for those hoping to commission a personal performance for their proposal, Taylor suggests his clients "pick music that is special to you and your partner. Don't worry about if it will work because of the instruments or the arrangement. There's always a way to rearrange a song to fit a certain instrumentation. If the song means something to you and yours, that is what is most important."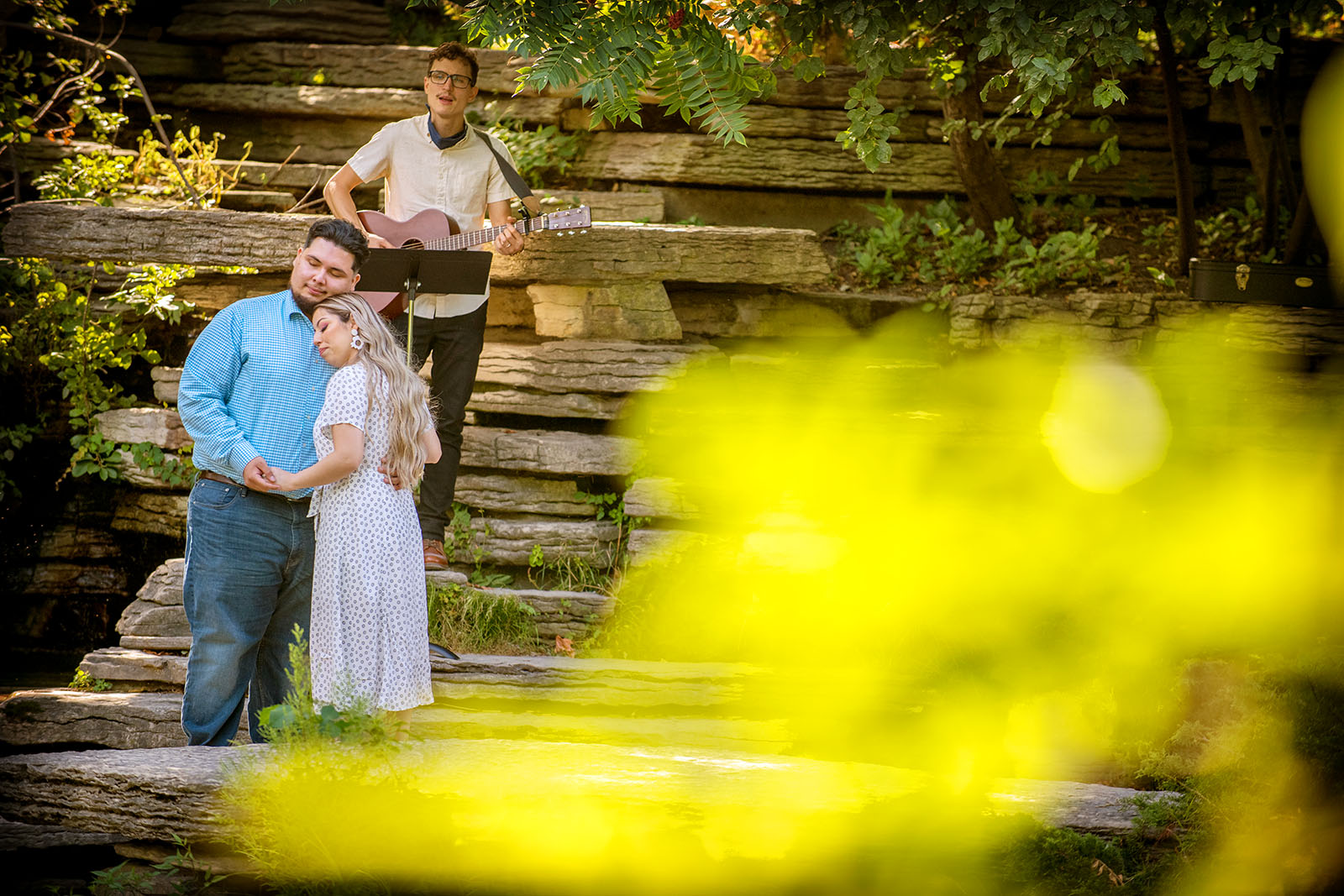 According to WeddingWire, "When it comes to choosing the right proposal songs for your "marry me" playlist, there are a bunch of ways you could go — something totally lovey-dovey and romantic, upbeat and fun, or maybe even a little silly. Your proposal song all depends on your personality and the ambiance you're trying to create.
Visit our Chicago Proposal Photography gallery to explore our portfolio and take the first step in commissioning Eric to perform your favorite three songs during your proposal by using our Contact form today or emailing jason@jasonkaczorowski.com and we will send you, "The Art of Proposing: A Guide to Planning the Logistics for Asking the Biggest Question of Your Life" just for inquiring.
See more posts: