Chicago Proposal Photography

Need help planning your proposal in Chicago?
Whether you are visiting The Windy City or are a native, planning on proposing in Chicago might seem a little overwhelming.
I ease anxieties by helping plan, orchestrate and photograph picture-perfect proposals in Chicago.  
I have helped plan and photograph over 250 proposals throughout Chicago and would be honored to capture your "Yes!" 
Should I hire a photographer to photograph my proposal?
What once was an intimate moment has become something couples are capturing and sharing as much as their engagement pics and wedding photos.
According to The Knot 2017 Jewelry & Engagement Study — which surveyed more than 14,000 engaged or recently married people across the US — 47% of couples (nearly half!) hired a photographer to capture the special moment. 
45% of proposals occur in a public place such as a scenic spot, garden, park or zoo — signifying a shift away from the typical private proposal.
If you're a super planner or are trying to conjure together a last minute proposal while on vacation in Chicago, I will help plan and photograph the perfect proposal for you.
Where is the best spot to propose in Chicago?
My personal favorite location to pop the question in Chicago, and what I consider the best location in Chicago to get engaged, is beneath the magnificent Chicago skyline at North Avenue Beach.

Other popular Chicago proposal locations include the Chicago Riverwalk, the Alfred Caldwell Lily Pool located in Lincoln Park, The South Pond Pavilion at the Nature Boardwalk at Lincoln Park Zoo, The Chicago Theater, the Garden of the Phoenix Japanese Garden in Jackson Park's Osaka Garden, The Adler Planetarium, along with the entire Chicago Museum Campus overlooking the Chicago Skyline.

If there's rain or snow in the forecast, I can always help secure permits for indoor locations such as The Rookery. This historic Chicago icon from 1888 was designed by famed Chicago architects Daniel Burnham and John Root and reimagined by Frank Lloyd Wright in 1905.
According to The Knot, the top three spots women said they'd prefer to get engaged was (1) on vacation (2) at the site of your first date (3) or at a landmark. Perhaps that's why so many contact our studio to photograph their proposal while visiting Chicago on vacation.
If you've never been to The Windy City before and are looking for the best locations to pop the question in Chicago, I will help plan and photograph the perfect proposal for you.
It doesn't matter if it's raining on your proposal, a Winter proposal, a Spring proposal, a Summer Proposal, a Fall Proposal, a Sunrise proposal, a Sunset proposal or even a Surprise proposal in front of family & friends at your favorite restaurant, I've photographed proposals in every season, climate and location imaginable.
How much does it cost to photograph my proposal in Chicago?
Includes
• Planning & Consultations
• Early Arrival & Wait Time
• Candid or "Coached" Approach
• Image Selection and Correction
• Same-Day Highlights
• Full Resolution Digital Files
• Guaranteed 72 Hour Delivery
Option to Add
150
0.75 hour Portrait Session
150
Second Photographer
Why trust Jason Kaczorowski Photography to photograph your proposal?
These are the moments in life that you are worth investing in. Don't take chances on someone still honing their craft. 
I've been photographing proposals for more than a decade and capturing weddings for over 18 years. I have photographed over 250 proposals and more than 650 weddings since 2005.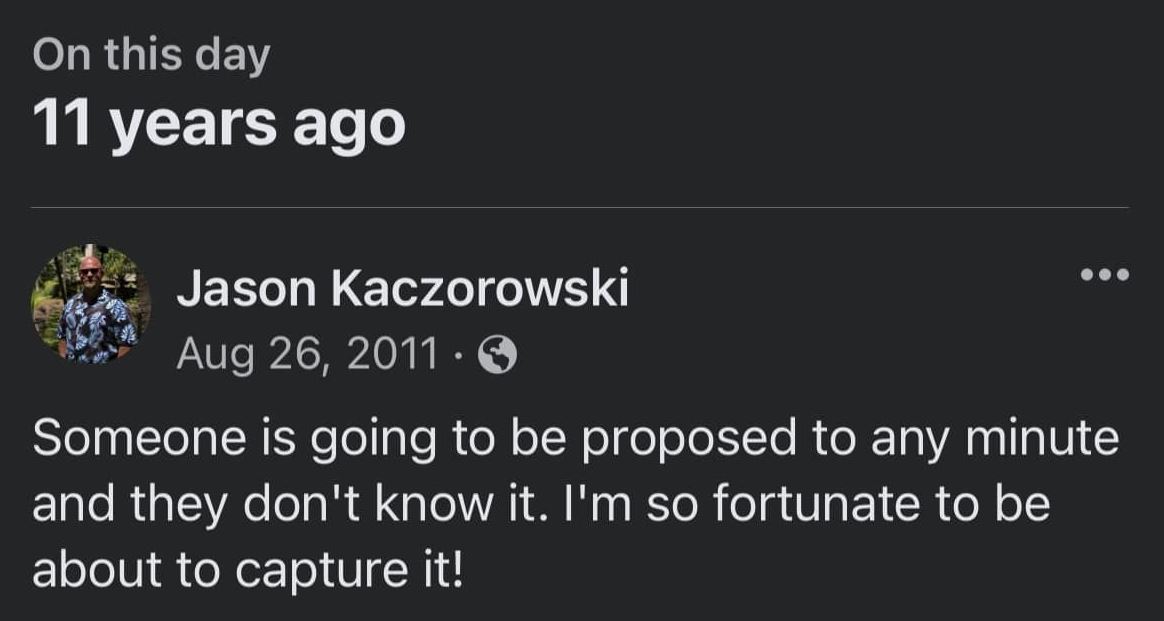 In 2021, I photographed 54 proposals – more than any other Chicago proposal photographer – and in 2022 my team and I captured more than 100!
I work with a dedicated team of Associate Photographers so even if I am personally already booked for your date, I can always assign the honor of capturing your "Yes!" to one of my trusted team photographers. I will still work with you every step of the way in planning your proposal and will be the one processing and perfecting your images so they share the same quality and consistency you admire about my portfolio. 
I'm so confident that you will love working with me that I will photograph your proposal for free! I will rebate the entire amount of your Proposal Photography and apply it toward your wedding photography if choose to trust my team and I to capture your big day too!  
I would be honored to be trusted to orchestrate and capture your proposal. Contact Me today and I will send you "The Art of Proposing: A Guide to Planning the Logistics for Asking the Biggest Question of Your Life" just for reaching out.