Chicago Proposal Photography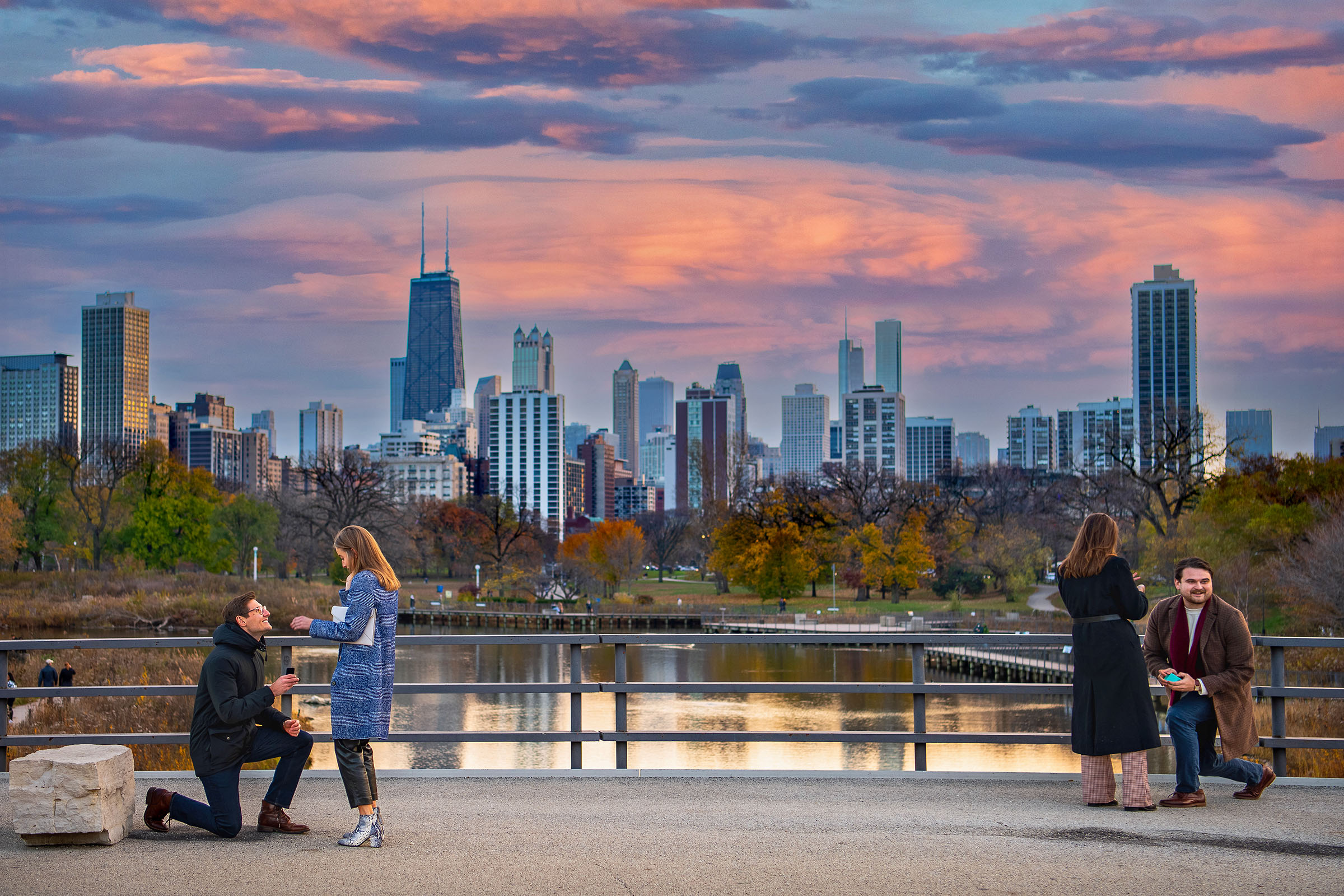 What are the chances of photographing two simultaneous proposals?
I was about to capture a proposal for my clients, Chris & Steph (not pictured), when the gentleman on the left stepped into the area I had been guarding in anticipation of my client's arrival.

"Hey, can you step a few feet to your left?" I whispered as my clients were approaching. I'm photographing a proposal that's about to happen any second".


Politely the man stepped out of my frame and I proceeded to photograph Chris getting down on one knee to ask his girlfriend, Stephanie, to marry him (Spoiler Alert: She said Yes!). Afterwards I thanked the gentleman to which he said, "I'm actually about to propose myself." I asked if he had a photographer coming to capture the moment and he confessed he didn't and that he'd flown in from New York to surprise his girlfriend. Thanking him again for his assistance, I said I'd be happy to capture his proposal. His girlfriend was 15 minutes away so my clients and I captured portraits while we waited for the moment to strike.


The location he had chosen – the bridge spanning the South Pond Nature Boardwalk at the Lincoln Park Zoo in Chicago – was nearly empty, aside from a couple beside them taking a selfie of themselves beneath the setting sun and Chicago skyline.


Just as he was dropping to one knee, the gentleman behind him, with the timing of Olympic Synchronized Swimmer, got down on knee to propose to his girlfriend.


Despite both gentlemen proposing at the exact same time, neither they, nor their fiancées, were the wiser of what was happening right behind their own backs.

What are the chances!
This is just one more reason to add to the list of why I love photographing proposals so much.
I love the surprise. I love the reaction.  I love the big unveil. I love the all emotion – from nervous tension through the tight embrace.
Jason Kaczorowski
November 20, 2021
Proposal Photography in Chicago
Whether you are visiting The Windy City for the first time or are a Chicago native, planning on proposing in Chicago might seem overwhelming. It can be, especially if you're considering hiring a professional photographer to capture your Proposal Photography in Chicago.
We will work with you every step of the way to help plan, orchestrate and photograph your picture-perfect Chicago proposal. 
Need help planning your marriage proposal in Chicago?
We cannot only photograph your proposal in Chicago but can also help facilitate location permits, floral arrangements, musicians, restaurants recommendations and reservations plus provide private transportation. Having been professional photographers in the wedding and event industry for more than 16 years in Chicago, we have amassed a wide network of vendors that we trust implicitly and are pleased to recommend or help secure on your behalf.
Should I hire a photographer to photograph my proposal?
What once was an intimate moment has become something couples are capturing and sharing as much as their engagement pics and wedding photos. According to The Knot 2017 Jewelry & Engagement Study — which surveyed more than 14,000 engaged or recently married people across the US — 47 percent of couples (nearly half!) hired a photographer to capture the special moment. 
45 percent of proposals occur in a public place such as a scenic spot, garden, park or zoo — signifying a shift away from the typical private proposal.
We have photographed over 100 marriage proposals throughout Illinois. Our favorite locations for Chicago proposal photography, and what we personally consider the best location in Chicago to get engaged, is along the lakefront in front of the magnificent Chicago skyline at North Avenue Beach. Other popular Chicago proposal locations include the Chicago Riverwalk, the Alfred Caldwell Lily Pool located in Lincoln Park, The South Pond Pavilion at the Nature Boardwalk at Lincoln Park Zoo, The Chicago Theater, the Garden of the Phoenix Japanese Garden in Jackson Park's Osaka Garden, The Adler Planetarium, along with the entire Chicago Museum Campus overlooking the Chicago Skyline.
According to The Knot, the top three spots women said they'd prefer to get engaged was (1) on vacation (2) at the site of your first date (3) or at a landmark. Perhaps that's why so many contact our studio to photograph their proposal while visiting Chicago on vacation. If you've never been to The Windy City before and are looking for the best locations to pop the question in Chicago, we will help plan the perfect proposal for you!

Did you know that proposers report taking tons of time and effort into meticulously organizing the event down to the last detail, averaging about 4.4 months of planning  to ensure everything goes off without a hitch. If you're a super planner or are trying to conjure together a last minute proposal while on vacation in Chicago, we can help plan and photograph the perfect proposal for you!
It doesn't matter if it's raining on your proposal, a Winter proposal, a Spring proposal, a Summer Proposal, a Fall Proposal, a Sunrise proposal, a Sunset proposal or even a Surprise proposal in front of family & friends at your favorite restaurant, we have photographed proposals in every season, climate and location that you can think.
We're so confident that you will love working with us that we will rebate the entire amount of your Proposal Photography and apply it toward your Wedding Photography.
Contact Us today and we will send you "The Art of Proposing: A Guide to Planning the Logistics for Asking the Biggest Question of Your Life" just for reaching out.
Includes
• Planning Consultation
• Early Arrival & Wait Time
• Full Resolution Digital Files
• Guaranteed 72 Hour Delivery
Option to Add
150
30 minutes