Chicago Proposal Photography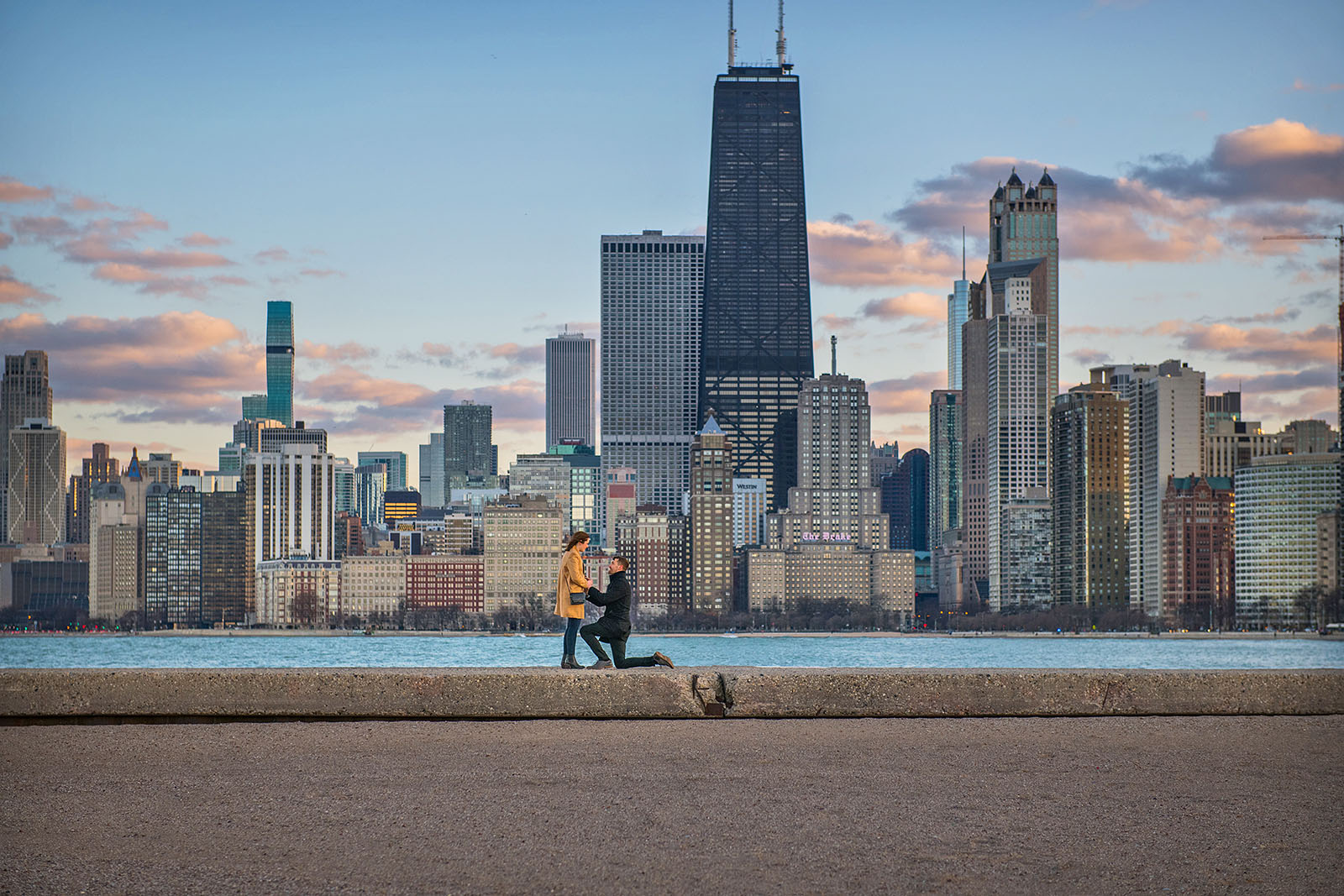 Proposal Photography in Chicago
Whether you are visiting The Windy City for the first time or are a Chicago native, planning on proposing in Chicago might seem overwhelming. It can be, especially if you're considering hiring a professional photographer to capture your Proposal Photography in Chicago.
We will work with you every step of the way to help plan, orchestrate and photograph your picture-perfect Chicago proposal. 
Need help planning your marriage proposal in Chicago?
We cannot only photograph your proposal in Chicago but can also help facilitate location permits, floral arrangements, musicians, restaurants recommendations and reservations plus provide private transportation. Having been professional photographers in the wedding and event industry for more than 16 years in Chicago, we have amassed a wide network of vendors that we trust implicitly and are pleased to recommend or help secure on your behalf.
Should I hire a photographer to photograph my proposal?
What once was an intimate moment has become something couples are capturing and sharing as much as their engagement pics and wedding photos. According to The Knot 2017 Jewelry & Engagement Study — which surveyed more than 14,000 engaged or recently married people across the US — 47 percent of couples (nearly half!) hired a photographer to capture the special moment. 
45 percent of proposals occur in a public place such as a scenic spot, garden, park or zoo — signifying a shift away from the typical private proposal.
We have photographed over 100 marriage proposals throughout Illinois. Our favorite locations for Chicago proposal photography, and what we personally consider the best location in Chicago to get engaged, is along the lakefront in front of the magnificent Chicago skyline at North Avenue Beach. Other popular Chicago proposal locations include the Chicago Riverwalk, the Alfred Caldwell Lily Pool located in Lincoln Park, The South Pond Pavilion at the Nature Boardwalk at Lincoln Park Zoo, The Chicago Theater, the Garden of the Phoenix Japanese Garden in Jackson Park's Osaka Garden, The Adler Planetarium, along with the entire Chicago Museum Campus overlooking the Chicago Skyline.
According to The Knot, the top three spots women said they'd prefer to get engaged was (1) on vacation (2) at the site of your first date (3) or at a landmark. Perhaps that's why so many contact our studio to photograph their proposal while visiting Chicago on vacation. If you've never been to The Windy City before and are looking for the best locations to pop the question in Chicago, we will help plan the perfect proposal for you!

Did you know that proposers report taking tons of time and effort into meticulously organizing the event down to the last detail, averaging about 4.4 months of planning  to ensure everything goes off without a hitch. If you're a super planner or are trying to conjure together a last minute proposal while on vacation in Chicago, we can help plan and photograph the perfect proposal for you!
It doesn't matter if it's raining on your proposal, a Winter proposal, a Spring proposal, a Summer Proposal, a Fall Proposal, a Sunrise proposal, a Sunset proposal or even a Surprise proposal in front of family & friends at your favorite restaurant, we have photographed proposals in every season, climate and location that you can think.
We're so confident that you will love working with us that we will rebate the entire amount of your Proposal Photography and apply it toward your Wedding Photography.
Contact Us today and we will send you "The Art of Proposing: A Guide to Planning the Logistics for Asking the Biggest Question of Your Life" just for reaching out.
Coverage  Includes
• Planning Consultations
• Early Arrival & Wait Time
• Proposal Photography
• Full Resolution Digital Files




Monday-Thursday
Proposal Photos
450


Friday-Sunday
Proposal Photos
600
Option to Add
Portrait Session
150
2nd Photographer
150