TOP 15 PLACES TO PROPOSE IN CHICAGO
There's no shortage of amazing locations in Chicago to ask the most incredible person in the world to spend forever with you. We've narrowed the choices down to these popular locations featuring the top 15 places to propose in Chicago. 
We have built relationships at these locations and can assist in securing permits, videography, flower petals, floral arrangements and candles to complete an experience that your fiancé won't ever forget. 
 
We invite you to explore our list of the top 15 places to propose in Chicago, enjoy our Chicago Proposal Photography portfolio and connect with us to learn how we can help you find your perfect place to pop the question in the Windy City. 
15. Chicago Board of Trade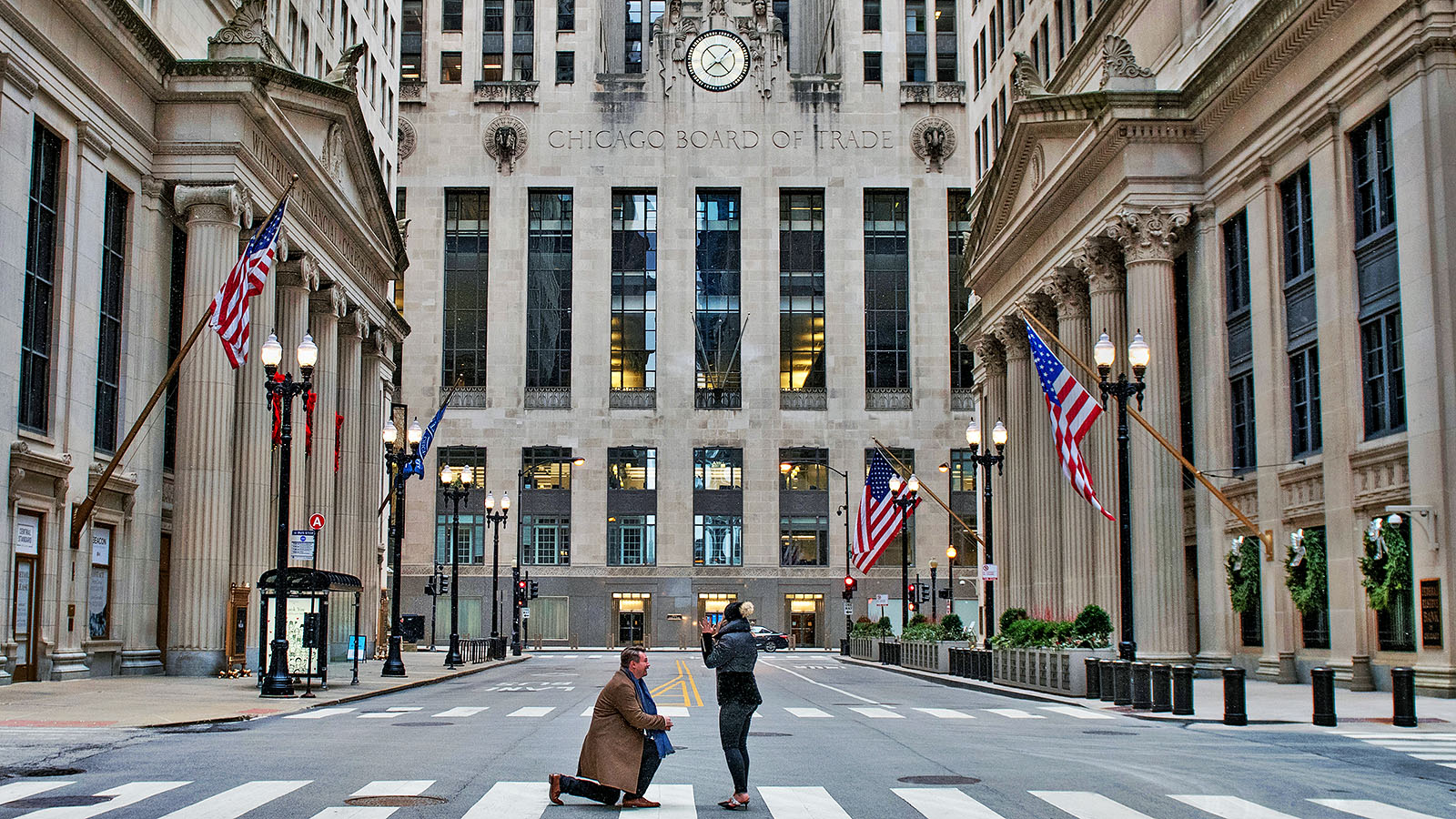 Location: Jackson Blvd at LaSalle Street
141 W Jackson Blvd
Chicago, IL 60604
Proposal Permit: Not Required
Permit Fee: None
The Chicago Board of Trade Building is a 44 story Art Deco skyscraper located in the Chicago Loop, standing at the foot of the LaSalle Street. It was designed and constructed during the heyday of Art Deco in Chicago by John A. Holabird and John Wellborn Root Jr. 

During the late 1920s and early 1930s, Art Deco styling was at the peak of popularity in Chicago. Many of the most popular characteristics of the decorative style can be seen in the Chicago Board of Trade Building's design. It has been called the regal epitome of Art Deco. 

The Chicago Board of Trade Building is home to the world's oldest futures and options exchange. Chicago, which sits on the edge of the prairie, has been the center of both grain distribution and grain trading since the early 1840s. The Chicago Board of Trade (CBOT) was established in 1848 as a central location for negotiating and conducting transactions on the future prices of commodities.
 
14. Fullerton Avenue Beach
Location: 2301 Lake Shore Drive at Fullerton 
1601 N. Lake Shore Drive
Chicago, IL 60611
Proposal Permit: Not Required
Permit Fee: None
This lovely lakefront location offers plenty of space for social distancing while delivering unparalleled views of the Chicago skyline.
Buzzing with joggers, cyclists and Chicagoans enjoying an evening sunset, this location offers it all!
Street parking is sparse but often available early along Cannon Drive. You may also opt to pay to park at the Lincoln Park Zoo's public parking lot located at 2400 N Cannon Drive Chicago, IL 60614.
13. Garden of the Phoenix | The Osaka Garden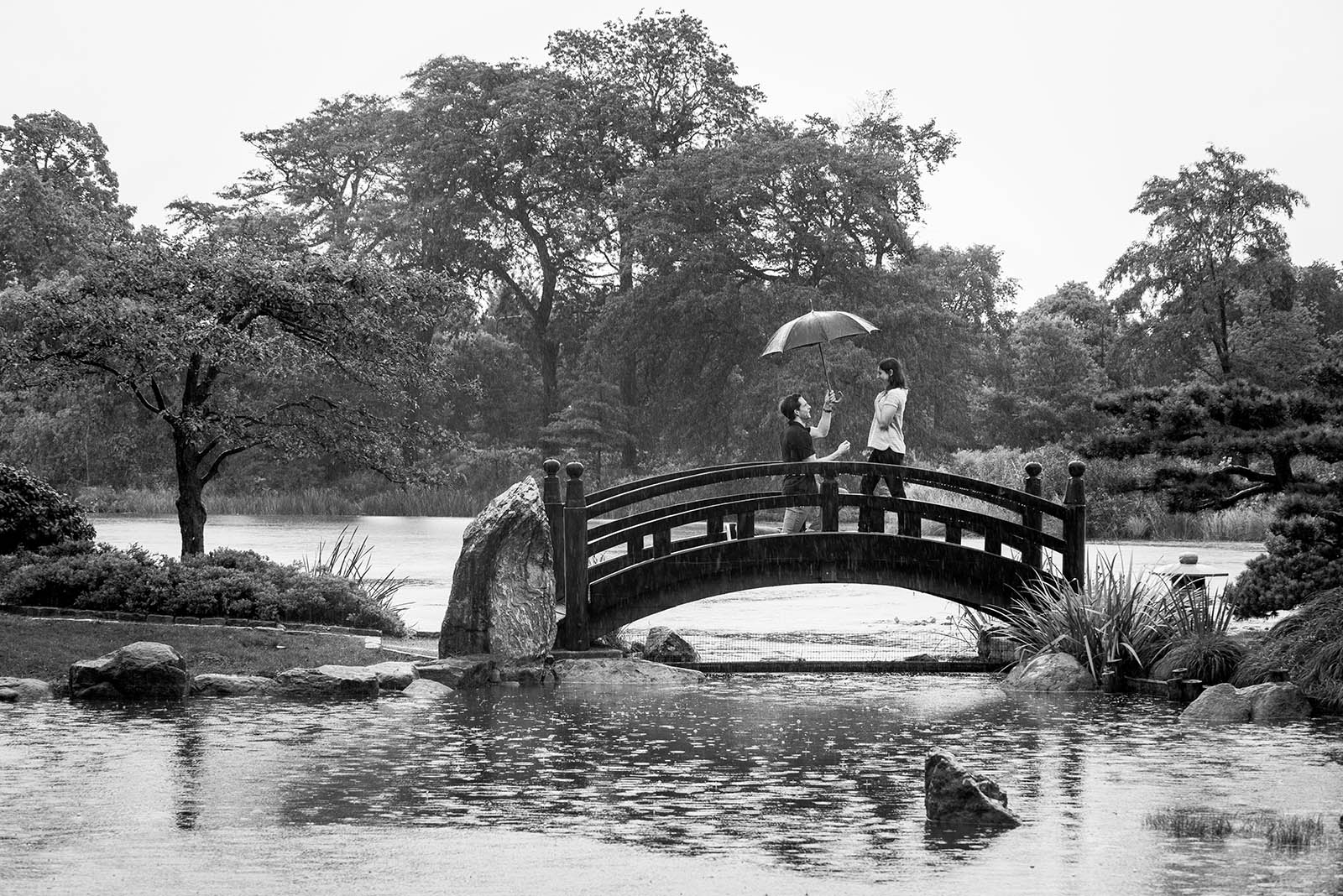 Location: East side of Cornell Ave; just west of Museum of Science & Industry within Jackson Park.  
6401 S. Stony Island Ave.

Chicago, IL 60637
Proposal Photography Permit
: Not Required

Permit Fee
: None
The Garden of the Phoenix has its origins in the 1893 World's Columbian Exposition, when the United States and Japan dedicated the site on March 31, 1893 for the Phoenix Pavilion.  In the Spring of 2013, more than 120 cherry blossom trees were planted to commemorate the 120th Anniversary of the site, and celebrate the peace and mutual respect enjoyed between these two nations. Each May the park comes to life with colorful cherry blossoms.
12. Buckingham Fountain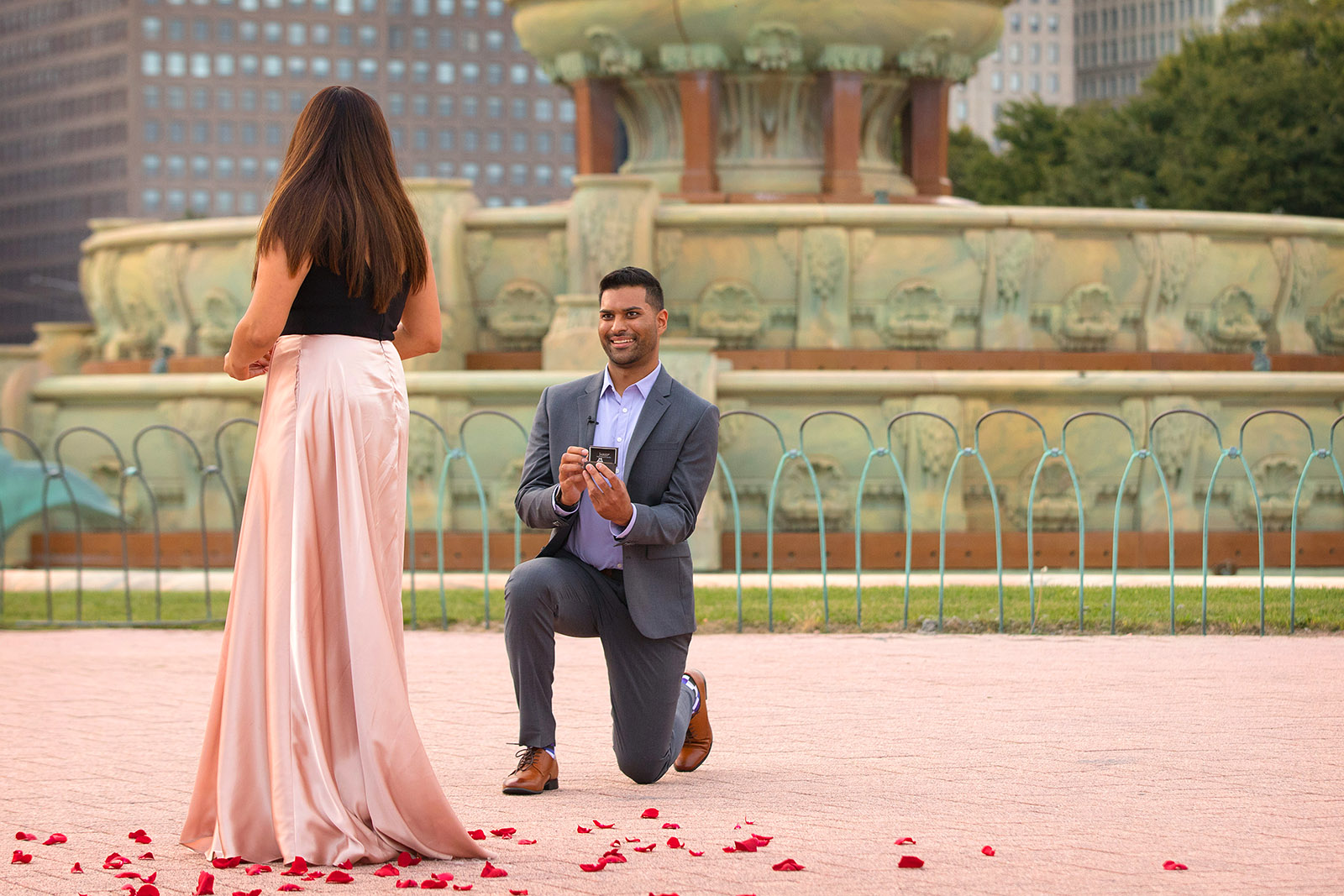 Location: Center of Grant Park, and between Queen's Landing and Congress Parkway
Proposal Photography Permit: Required
Permit Fee: (Non-Commercial Permit + Application Fee) = $50.00
Known as the crown jewel of Grant Park is one of the largest fountains in the world. The size is meant to symbolize the enormity of nearby Lake Michigan and uses as much as 15,000 gallons of water per minute.
At dusk, Buckingham Fountain comes to life and really puts on a show. Head to the park after sunset and you'll be treated to a spectacular light and music display every hour.
If you wish to enjoy the fountain during the day, beware the hourly, 20-minute water show featuring the fountain's center jet shooting water 150 feet into the air.
The fountain – including lights – is active from Mid-May through Mid-October.
11. Olive Park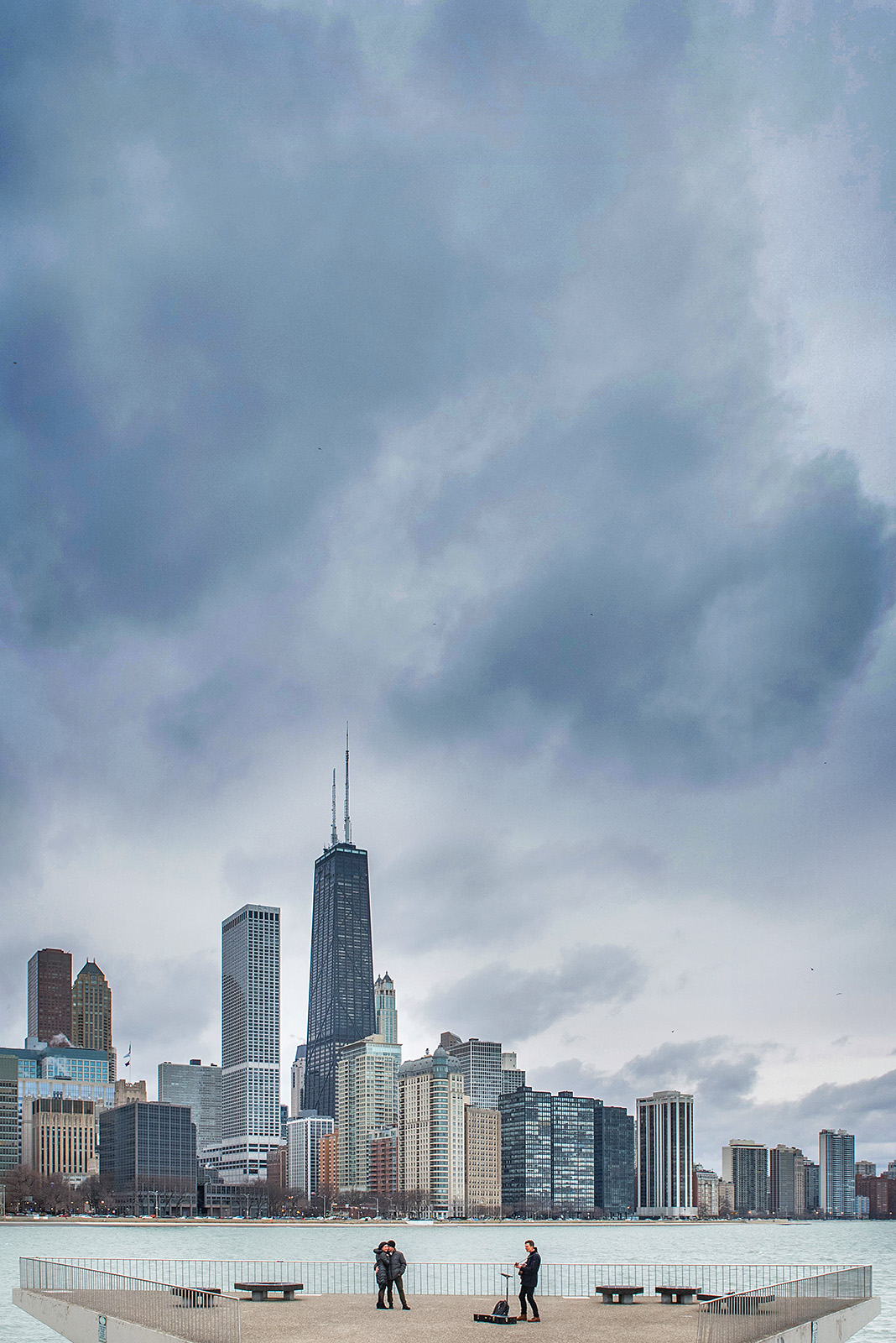 Location: Adjacent to Jane Addams Memorial Park, Ohio Street Beach, north of Navy Pier and west of the Water Purification Plant. 
Proposal Photography Permit: Not Required
Permit Fee: None
Olive Park was created in 1965 to commemorate Milton L. Olive, III, a Vietnam veteran and the first African American to receive the Medal of Honor, who grew up and lived in Chicago.
The secluded urban oasis on Lake Michigan offers serene walking paths, circular fountains and spectacular skyline views predominantly showcasing Chicago's John Hancock Building. This tranquil green space is a hidden gem in Chicago even though it's located just north of Navy Pier and just east of the popular Ohio Street Beach.
10. Chicago Theater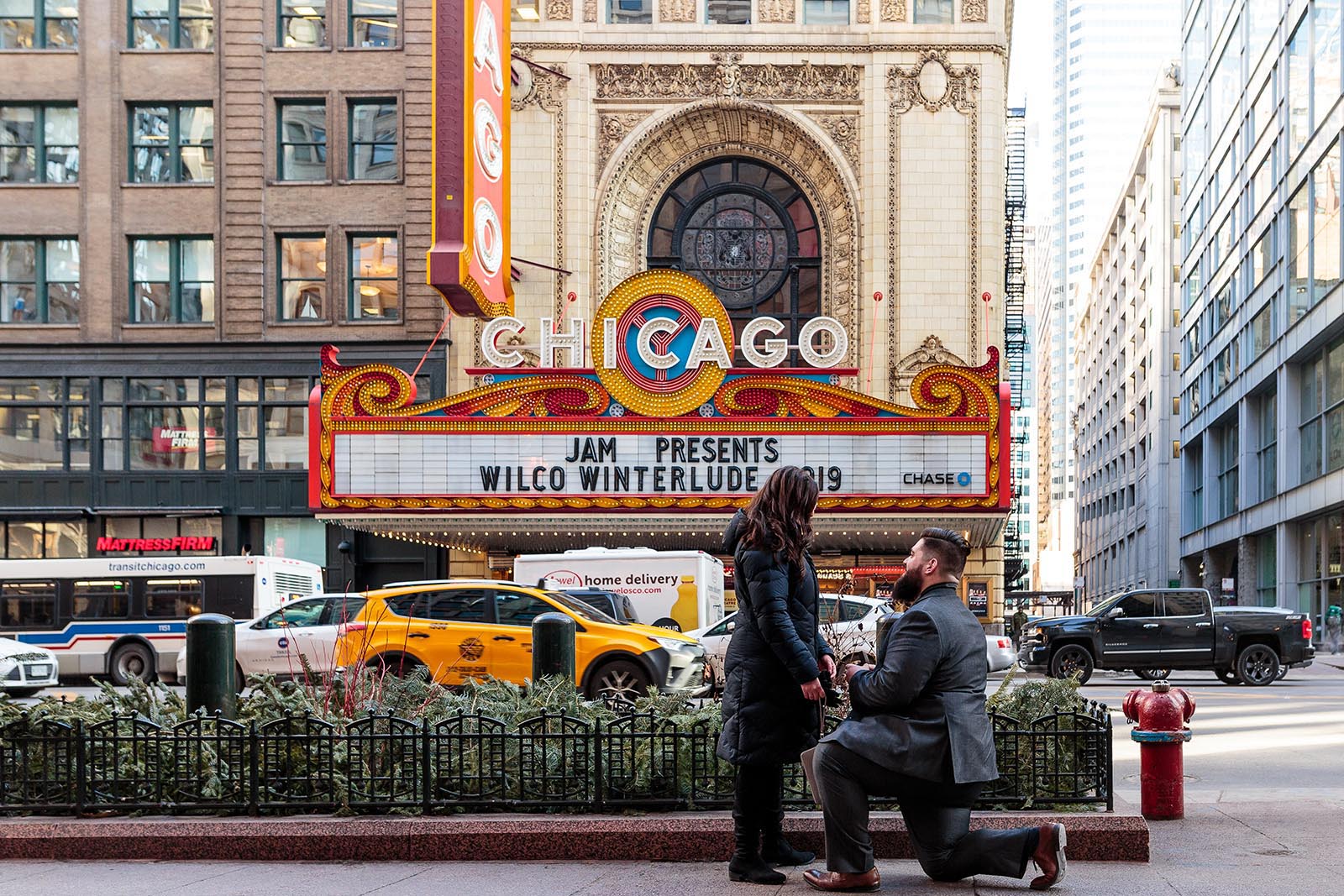 Location: State Street at Lake Street
175 N State Street
Chicago, IL 60601
Proposal Photography Permit: Not Required
Permit Fee: None
This landmark theater located on North State Street in the Loop creates a charming backdrop for an iconic proposal. The distinctive marquee has become an unofficial emblem of the city of Chicago.
The building was added to the National Register of Historic Places on June 6, 1979 and was listed as a Chicago Landmark on January 28, 1983.
9. North Pond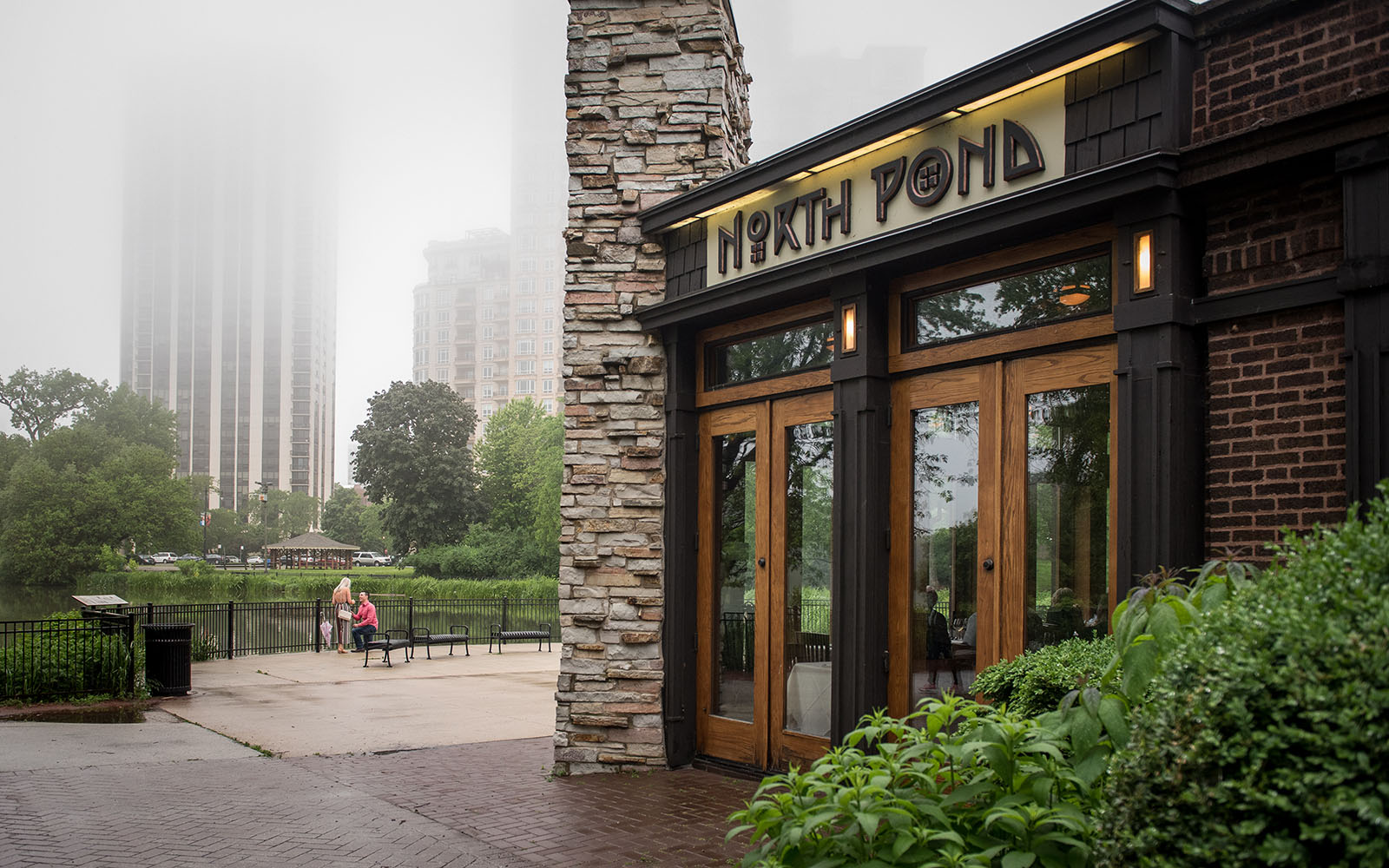 Location: Cannon Drive between Diversey Parkway and Fullerton Avenue;  the restaurant is best approached from the west side of the park at the corners of N Lakeview Avenue and W Deming Place.
2610 N Cannon Drive
Chicago, IL 60614
Proposal Photography Permit: Not Required
Permit Fee: None
Located within Lincoln Park, at the edge of a pond overlooking Chicago's dramatic skyline, the Michelin-Star rated North Pond restaurant claims the prize for the city's most romantic setting for a proposal or post-proposal dinner. This inviting setting sparkles thanks to elements such as a rustic exposed brick, a roaring fireplace, as well as towering windows overlooking both the park and namesake pond.
8. Chicago Riverwalk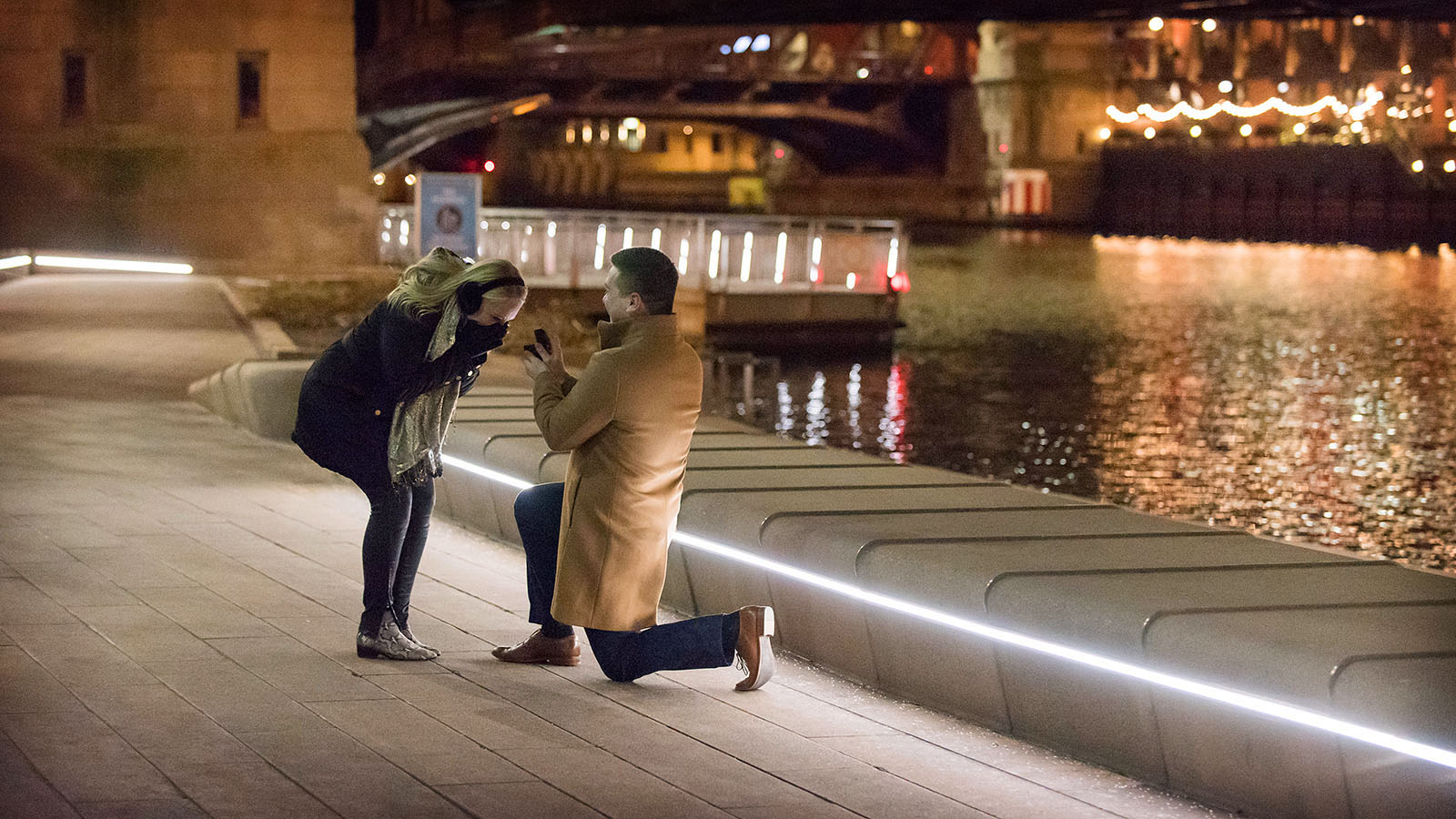 Location: South bank of the Chicago River; extending from Lake Shore Drive and Lake Michigan to Lake Street. 
Proposal Photography Permit: Not Required
Permit Fee: None
The Chicago Riverwalk is a multi-use public space located on the south bank of the main branch of the Chicago River, extending from Lake Shore Drive and Lake Michigan to Lake Street.
The 1.25-mile long path has been constructed in phases and includes four distinct districts; The Confluence, The Arcade, The Civic, and the Esplanade.  The Chicago River is a treasured natural amenity in the urban canyon of world famous architecture. The Riverwalk allows for close proximity to the waterway where you can often find urban kayakers paddling this major artery for the city's most popular residential and tourism based businesses.
7. Millennium Park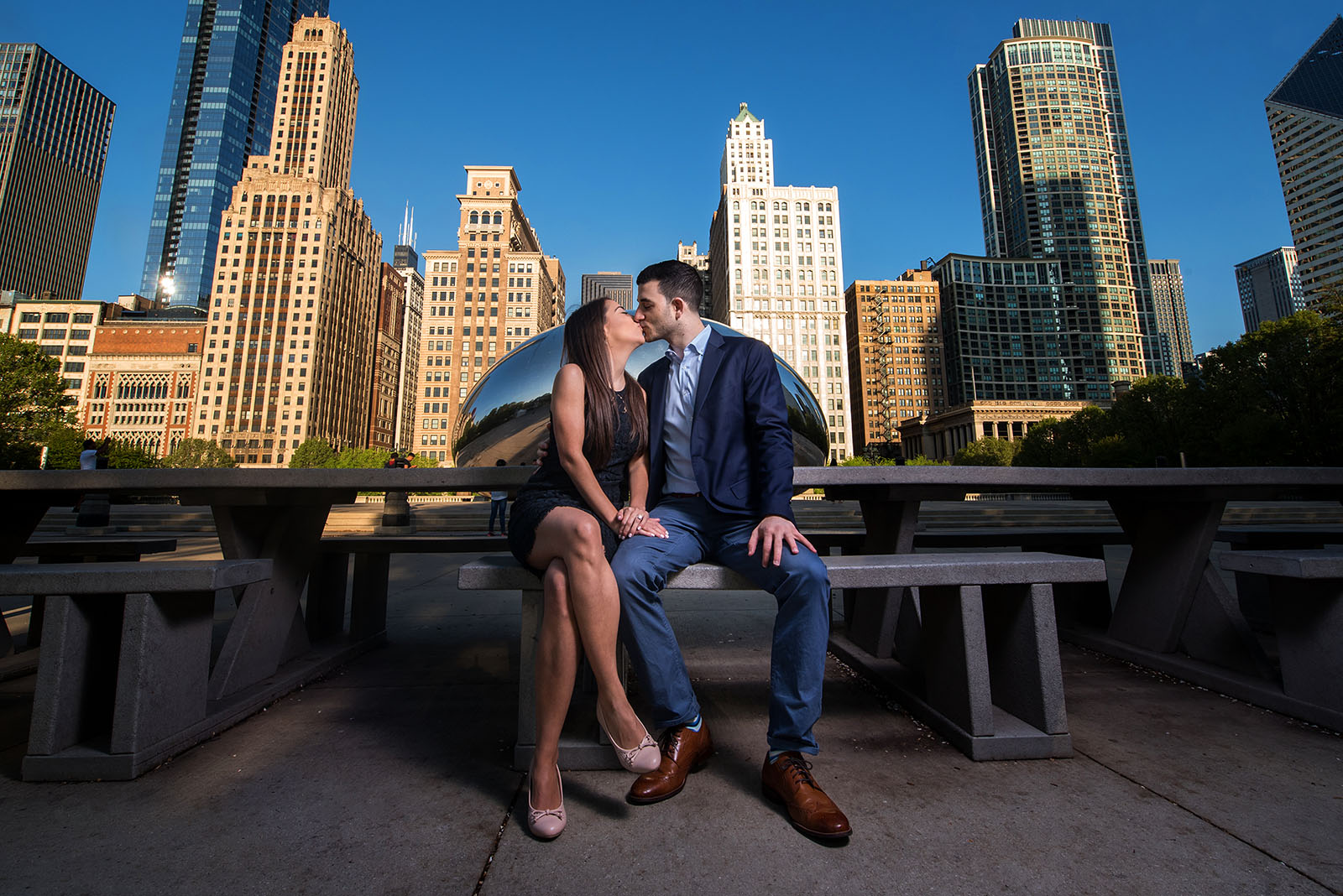 Location: 201 E Randolph Street Chicago, IL 60602
Proposal Photography Permit: Required
Permit Fee: (Non-Commercial Permit + Application Fee) = $50.00
Many consider Millennium Park to be Chicago's most important project since the World's Columbian Exposition of 1893. At a total cost exceeding $475 million, the 24.5 acre park is a prominent civic center on the northwestern border of Grant Park near the Lake Michigan shoreline. 
The city's most popular park is home to the Lurie Garden, The Jay Pritzker Pavilion, The Great Lawn, The Chase Promenade, Cloud Gate (aka "The Bean"), The Boeing Galleries, The Crown Fountains and Wrigley Square.
It is said that you can't come to Chicago without visiting The Bean, one of the city's most famous icons. Unveiled in 2005, British artist Anish Kapoor created her first outdoor public sculpture in the United States, and one of the largest sculptures of its kind in the world. The city's skyline is reflected and distorted on Cloud Gate's silky mirror-like surface which was inspired by liquid mercury.
Frank Gehry's one-of-a-kind bandshell stands 120-feet tall, with a flowing crown of stainless steel ribbons and curving steel plates that make it a stunning and surreal place to see live entertainment. Plus, the pavilion has a state-of-the-art sound system designed to mimic the acoustics of an indoor theatre. Grab a seat or sprawl out on the Great Lawn with a picnic as you take in Millennium Park's Summer Music and Summer Film Series, and a host of annual festivals, including the Grant Park Music Festival, the Chicago Blues Festival, the Chicago Jazz Festival, and the World Music Festival.
6. Chicago Museum Campus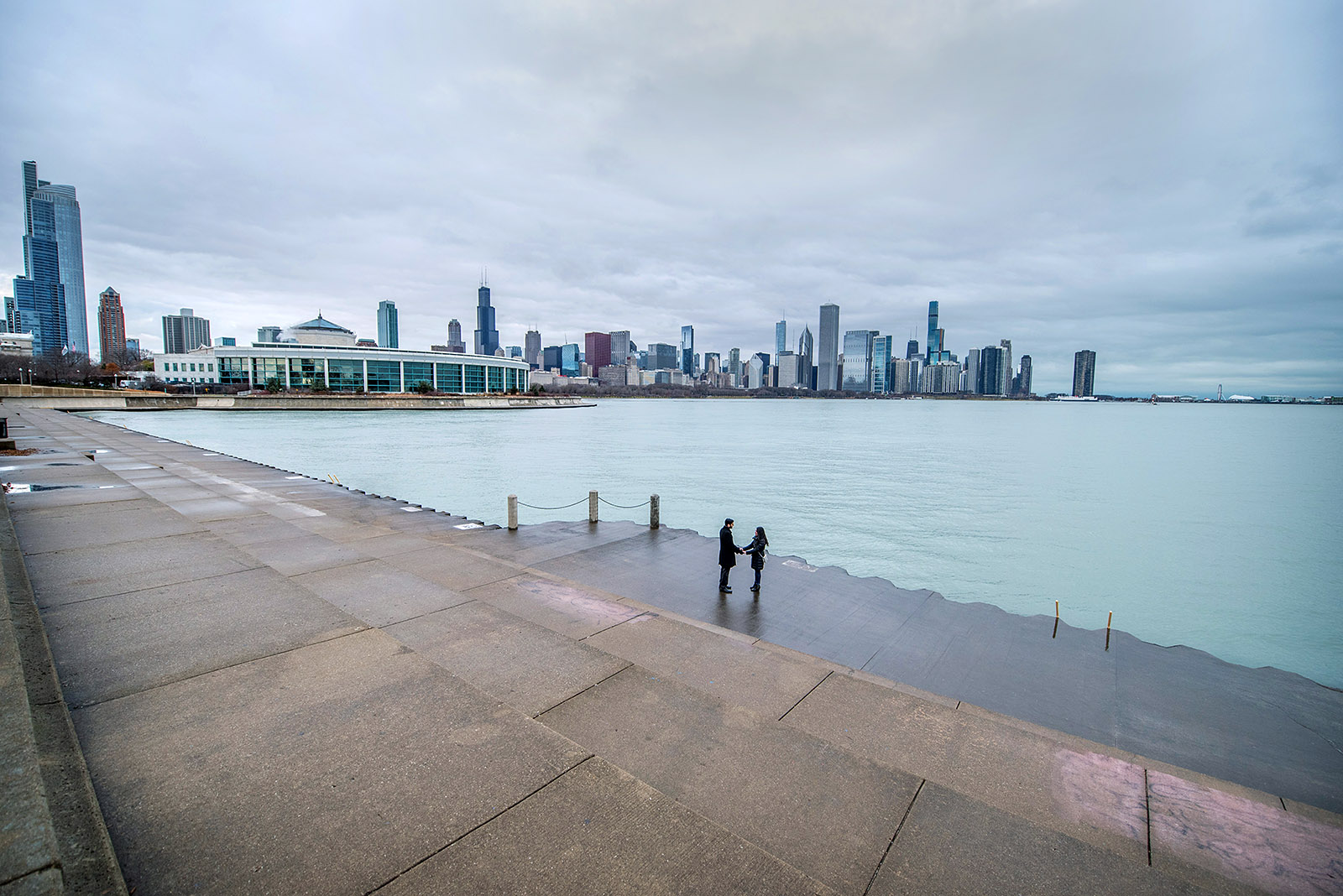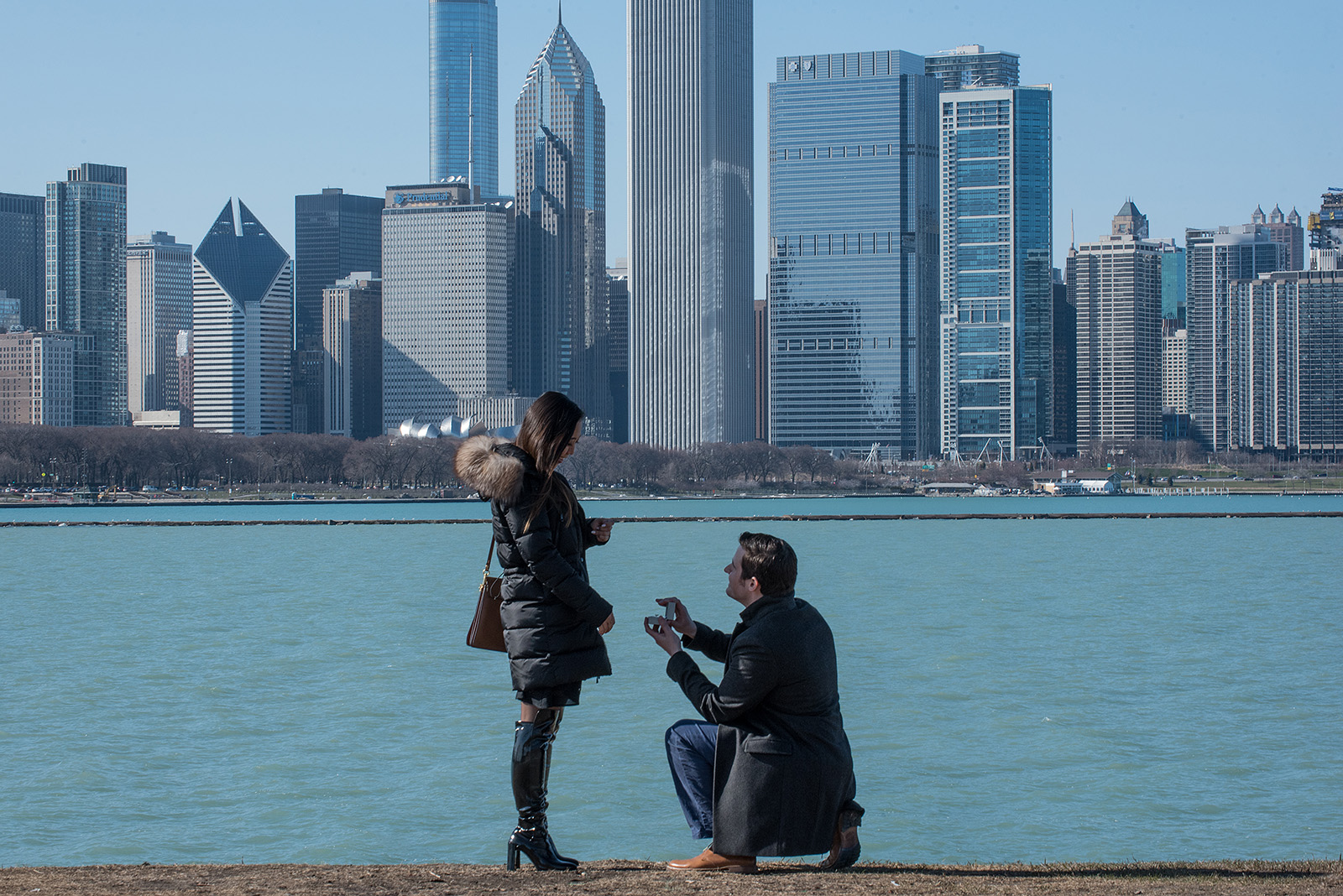 Location: Solidarity Drive at Museum Campus Drive off S Lake Shore Drive
1400 S Lake Shore Drive
Chicago, IL 60605
Proposal Permit: Not Required
Permit Fee: None

The Chicago Museum Campus is a 57-acre park that sits on Lake Michigan and surrounds three of the city's most notable museums, all dedicated to the natural sciences: the Adler Planetarium; the Shedd Aquarium; and the Field Museum of Natural History. It is also known for holding the Soldier Field football stadium and the Lakeside Center of the McCormick Place.
The Shedd Aquarium offers a very unique opportunity to learn about the Beluga Whale as you wade into the waters of the Grainger Beluga Encounter Habitat with an experienced trainer. After some up-close and personal time with the whales, they'll swim to your love with a ring box in their mouth for a surprise porpois-al.  $75 (does not include admission to the Beluga Encounter)
You can also choose a 60-minute encounter where you'll be introduced to the Magellanic penguins behind the scenes. You'll learn how Shedd cares for and trains their penguins and the importance of how Magellanic penguins mate for life. $50 (does not include admission to the Penguin Encounter)
You can reserve the entire encounter to have a more intimate experience! With this option, you can bring additional guests or make it a private experience for you and your significant other. This encounter also includes champagne and strawberries (for two people) on a private balcony overlooking the Abbott Oceanarium.
Private Beluga Encounter: $1250 or $1000 for members
Private Penguin Encounter: $850 or $650 for members
5. Cerise Lounge at Virgin Hotel Chicago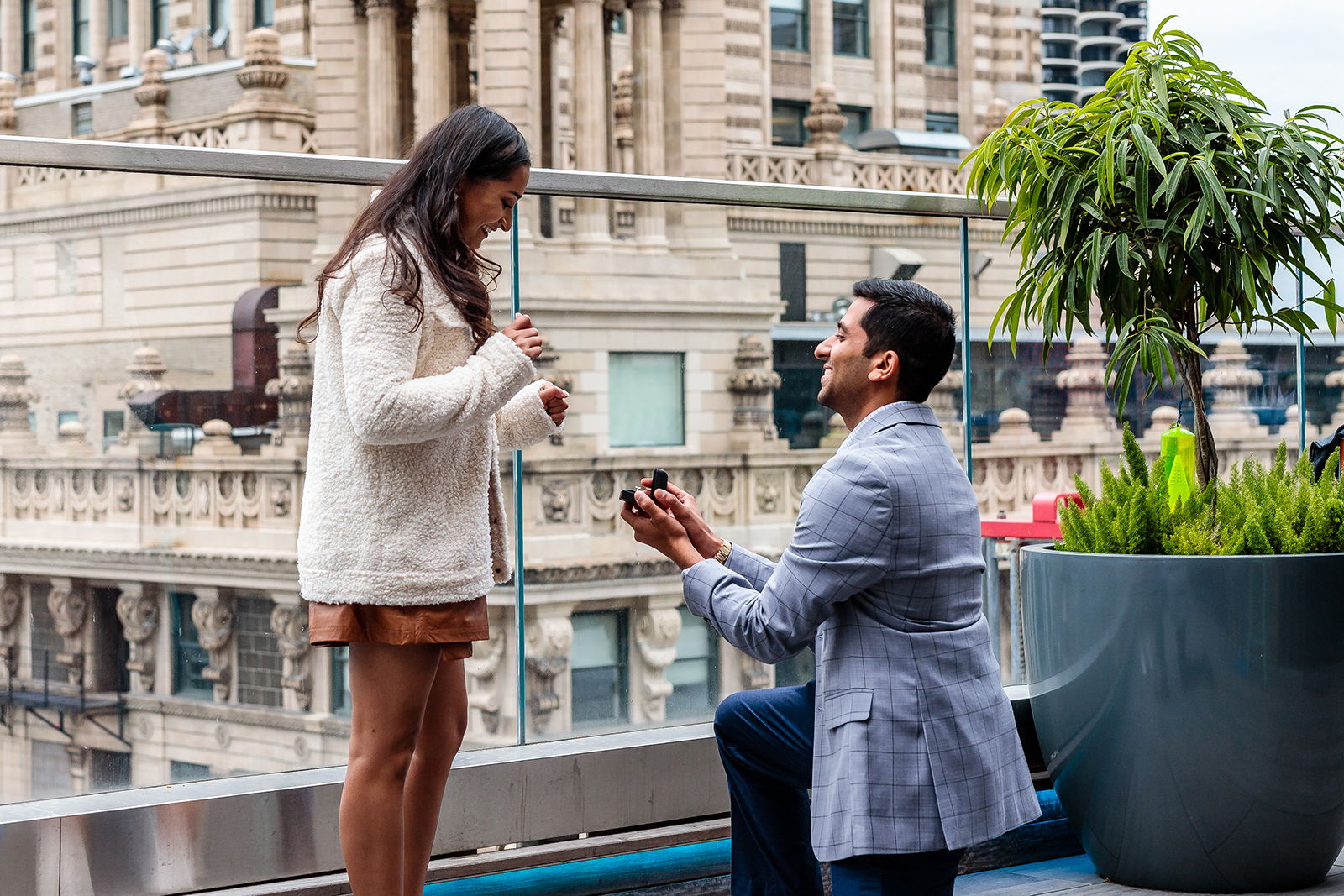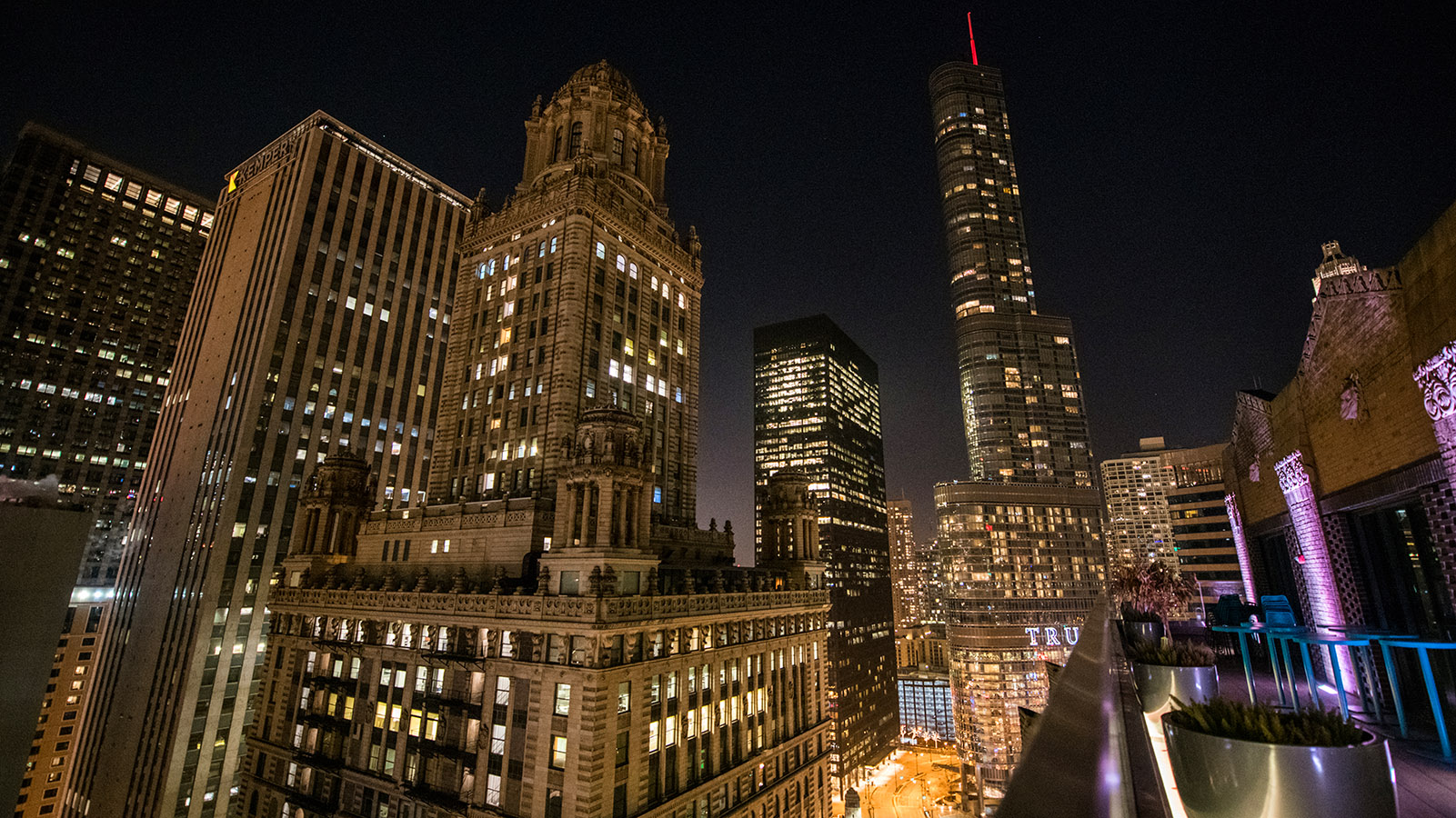 Location: Virgin Hotel Chicago; 26th Floor
203 N Wabash Avenue
Chicago, IL 60601
Proposal Permit: Required
Permit Fee: $500.00
This hip hotel rooftop offers spectacular sweeping city skyline views including that of the 35 East Wacker, also known as the Jewelers' Building, which has been featured as the Gotham City Court House in the 2005 film, Batman Begins, and in the 2011 film, Transformers: Dark of the Moon.
4. Alfred Caldwell Lily Pool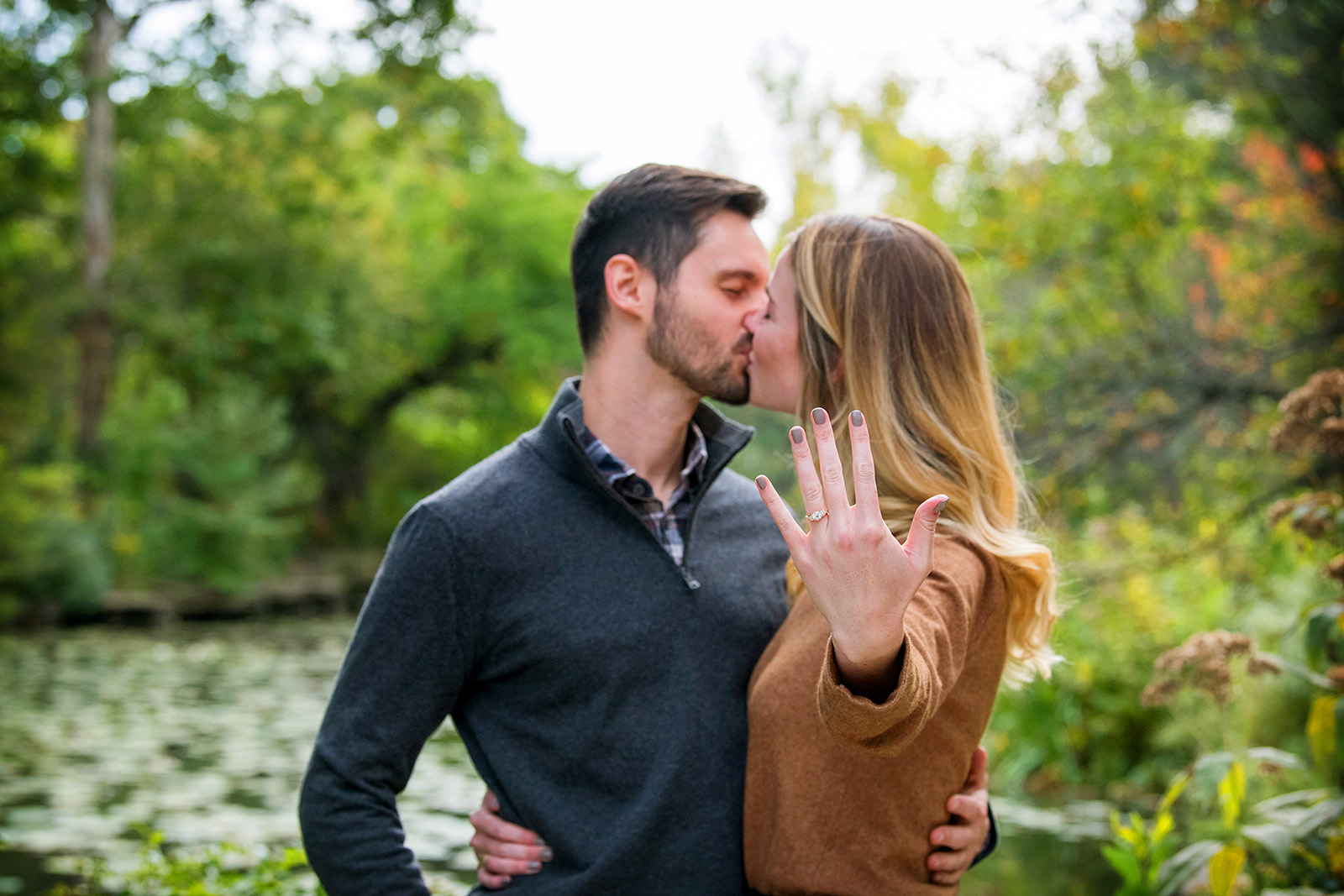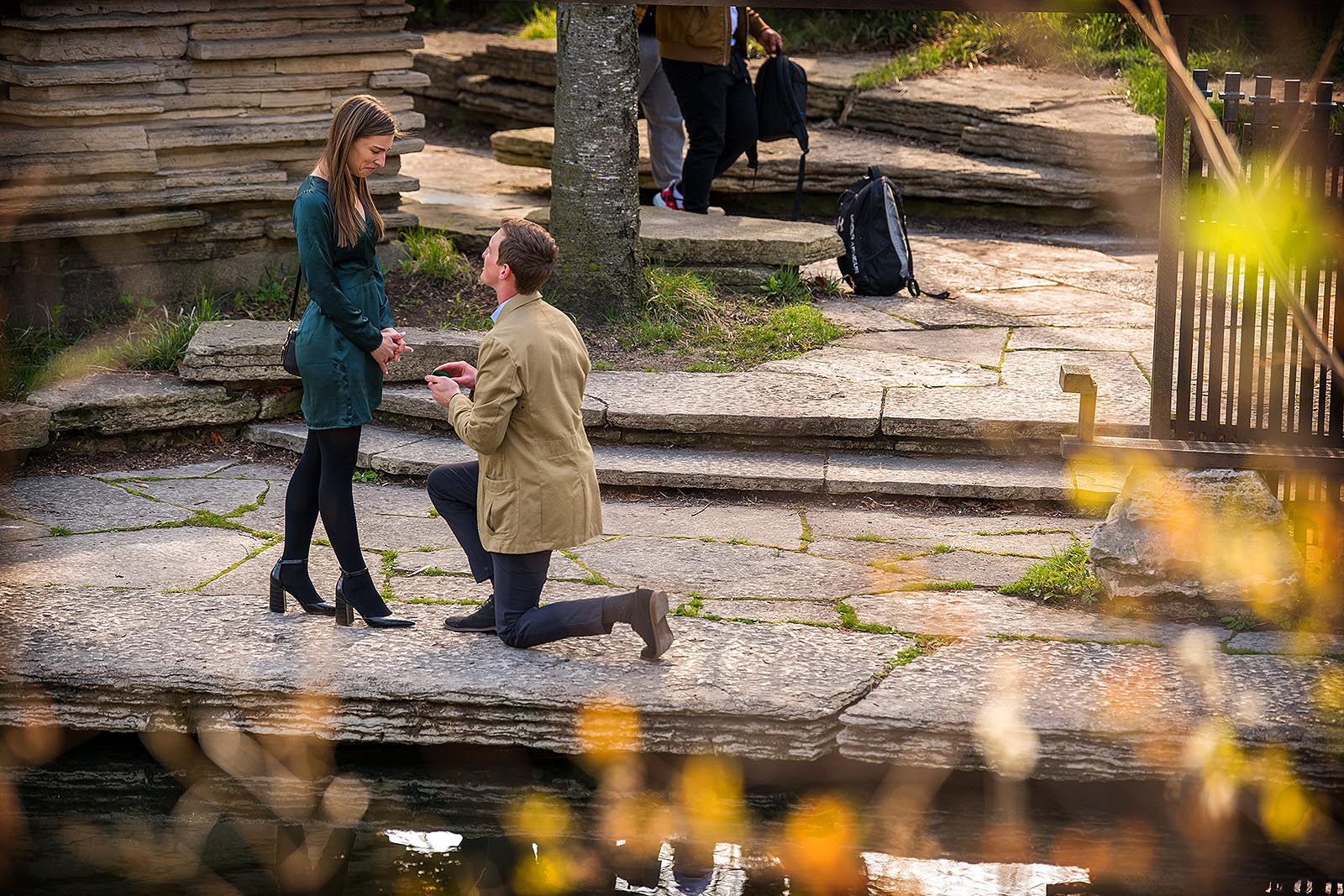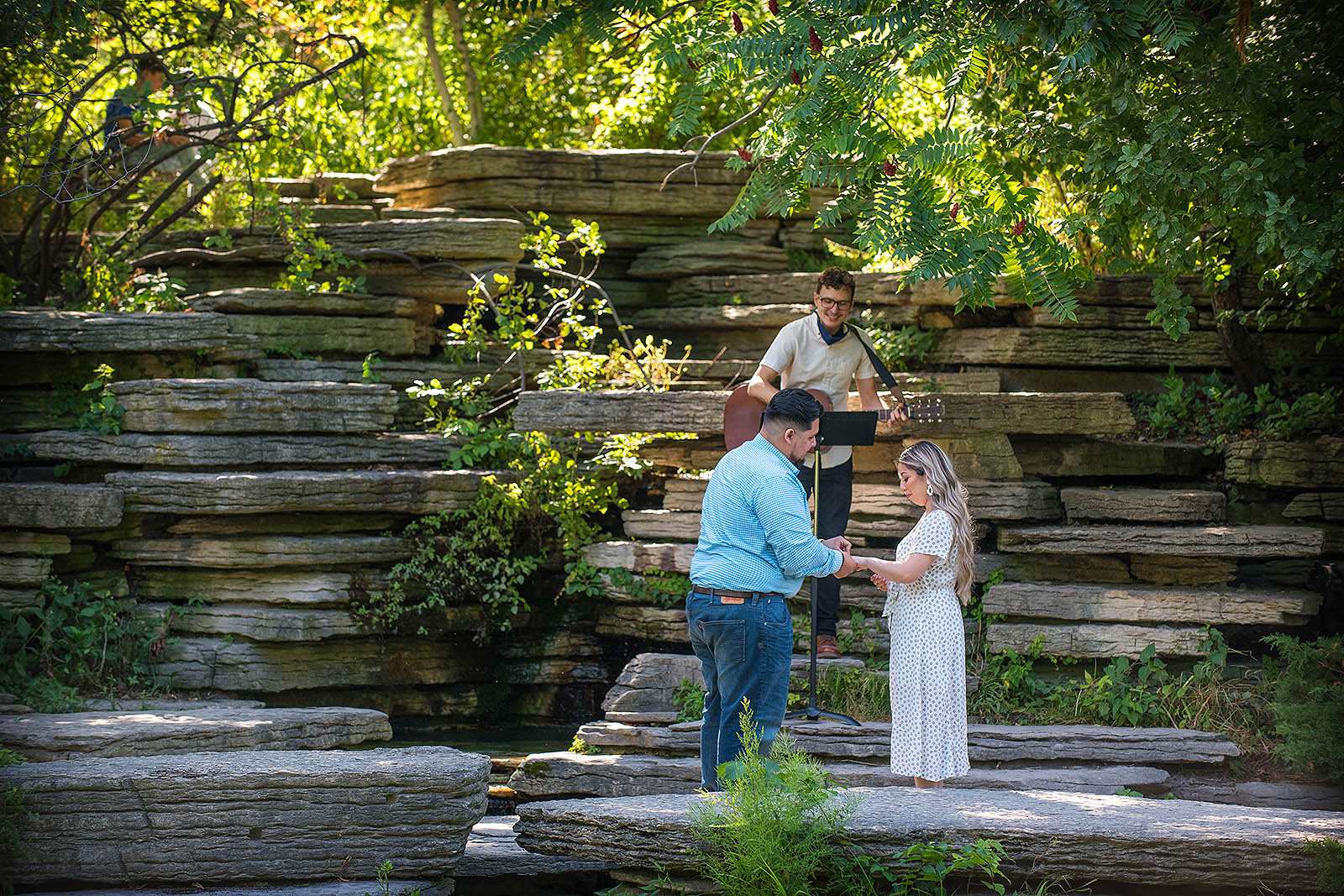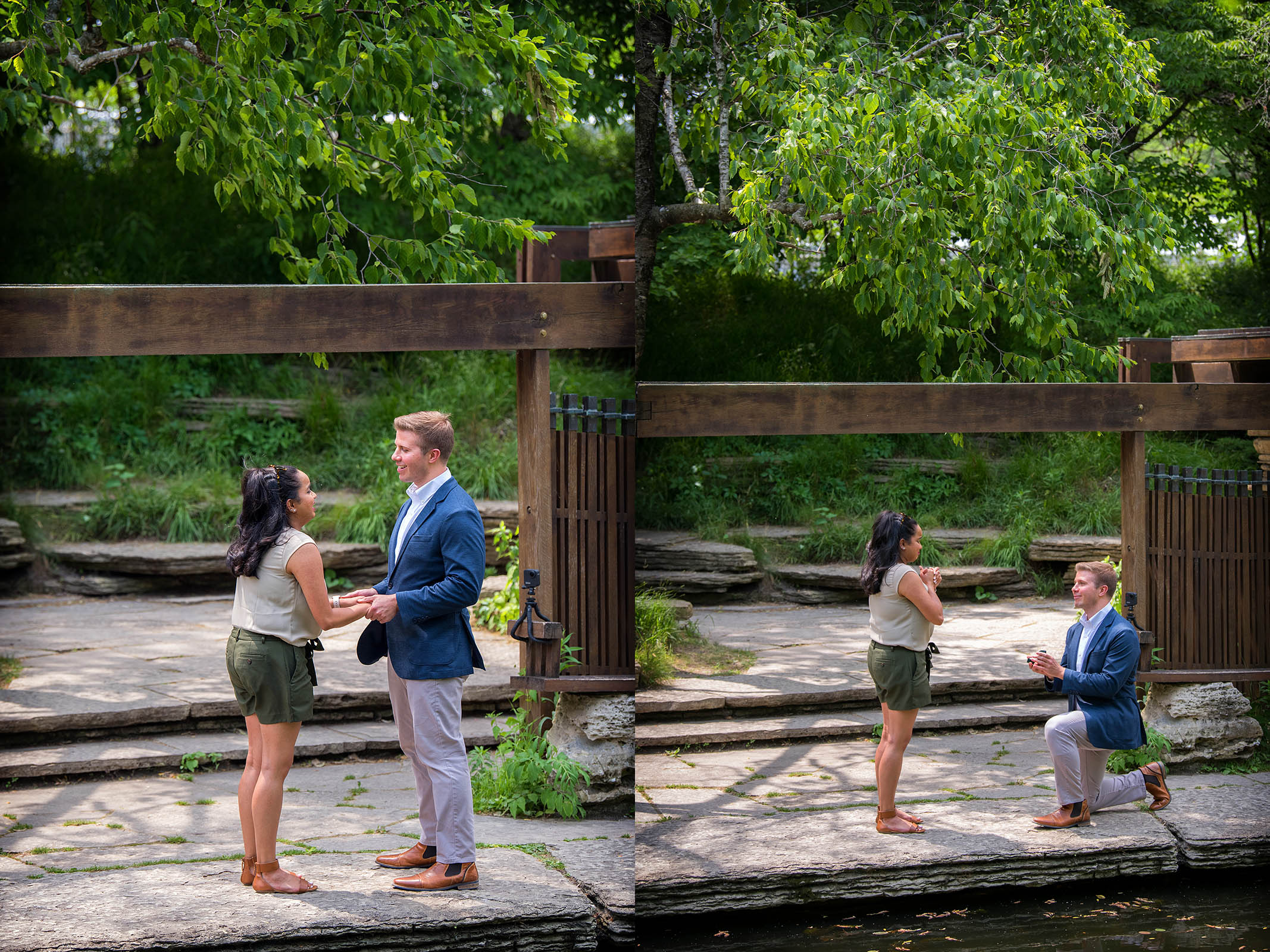 Location: 125 W Fullerton Parkway Chicago, IL 60614

Lincoln Park Conservancy
2000 N. Racine
Suite 4800
Chicago, IL 60614
info@lincolnparkconservancy.org
T. (773) 883-7275
www.LincolnParkConservancy.org | Lily Pool
Proposal Permit: Required
Permit Fee: $100.00
Update Spring 2022: the Alfred Caldwell Lily Pool is no longer offering Closed/Private buyouts for proposals or portrait shoots. 
email Patrick to receive a permit application. Review the guidelines, select the time of your session/event, return the completed application with payment via personal checks, Visa, MasterCard, American Express, and Discover.
The Lily Pool is open seasonally from mid-April through mid-November. It is also closed the Friday, Saturday and Sunday during the Air and Water Show.
The Alfred Caldwell Lily Pool, also known as Lincoln Park Lily Pool, is an important example of Prairie School landscape architecture designed by Alfred Caldwell. 

The site was originally part of a Victorian garden built in 1889 that displayed tropical lilies and other aquatic plants. When the Victorian-style garden fell out of popularity, the Lily Pool fell into disrepair until 1936 when Alfred Caldwell redesigned the pool and its surrounding area.

In 1997, the Lincoln Park Conservancy  adopted the Lily Pool and, with the Chicago Park District, created a Master Plan to restore Caldwell's historic landscape and improve accessibility. Construction of the $2.4 million project began in 2000 and the re-named Lily Pool opened to the public in spring 2002 and the restoration earned the site National Historic Landmark and Chicago Historical Landmark status. 
3. North Avenue Beach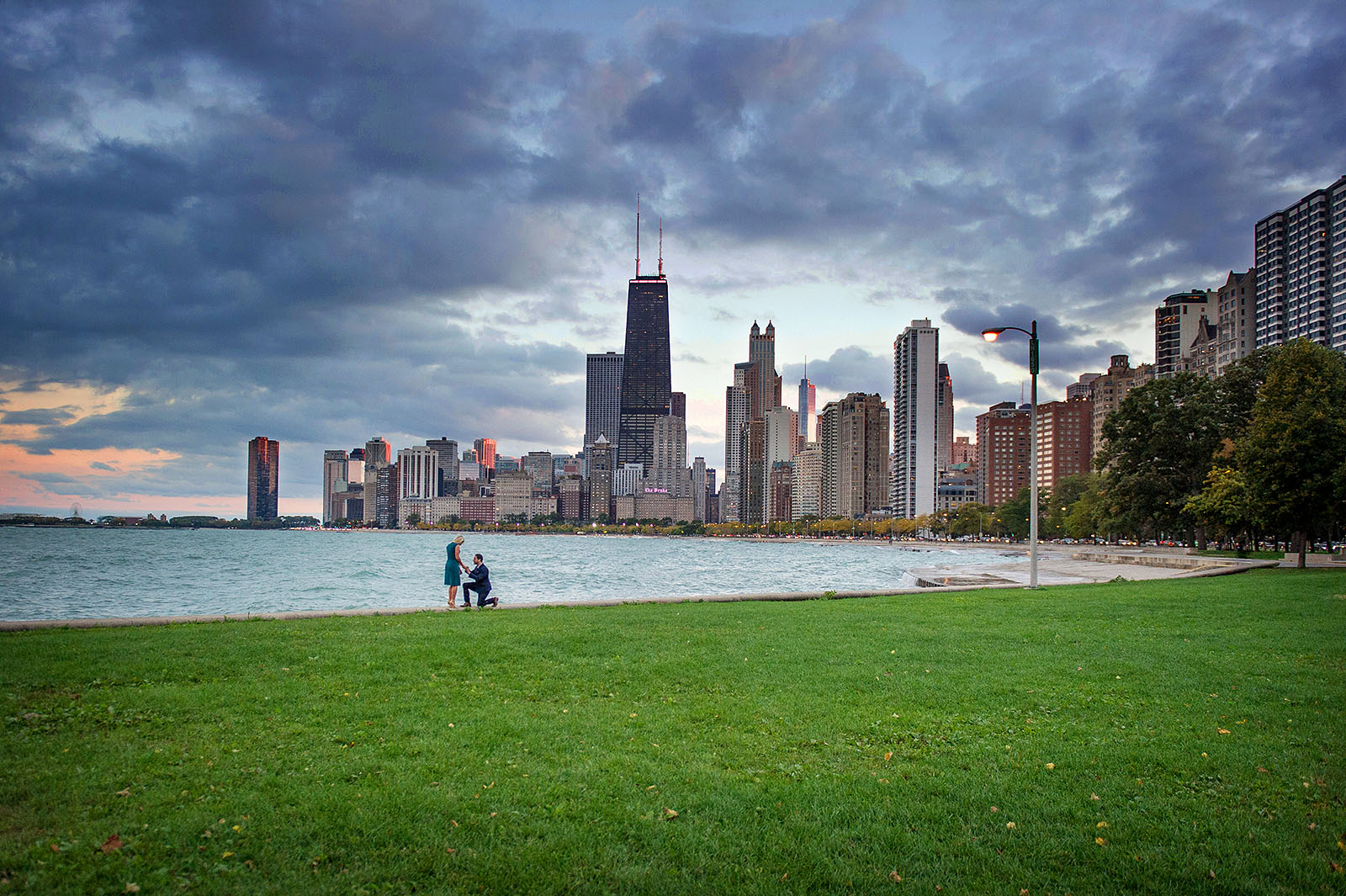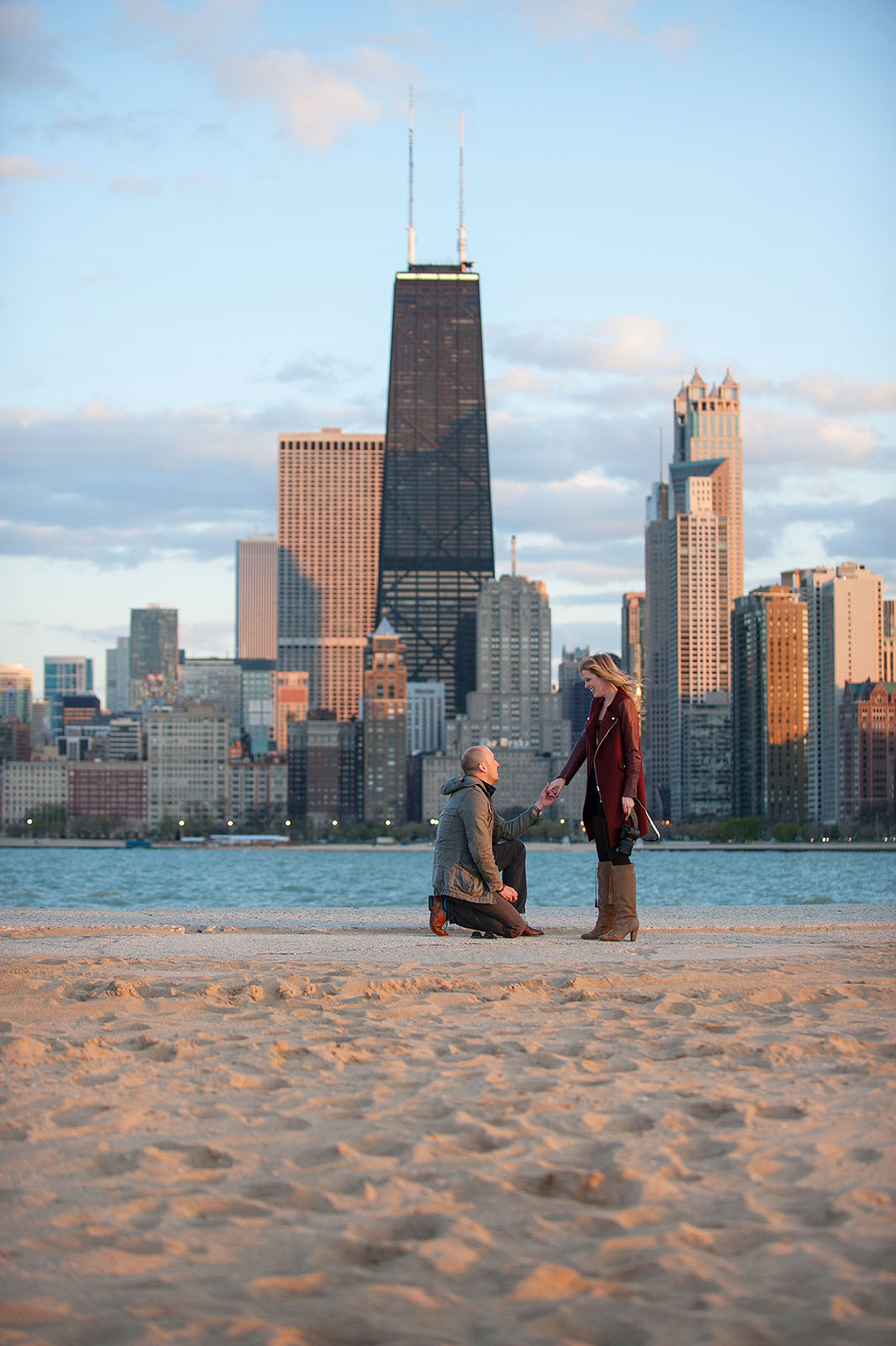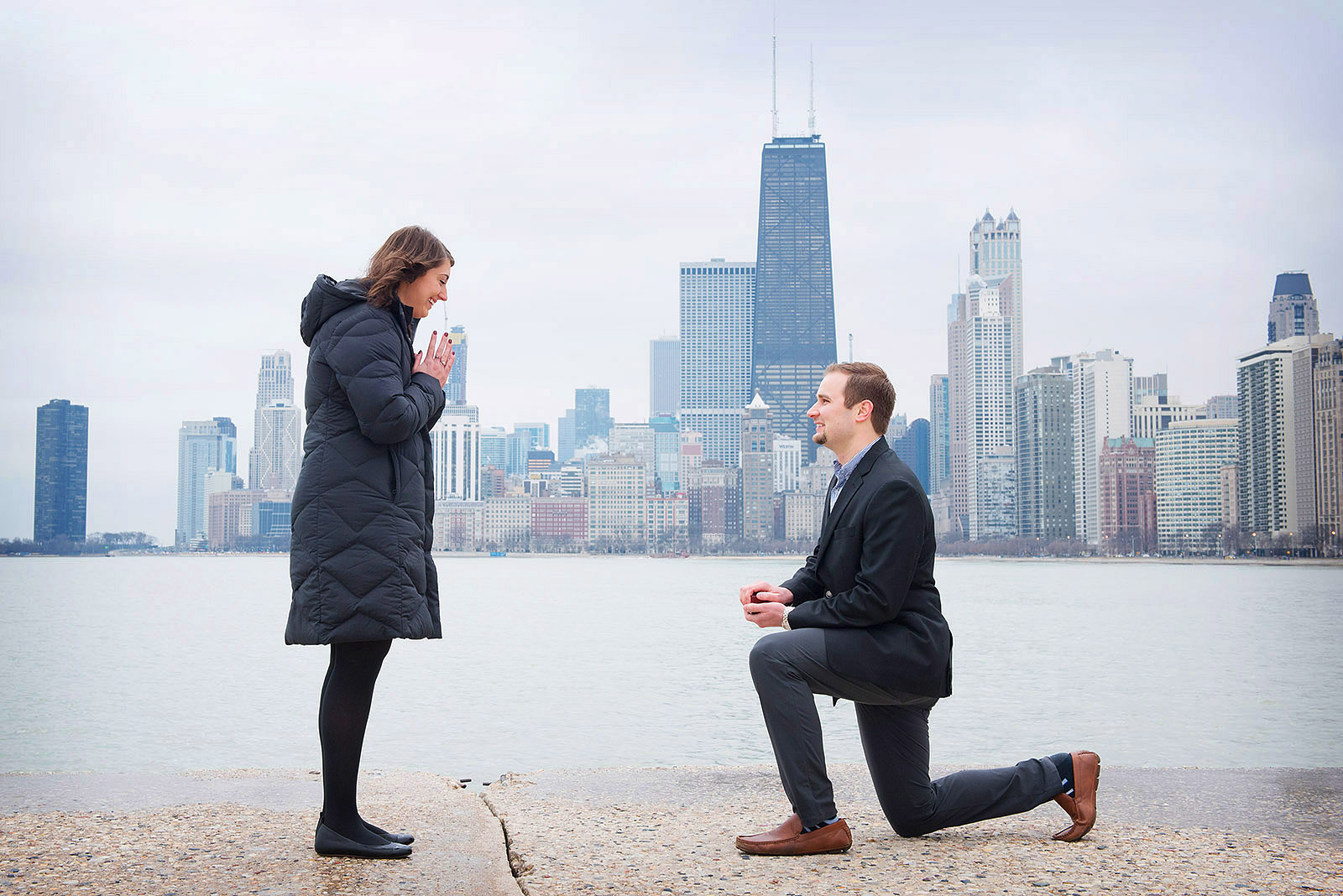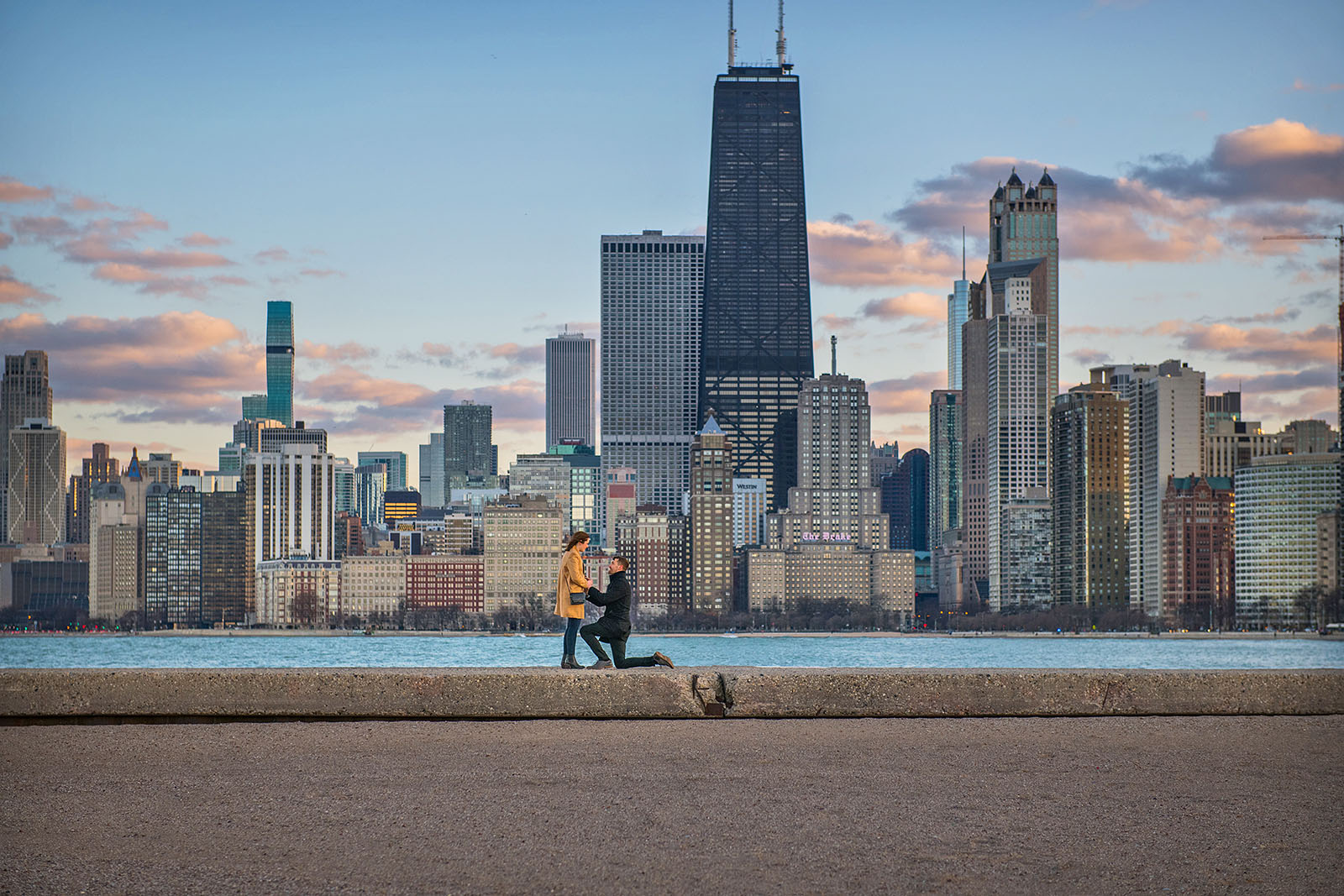 Location: North Ave. and Lake Michigan
1601 N. Lake Shore Drive
Chicago, IL 60611
Proposal Permit: Not Required
Permit Fee: None

As one of Chicago's most popular beaches, the beach features a unique and popular beach house that forms a 22,000 square feet sleek, ocean liner-inspired building, decked out in a crisp blue and white, and boasts one of the best views in the city. The beach house has upper decks and portholes for looking at the magnificent Chicago skyline.
Due to Covid-19, North Avenue Beach, along with it's subsequent parking lot, have been closed to the public since March 26, 2020. Once parking lot reopens, rates are:

0-2 hours = $21.00
2-4 hours = $28.00
+ 4 hours = $39.00
2.  The Honeycomb | People's Gas Education Pavilion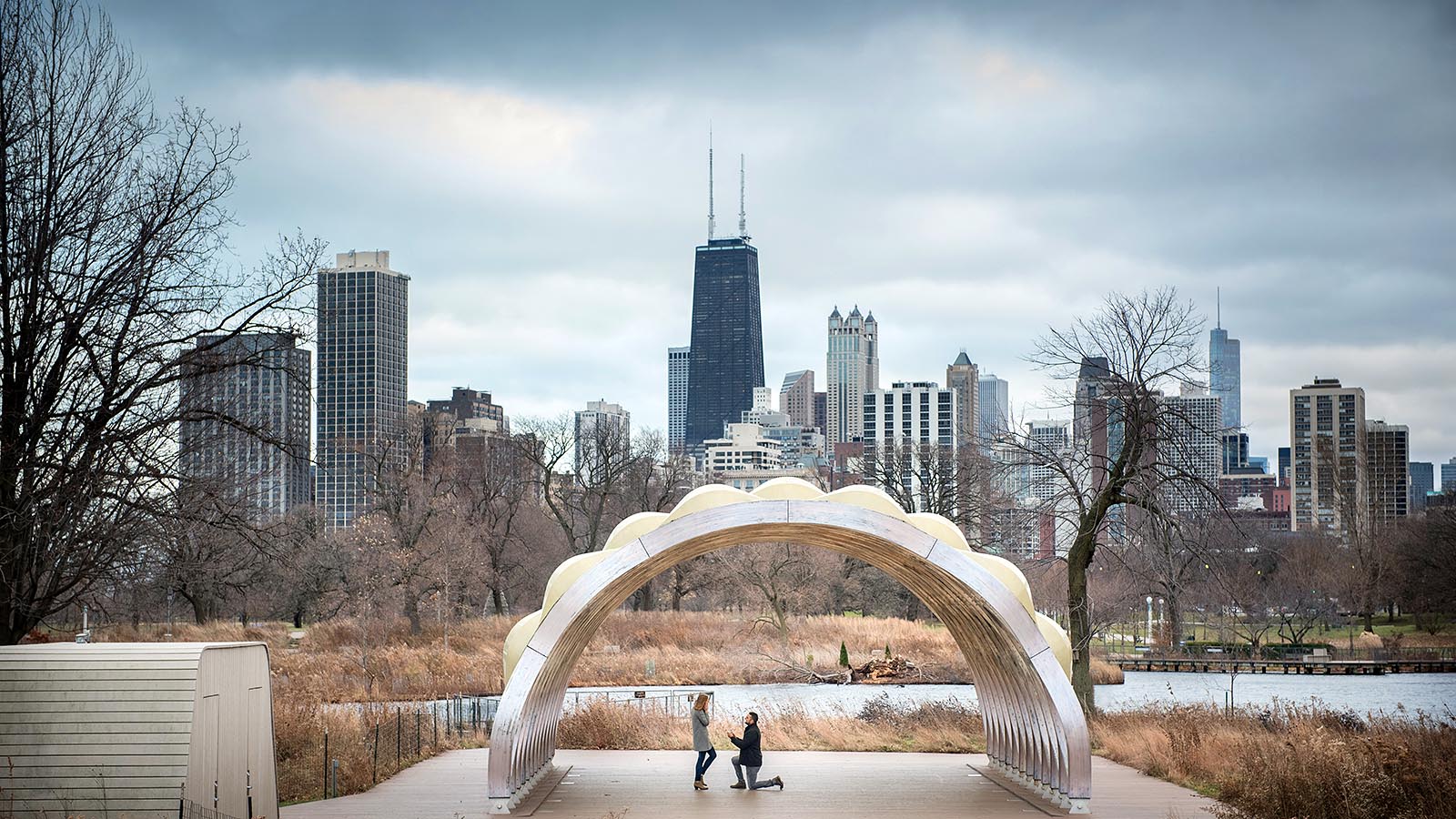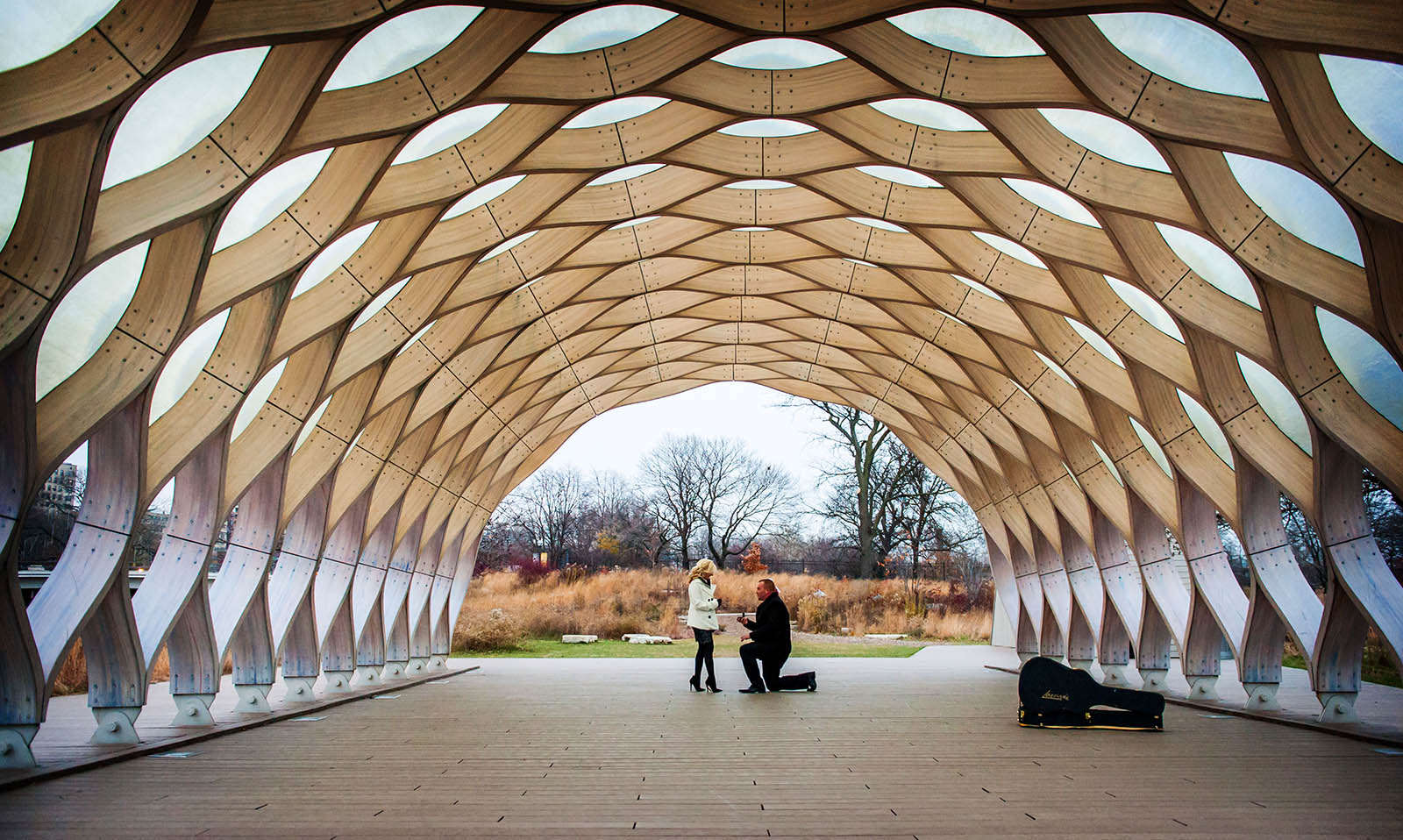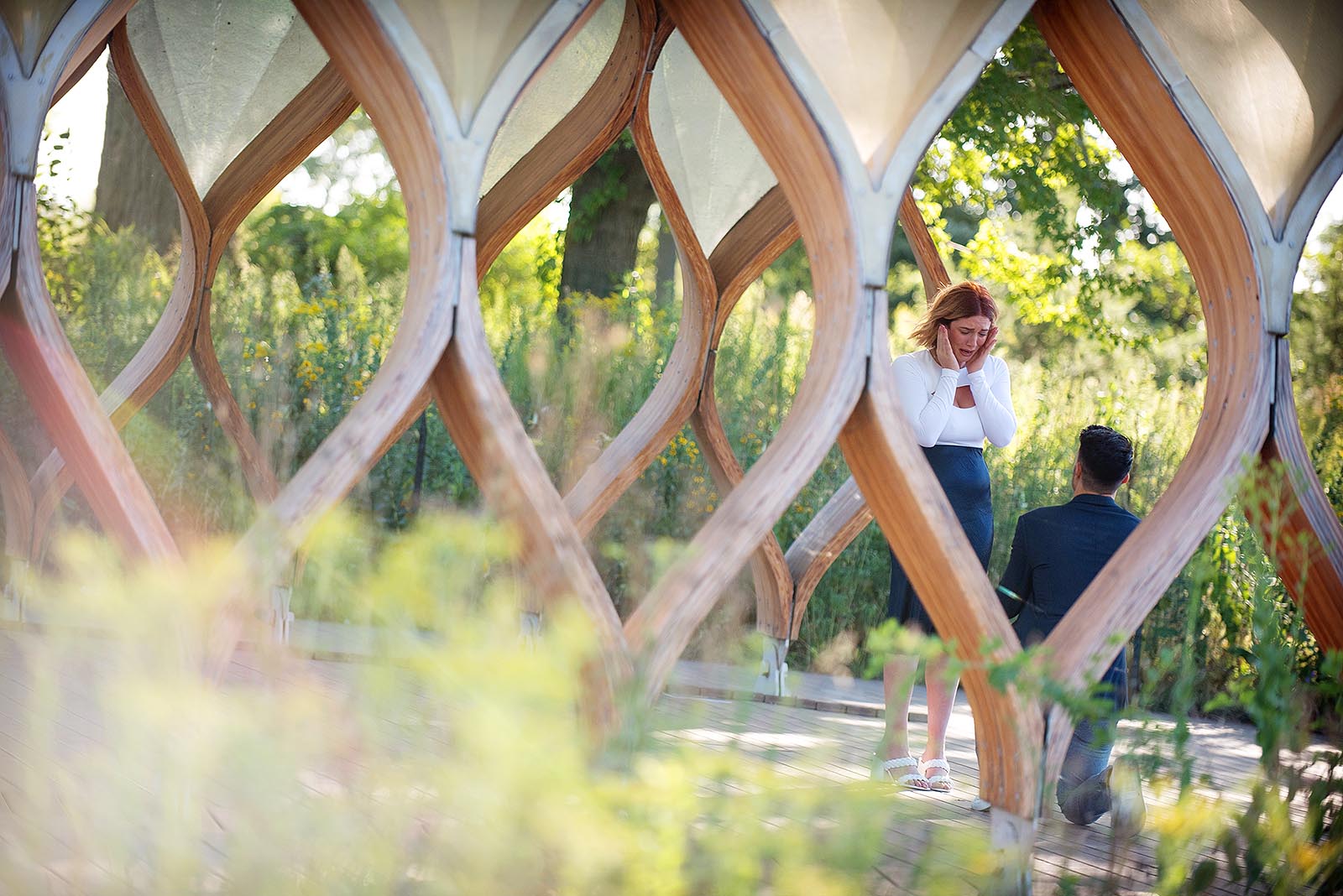 Location: Southernmost end of the zoo, east of Café Brauer and Farm-in-the-Zoo

2121 N Stockton Drive
Chicago, IL 60614
Proposal Photography Permit: Required
Permit Fee: $125.00
This unique architectural landmark, located in Chicago's Lincoln Park neighborhood, ihttps://jasonkaczorowski.com/which-chicago-locations-require-photography-permits-to-photograph-wedding-and-engagement-session-portraits/#LincolnParkZoos called the "People's Gas Education Pavilion" yet locals have come to refer to it as "The Honeycomb".

The iconic Peoples Gas Education Pavilion was created by award-winning architectural firm, Studio Gang, (architect Jeanne Gang) who also designed Chicago's exquisite Aqua building,  

The structure, which resembles a honeycomb from both the inside and out, faces south directly towards downtown providing a view which frames the John Hancock building through its arch. 

The honeycomb is located inside the Lincoln Park's Zoo's Nature Boardwalk – a lush Midwestern prairie ecosystem, this natural oasis provides unique opportunities for visitors to engage and connect with the natural world. Opened June 24, 2010, the former manmade pond is now revitalized as a haven of native trees, plants and animals. 
1. The Cupola at London House Chicago  (Tie)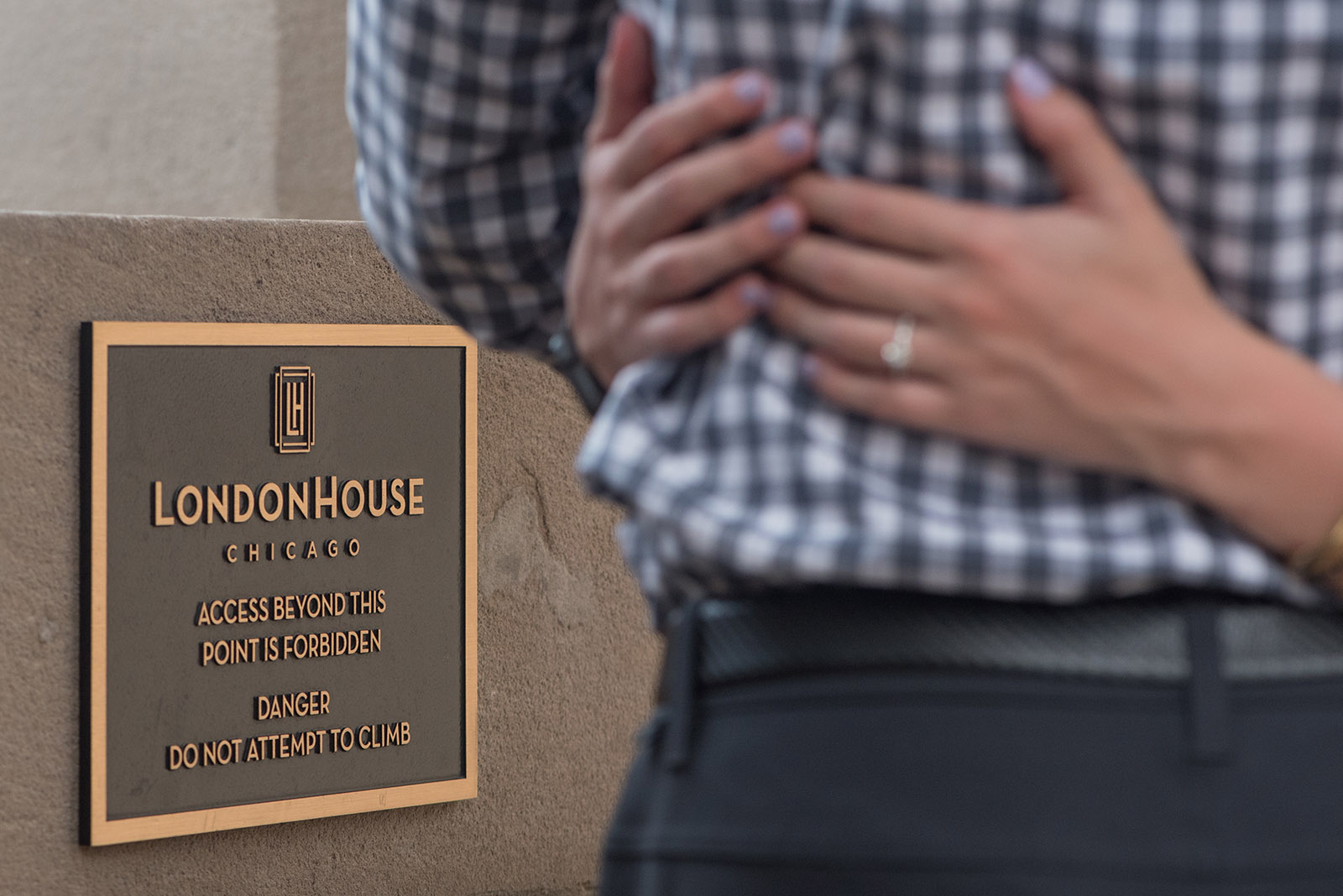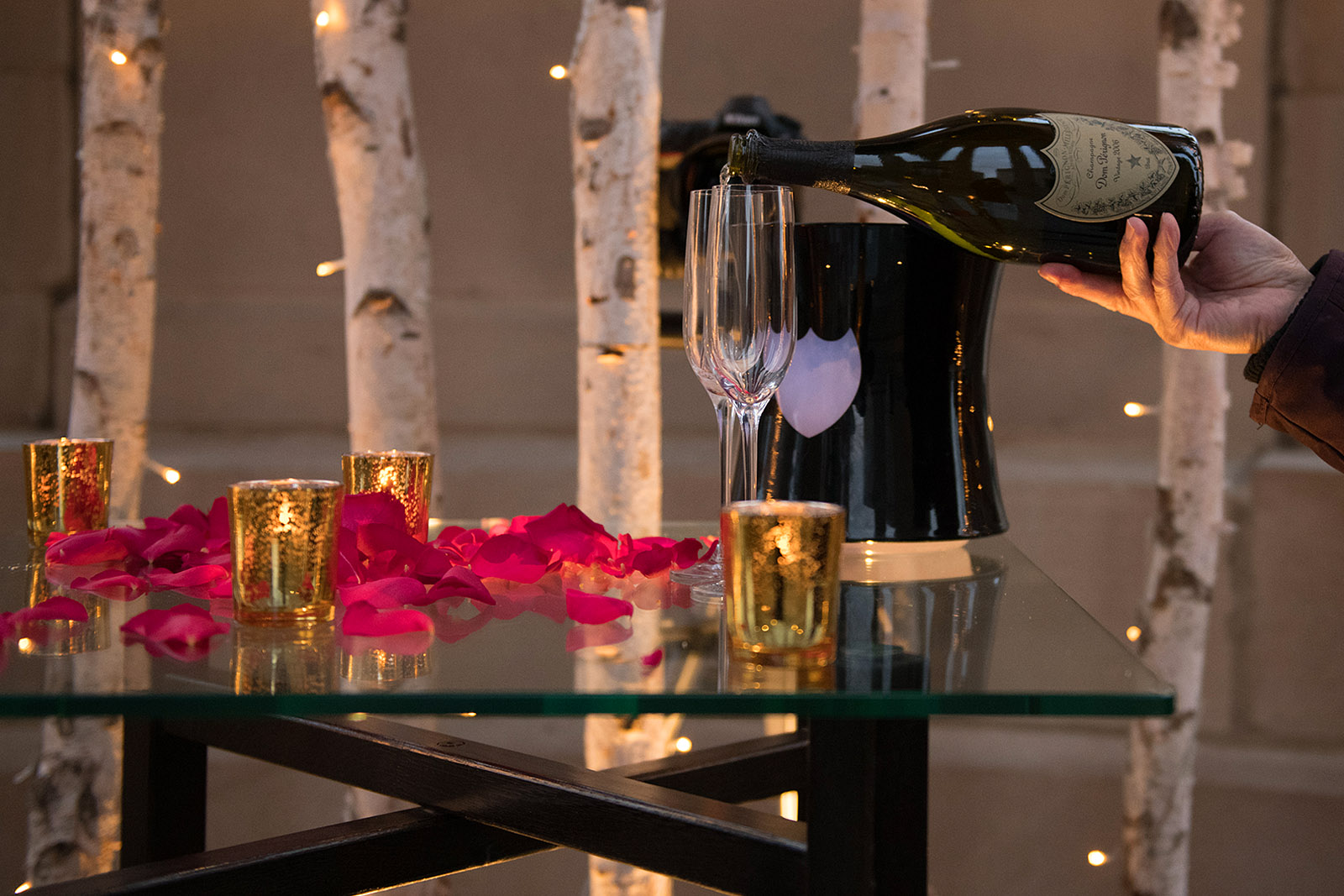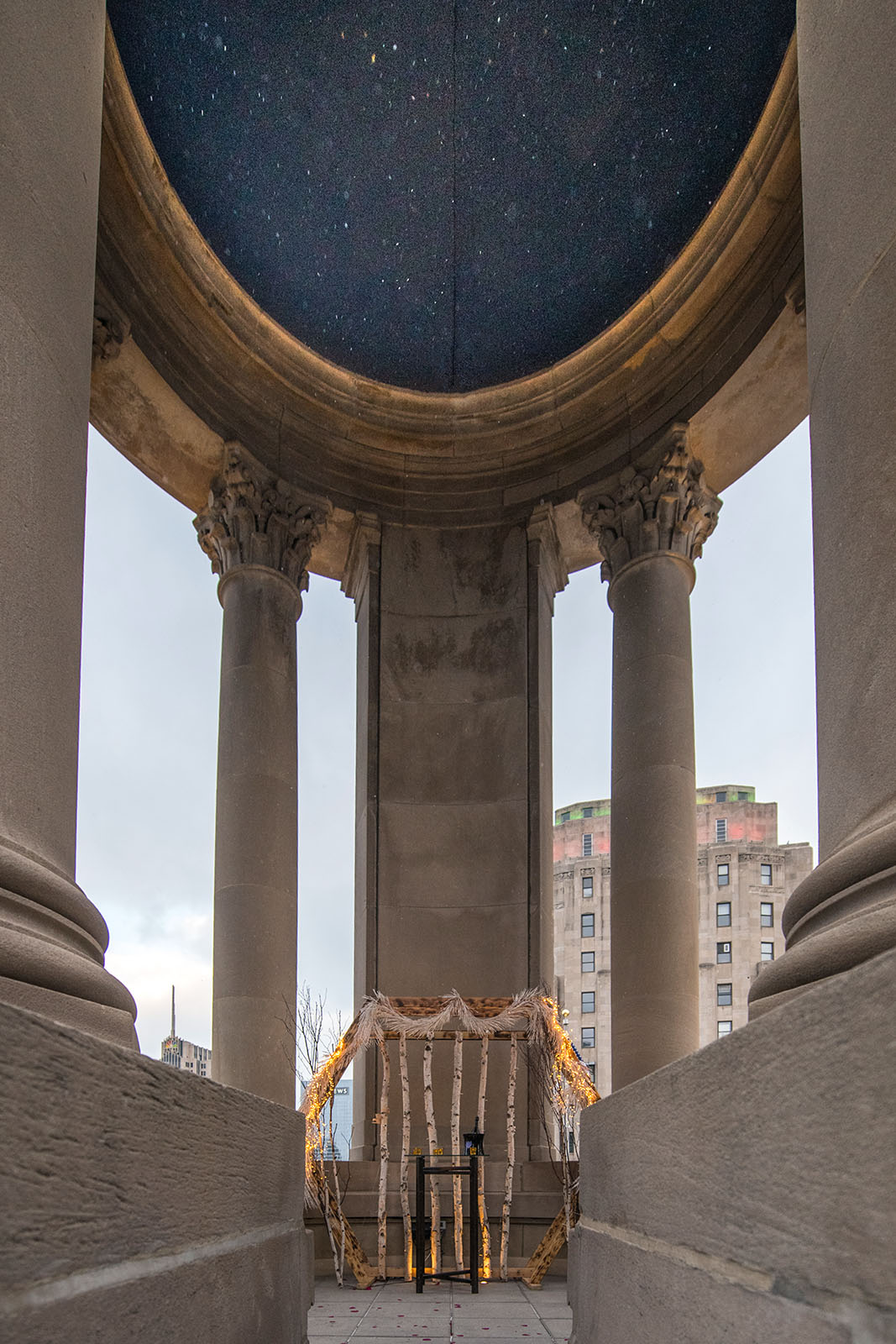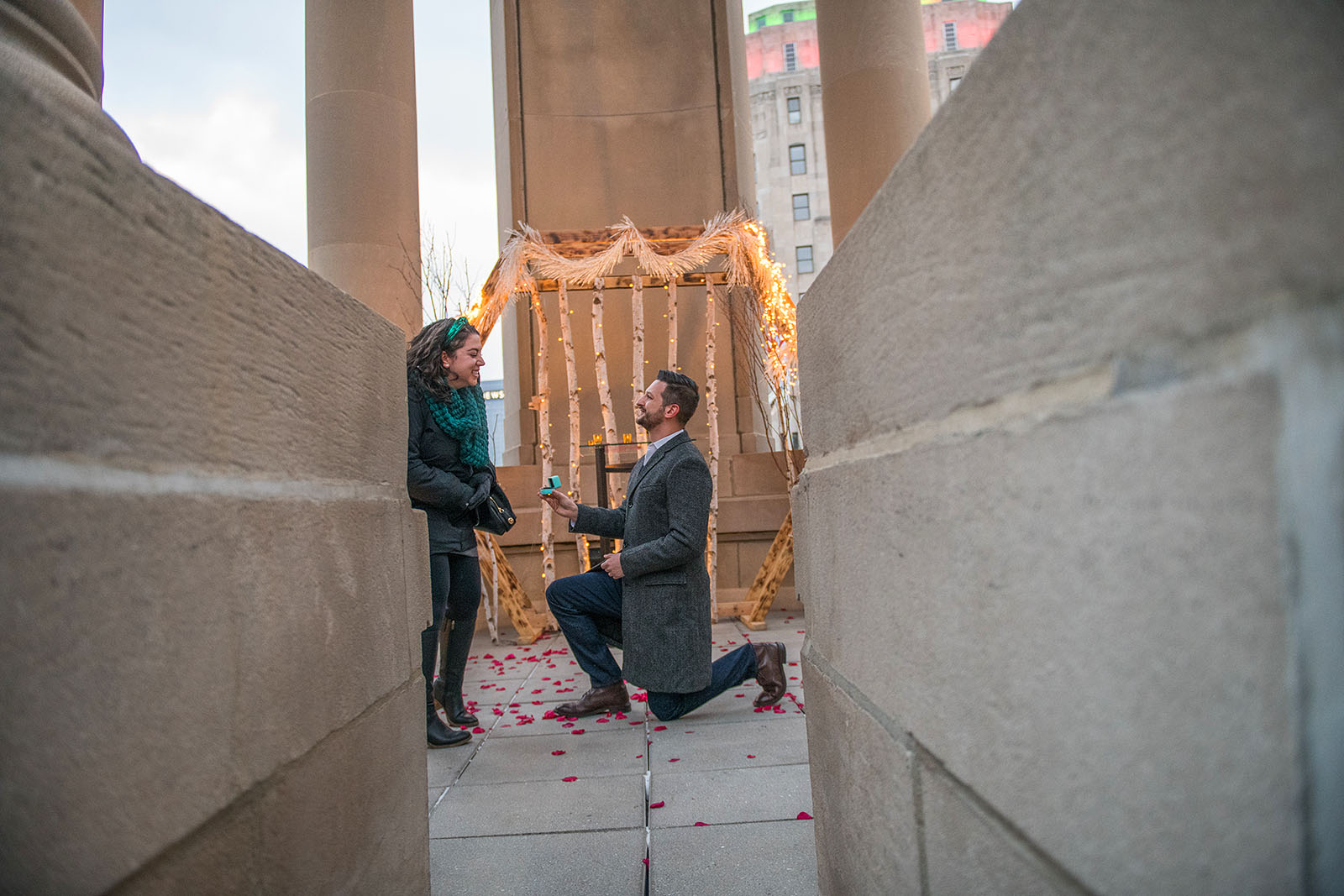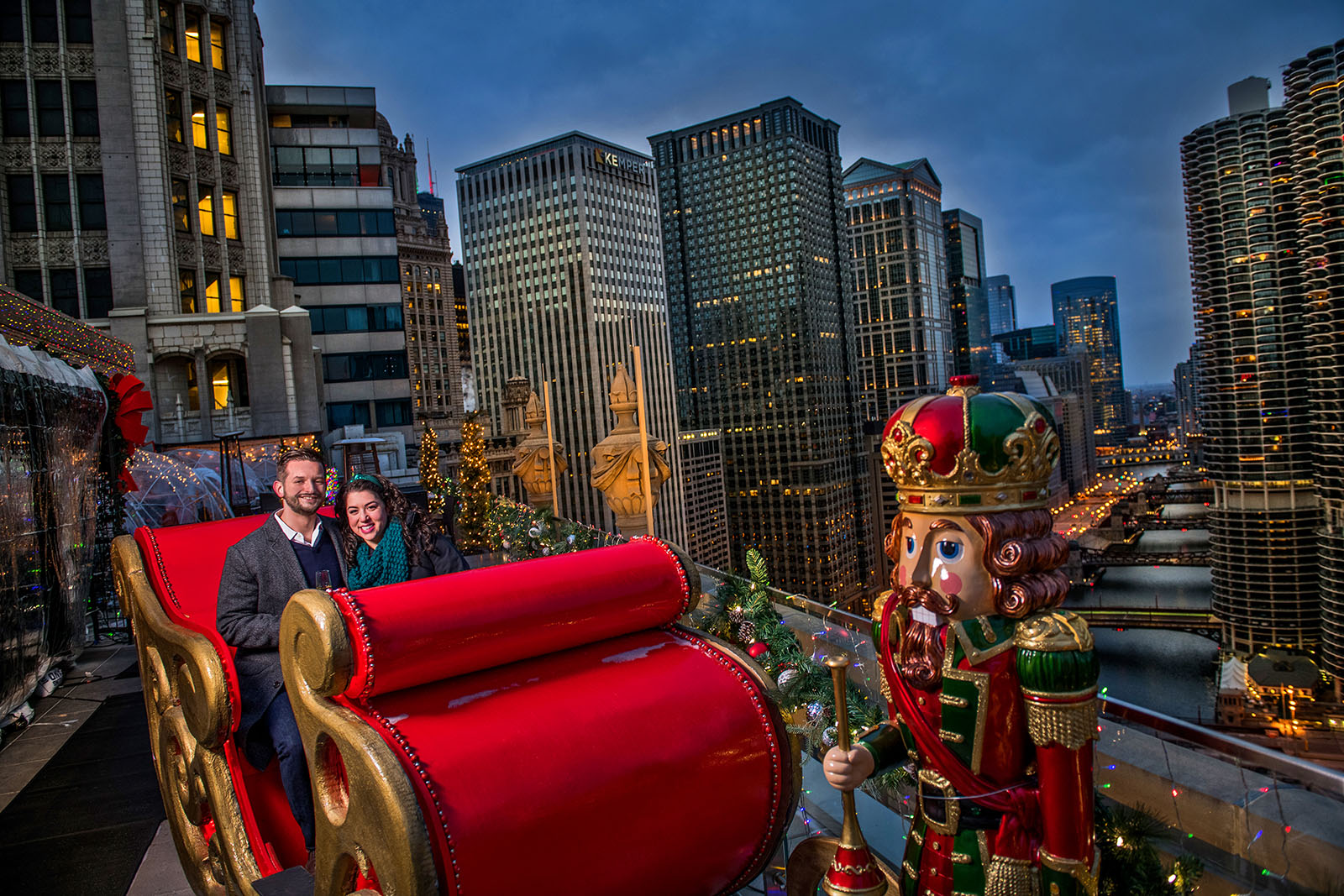 Location: 23rd Floor, London House Chicago. Three levels of hotel rooftop featuring cocktails & dining with indoor/outdoor seating & sweeping views of the Chicago skyline.

85 E Wacker Drive
Chicago, IL 60601

Proposal Manager: Manny Aganon
manny.aganon@londonhouse.com
Proposal Permit: Required
Permit Fee: $1,000.00 includes (1) bottle of Dom Perignon vintage champagne, rose petals, private cupola, VIP elevator to the 23rd floor and the most stunning views of the Chicago skyline
LondonHouse Chicago boasts some of the most impressive views of the Chicago River and the city's architecture from its 22nd-floor rooftop terrace.
A new add-on to the hotel's "grand proposal package," songwriters at With this Song create a personalized musical experience. Chicago-based musicians, Jess Godwin and Gabriel Ruiz write, record, and perform a customized love song for couples at the proposal (or cover an existing song that has meaning to the couple).
Work with the culinary team to craft a special menu of reimagined customizable cuisine to enjoy in LH Cupola's original beaux-arts intimate space for memorable moments before and after s/he exclaims, "Yes!"
1. Gibsons Italia at River Point Park (Tie)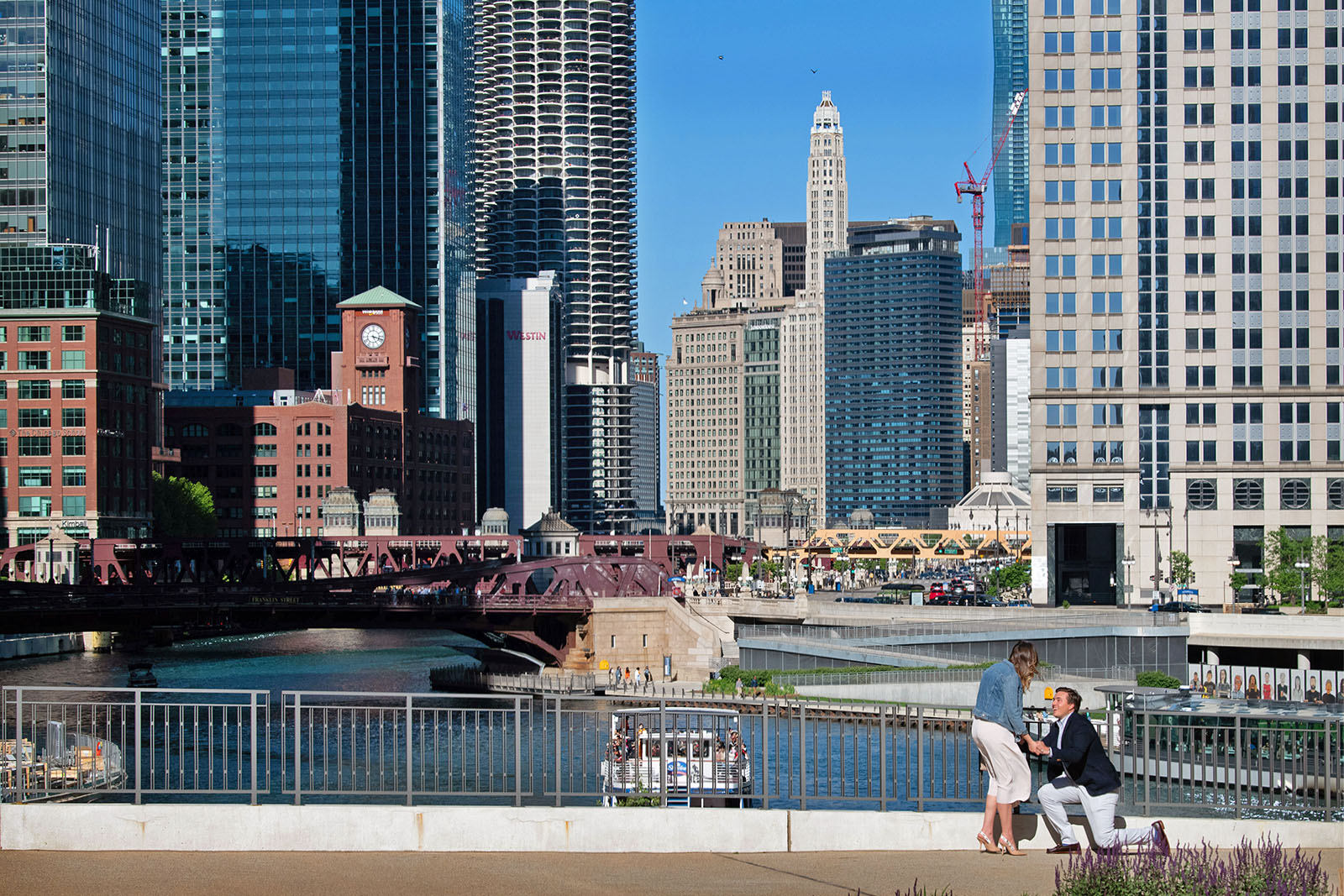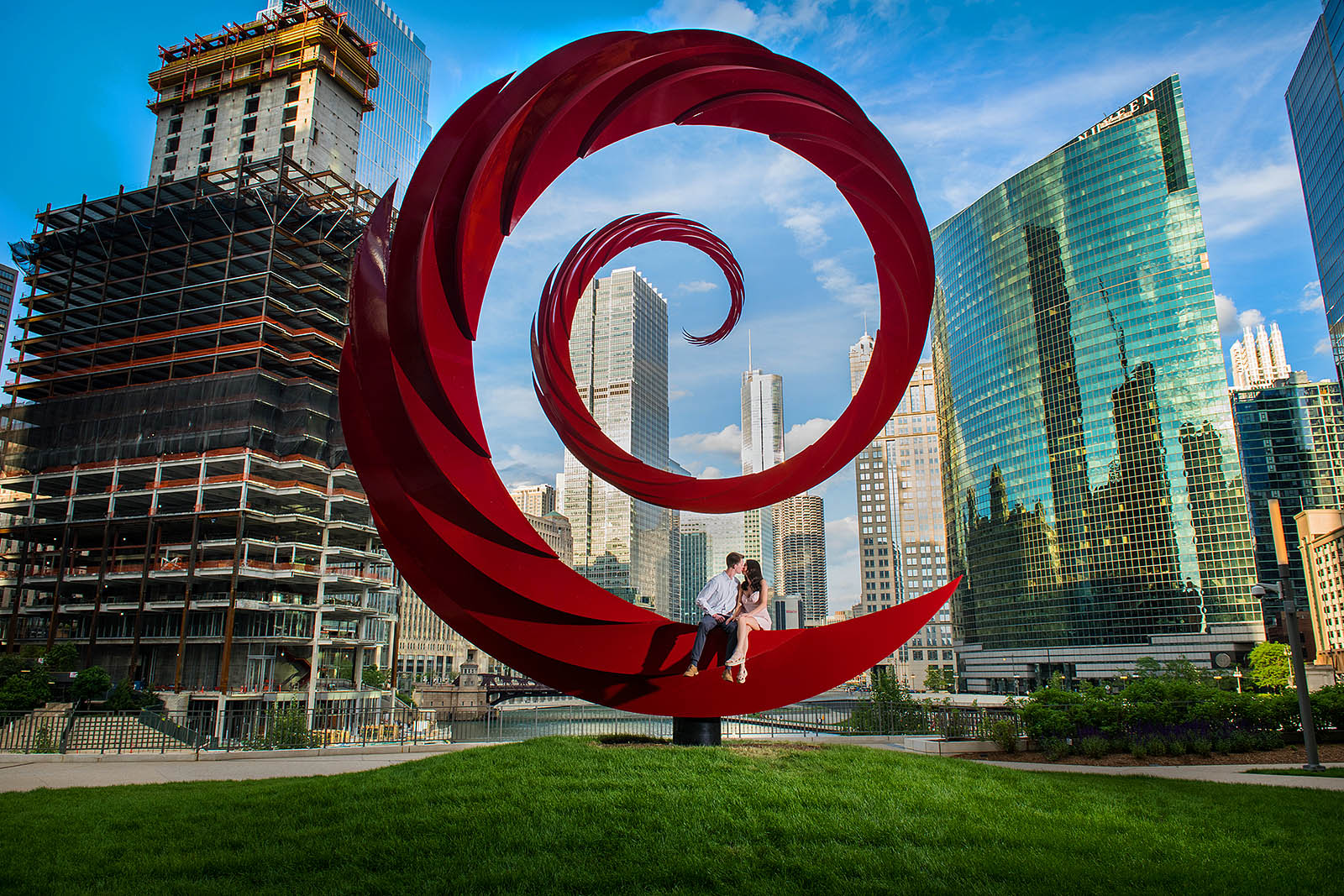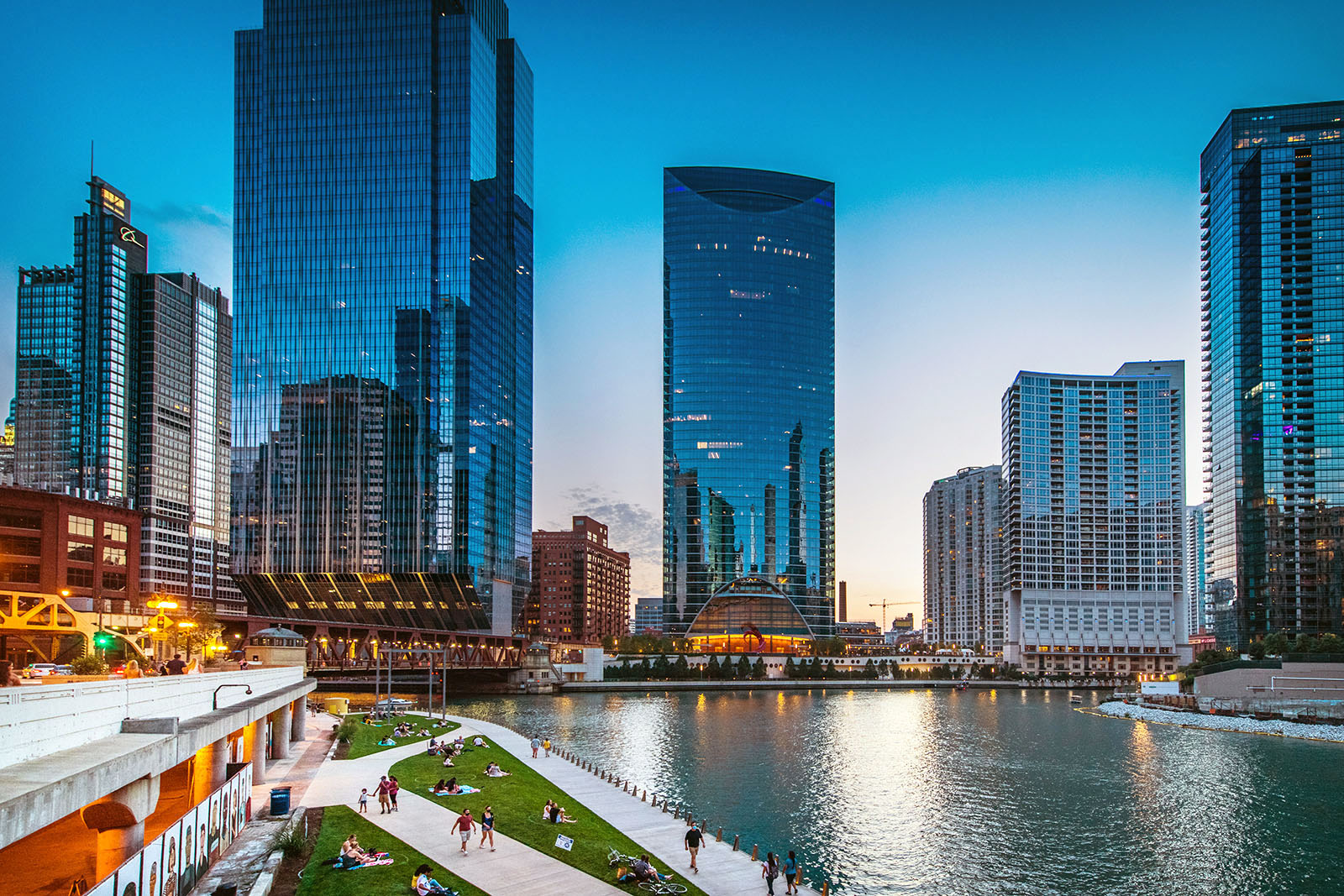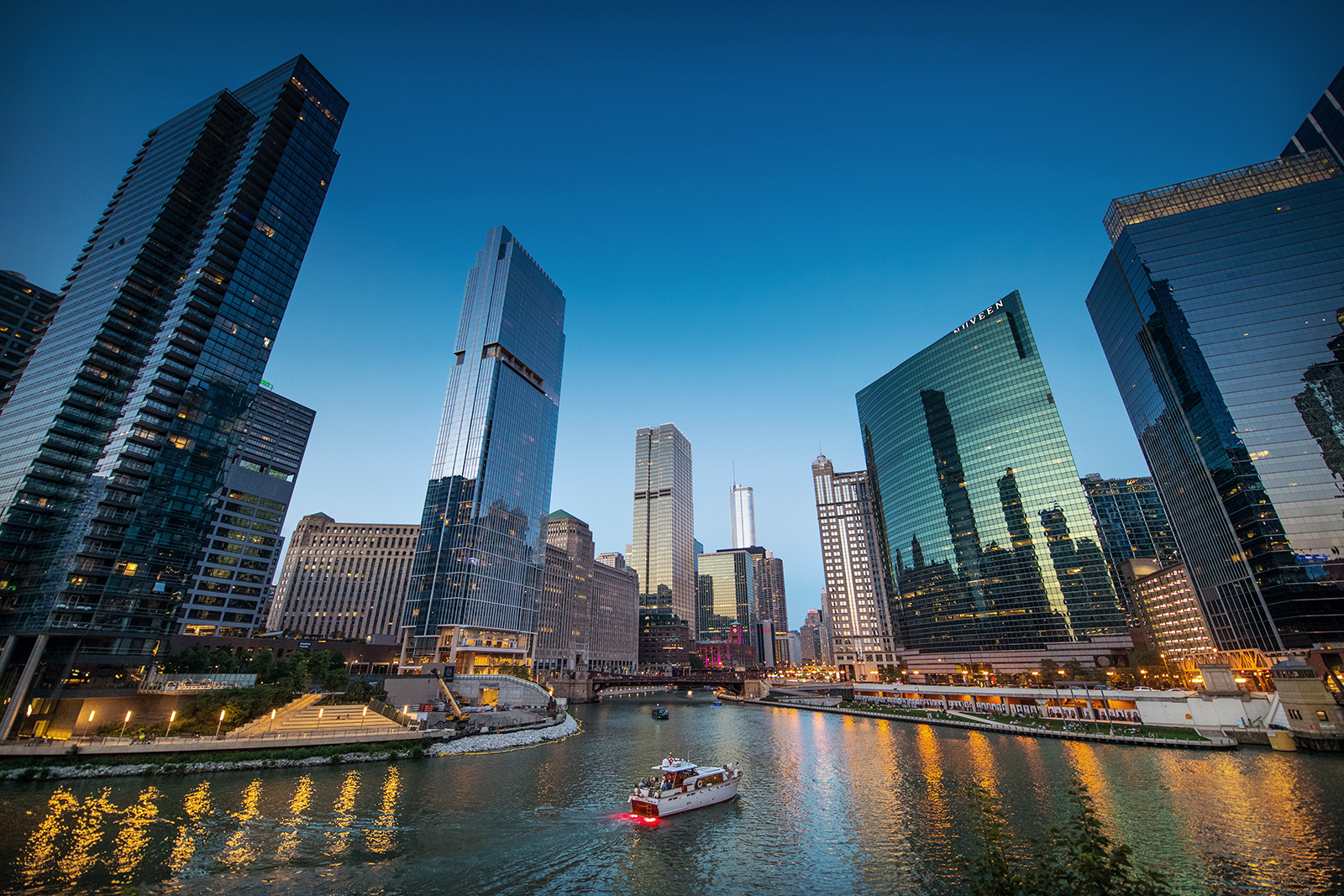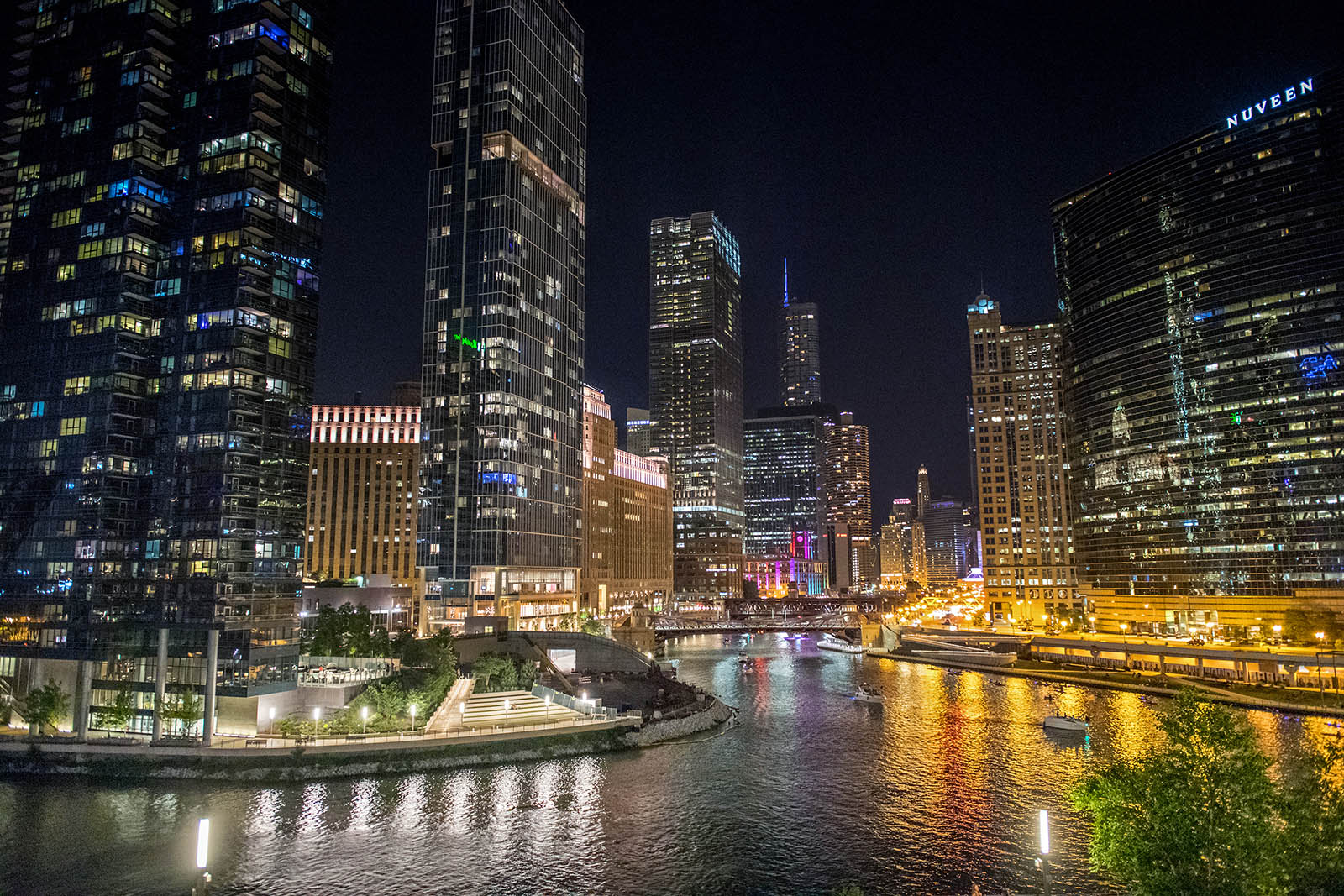 Location: River Point Park. Where the Chicago River bends at N. Orleans Street, W. Lake Street & N. Canal Street; across from Wolf Point West
233 N Canal Street
Chicago, IL 60606

Proposal Permit: Not Required
Permit Fee: None
Gibsons Italia is a lavish three-level Italian steakhouse with outdoor dining, a bar and lounge on the first floor. The main dining room, which includes a private dining area in the back, sits on the second floor and the third floor features the retractable roof with another bar. All three floors feature stunning views of the Chicago River toward the east that lead north. The restaurant's design plays off Italy's northern Lombardy region for inspiration with high-end finishes throughout including white marble tables and backlit onyx walls.
Their signature Chicago cut, a 22-ounce bone-in rib eye, has been wet-aged for 40 days and is served with rosemary, roasted garlic bulb and sea salt flakes melt into the lightly charred top, capping perfectly marbled beef oozing with flavor. I also recommend trying the 7-Year Aged Acquerello Ristto with Viking village sea scallops, Parmigiano Reggiano & baby leeks or their house made, gold-extruded fresh pasta including the mouth-watering Raviolo Carbonara which is served with crispy prosciutto, Parmigiano Reggiano & winter black truffle. Check out their complete dinner menu and make sure to make a reservation for early as they tend to consistently book weeks in advance. 
River Point Park rests directly in front of Gibsons Italia and features not only jaw-dropping views of the Chicago river and skyline but also "Constellation" – the eye-catching, vibrant, red sculpture created by world-renowned Spanish/Swiss architect, structural engineer, sculptor and painter Santiago Calatrava.  The park, designed by world-renowned landscape architect, The Office of James Burnett, is the largest riverfront park in downtown Chicago and feature extensive seating, native and botanical gardens and public art.
See more posts: