COVID-19 CORONAVIRUS: THE CONTAGIOUS WEDDING CRASHER
UPDATE: Friday, May 8, 2020
On Friday, May 8, 2020 Chicago Mayor Lori Lightfoot announced a 5 stage plan to reopen Chicago. 

Lightfoot's plan includes five phases, similar to the roadmap unveiled by Illinois' Governor J.B. Pritzker on Tuesday, May 5, 2020. The Chicago phases include the following: strict stay-at-home, stay-at-home, cautiously reopen, gradually resume and protect.



Here's a look at the 5 stage plan to reopen the City of Chicago. 
PHASE ONE: STRICT STAY-AT-HOME
– Limit the amount of contact with others; goal is to limit interactions to rapidly slow the spread of COVID-19
• Essential workers go to work; everyone else works from home
• Stay at home and limit going out to essential activities only
• Physically distance from anyone you do not live with, especially vulnerable friends and family
PHASE TWO: STAY-AT-HOME
Chicago is currently in Phase Two as of today, Friday, May 8, 2020
– Guard against unsafe interactions with others; goal is to
continue flattening the curve while safely being outside
• Essential workers go to work; everyone else works from home
• Stay at home as much as possible
• Wear a face covering while outside your home
• Physically distance from anyone you do not live with, especially vulnerable friends and family
PHASE THREE: CAUTIOUSLY REOPEN
– Strict physical distancing with some businesses
opening; goal is to thoughtfully begin to reopen Chicago safely
• Non-essential workers begin to return to work in a phased way
• Select businesses, non-profits, city entities open with demonstrated, appropriate protections for workers and customers
• When meeting others, physically distance and wear a face covering
• Non-business, social gatherings limited to <10 persons
• Phased, limited public amenities begin to open
• Stay at home if you feel ill or have come into contact with someone with COVID-19
• Continue to physically distance from vulnerable populations
• Get tested if you have symptoms
PHASE FOUR: GRADUALLY RESUME
– Continued staggered reopening into a new normal; goal is to further reopen Chicago while ensuring the safety of residents
• Additional business and capacity restrictions are lifted with appropriate safeguards
• Additional public amenities open
• Continue to wear face covering and physically distance
• Continue to distance and allow vulnerable residents to shelter
• Get tested if you have symptoms or think you have had COVID-19
PHASE FIVE: PROTECT
– Continue to protect vulnerable populations; goal is to continue to maintain safety until COVID-19 is contained
• All businesses open
• Non-vulnerable individuals can resume working
• Most activities resume with health safety in place
• Some events can resume
• Set up screenings and tests at work or with your family
• Sign up for a vaccine on the COVID Coach web portal
What needs to happen to move through each Phase?
"The epidemiological criteria for transitioning between phases are rooted in public health guidance and will be reviewed and revisited on an ongoing basis," the mayor's office said in a release. "Health-based metrics are one of the many considerations that the city is weighing to determine the details of the city's reopening approach and sequencing."
Lightfoot said the city is using these four questions to determine when to move to the next phase:
Is the rate of disease spread across the city and surrounding counties decreasing?
Does the city have the testing and contact-tracing capacity to track the disease and
limit spread?
Are there enough support systems in place for vulnerable residents?
Can the healthcare system handle a potential future surge (including beds,
ventilators and PPE)?
"While our goal is to get as many people back to work as quickly and safely as possible, we will keep data and science as the north stars of this work, as we have throughout the COVID- 19 pandemic," Commissioner of the Chicago Department of Public Health Dr. Allison Arwady said in a statement. "We also recognize that some populations and families are suffering more than others in this crisis, and we are taking that into consideration as we prepare for reopening as well."
Requirements to get to Phase Three:
A set of epidemiological factors has been established to guide the next transition from phase two (Stay-at-Home) to phase three (Cautiously Reopen), including:
• COVID-19 Case Rate (over 14 days, as a rolling average):
– Declining rate of new cases, based on incidence and/or percent positivity
• Severe Outcome Rate (over 14 days, as a rolling average):
– Stable or declining rates of cases resulting in hospitalization, ICU admission, and/or death
• Hospital Capacity Citywide (over 14 days, as a rolling average):
– Hospital beds: <1800 COVID patients
– ICU beds: <600 COVID patients
– Ventilators: <450 COVID patients
• Testing Capacity:
– Test at least 5% of Chicago residents per month
• Testing Percent Positivity Rates (over 14 days, as a rolling average):
– Congregate: <30% positive tests
– Community: <15% positive tests
• Syndromic Surveillance (over 14 days, as a rolling average):
– Declining emergency department visits for influenza-like illness and/or COVID-like illness
• Case Investigation & Contact Tracing:
– Expanded system in place for congregate and community investigations and contact tracing
***



UPDATE: Tuesday, May 5, 2020
On Tuesday, May 5, 2020, Governor J.B. Pritzker announced a 5 phased plan to reopen Illinois.
He listed criteria that each region must achieve for 28 days of a trending average in order to move to the next phase.
We are currently in Phase 2 of the 5 stage plan.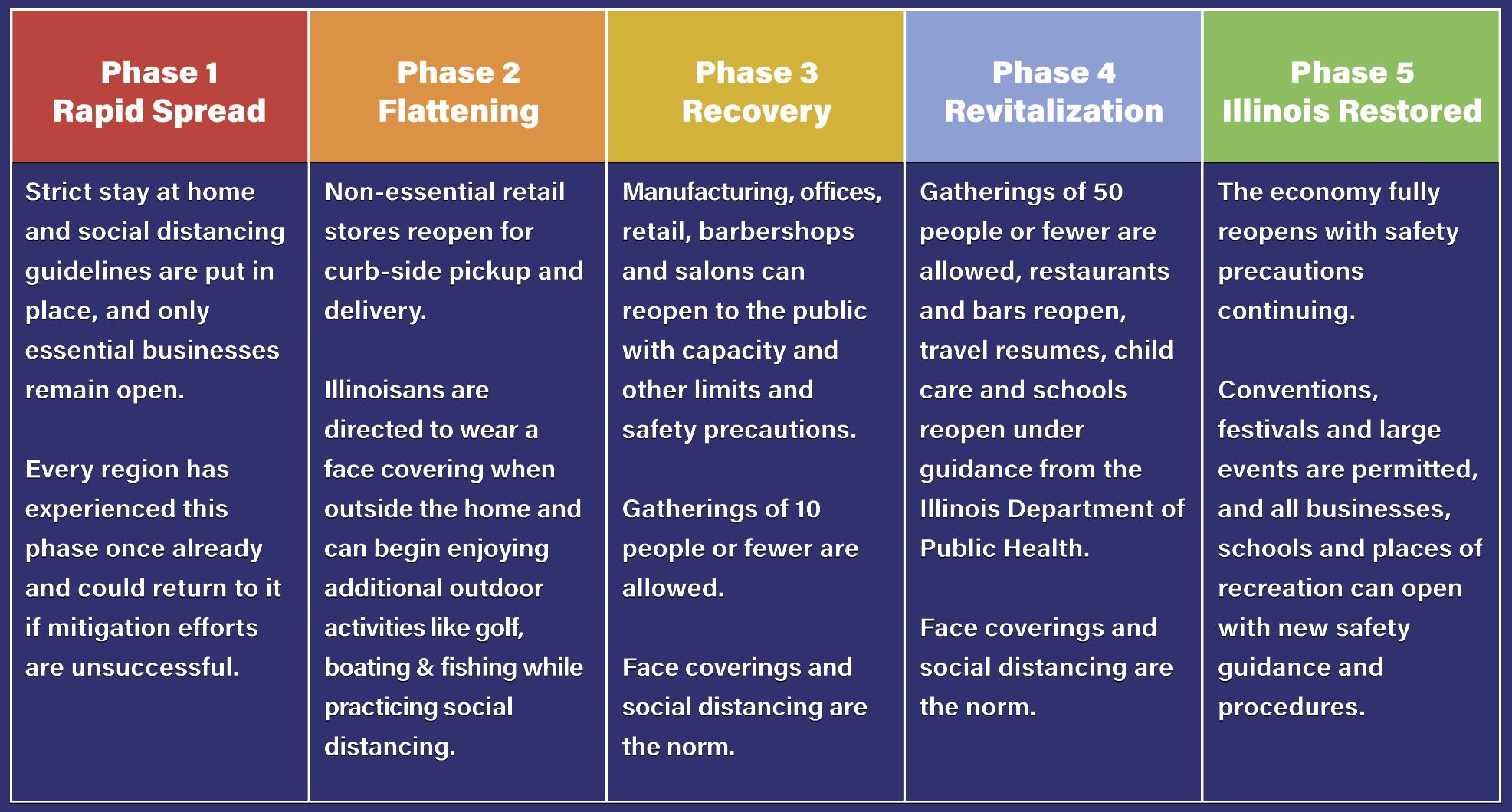 Hospitalization and Positivity Rates – meaning the percentage of positive tests – in each region must be downward trending and hospitals must maintain a minimum of 14% of COVID-19 capacity for 28 days in order to move to Phase 3.
By these restrictions, Chicago will be unable to move into Phase 3 until Mid-July or beyond.
Phase 3 includes events limited to 10 people total.
These 10 people must also include vendors (photo, video, venue staff, officiant, catering staff, etc.) in addition to the Bride & Groom, parents, immediate family & wedding party.
Based on the Governor's plan, Phase 4 will likely arrive in August.
Phase 4 includes events hosting less than 50 total guests.
Phase 5, which includes high density venues such as weddings hosting more than 50 guests, along with sports and music venues, will not begin until we have a vaccine which isn't anticipated until 2021.
Jason Kaczorowski Photography
is advising our clients to consider 3 plans:
Plan 1 :: 10 Guests or less
Plan 2 :: 50 Guests or less
Plan 3 :: Postpone beyond 2020 if you wish to host more than 50 guests
Please keep in mind that your total guest count must include photo, video, officiant and all necessary venue staff.

Discover more at:
* * * * 
UPDATE: Wednesday, April 29, 2020
In accordance with Illinois State Representative, Ann Williams, along with the Illinois Department of Commerce and Economic Opportunity:
"Photographers may still operate under strict limited conditions.

Outdoor photography IS permitted so long as social distancing requirements are followed.

Indoor photography IS NOT permitted.

Gatherings, such as weddings, MUST BE limited to fewer than 10 total people which includes an officiant, photographer, wedding couple, along with any additional family, friends and/or guests.

If you have questions or concerns about whether a business is "essential" under the Stay at Home order, you may contact the Department of Commerce and Economic Opportunity's COVID- 19 hotline at 1-800-252-2923 or e-mail CEO.support@illinois.gov"
* * * * 
UPDATE: Friday, April 24, 2020
In accordance with Illinois State Governor J.B. Pritzker's mandate, and with an abundance of caution for health and well-being of our clients, our team and the general population, we will be unable to offer event photography, portrait photography and in-studio meetings until, at a minimum, the expiration of the state's stay-at-home executive order which has been mandated until Monday, June 1, 2020.
Data shows that if the state were to lift mitigation abruptly, it would result in a second wave of infections, hospitalizations and deaths. 
Lifting mitigation measures are only possible with widespread availability and access to COVID-19 testing, tracing and treatment. Until widespread testing, tracing and treatment is possible, we support our state's efforts to continue to reduce the curve of the spread of the virus by encouraging social distancing.
We pray you and your loved ones are safe and healthy and we can't wait for the day when we have the opportunity to see you again in person soon.
* * * *  
UPDATE: Thursday, April 23, 2020
Based on data from scientists and health experts and after consulting with stakeholders across the state, Illinois Governor J.B. Pritzker announced a modified version of the state's stay-at-home executive order which was initially ordered for Illinois residents on Friday, March 20 and was set to expire Thursday, April 30, 2020. The new state mandate will go into effect on May 1, 2020.
The modified order will strengthen the state's social distancing requirements while allowing residents additional flexibility and provide measured relief to non-essential businesses in the safest way possible.
Beginning on May 1, individuals will be required to wear a face-covering or a mask when in a public place where they can't maintain a six-foot social distance. Face-coverings will be required in public indoor spaces, such as stores. This new requirement applies to all individuals over the age of two who are able to medically tolerate a face-covering or a mask.
* * * *  
ORIGINALLY PUBLISHED: Friday, March 13, 2020
Can we address the elephant in the room? The Contagious Wedding Crasher: COVID-19 Coronovirus Pandemic
If you are like me, your email inbox has been flooded with communications from companies detailing their responses to the Coronavirus disease.
Before I share with you what we are doing at Jason Kaczorowski Photography, please allow me to take a moment to share with you an optimistic thought: Throughout history, society has always risen to meet whatever challenges life has thrown our way and we have always emerged stronger in the end.
Remember: Be mindful. Be positive. Be kind. Be the reason someone smiles. Be the reason someone feels loved and believes in the goodness in other people.
I know that many of you may be feeling very uncertain about how this will play out in the coming months and worried about how this may affect your wedding plans. I am with you and I fully understand. It's hard to know how this is going to play out and how long it is going to last.
First and foremost, I want to assure you that as your wedding photographers, my team and I care very deeply about the health of you and your loved ones. We are taking every precaution we can to keep ourselves healthy for your wedding day.
With schools shutting down, concerts and festivals cancelling, some states starting to ban large gatherings, college basketball, the NBA, MLB and NFL suspending or rescheduling their seasons, and travel being discouraged throughout the country, we understand that some of you may choose to postpone your wedding day to a later date when you wouldn't need to worry about you or your guests' health and travel plans.
IF YOU ARE CONSIDERING POSTPONING YOUR WEDDING
I understand the financial burden of rescheduling a wedding day – particularly if your wedding is within the next couple months. Because of this, I am expanding my rescheduling policy to make it more flexible during this pandemic and help ease stress related to this for all of our clients.
If you choose to reschedule because of COVID-19, please let us know as soon as possible so we can provide you with a list of available dates in 2020 and 2021. We have limited Saturday 2020 availability however Fridays, Sundays and Weekdays are often available, in addition to added availability in 2021, so please do not worry about losing us as your photographers.
Furthermore, any amount paid towards your wedding photography will be applied to your rescheduled date, so long as the event is rescheduled to take place on or before December 31, 2021, and you will not incur any rescheduling fees or lose payments you have already made.
My goal is to help make postponing your wedding day as easy and stress-free as possible for you if this is the route you choose to take.
IF YOU CHOOSE TO POSTPONE YOUR WEDDING
While I urge all of my clients to follow the advice of your state and county regarding large gatherings during the time of your event, I understand that some events may not be possible to cancel.
In this situation, if the virus is still spreading throughout the community during the time of your wedding, I will take precautions in order to protect myself, as well as you, your guests, and the guests of weddings planned for the weekends ahead of your date.
PRECAUTIONS WE PLAN TO TAKE
• Our team will wear protective masks throughout the day of your wedding. Because of the nature of COVID-19, we want to protect you and your guests on the off chance that I or a member of my team could be carrying the virus while asymptomatic at your event.

• We will be sanitizing our equipment throughout the day, as well as taking frequent breaks to wash our hands in between your timeline of events.

• During the dancing portion of your reception, we will be photographing from the perimeter of your dance floor, utilizing a longer focal length to compensate, in order to keep a safe distance from people who may be coughing, sneezing, and/or sweating.

• If I or a member of my team becomes ill and/or we are forced to quarantine ourselves, I will allocate an equally amazing photographer to capture your day during any unexpected absence. Jason Kaczorowski Photography is fortunate to have multiple incredibly talented, healthy photographers (Alex, Madi, Stephanie) on staff should the need arise to quarantine oneself from your event.
Naturally, we also kindly ask that you request for any guests who are feeling ill or may have been exposed to COVID-19 to stay home.
ENGAGEMENT SESSIONS
I am optimistic that we will begin offering Engagement Sessions starting Friday, May 1st, 2020. However, we will be limiting location options to avoid heavily trafficked locations in order to reduce our risk of being exposed to the virus. We respect and will abide by city and state mandates.

QUESTIONS
Here's a few common questions regarding the COVID-19 Coronavirus that may help steer your decision regarding your event.
The facts presented have been verified as of Friday, March 13, 2020.
1. ISN'T THE CORONAVIRUS JUST LIKE THE FLU?
No. Unfortunately it is not like the flu.
It does share symptoms with the flu, the common cold, and seasonal allergies, which is why many aren't taking it as seriously as they should.
Again, don't panic, but do take responsible precautions, both for yourself, your family and friends.
2. WHY ARE BIG EVENTS BEING CANCELED?
The current infection rate for COVID-19 is 2-3, meaning if someone catches it, they are likely to spread it to 2-3 people, who then spread it to 2-3 other people, and so on. The growth is exponential: seemingly slow and then seemingly all at once.
During the past 2 weeks, the number of deaths has more than doubled to over 5,600 and there is currently (as of 3/14/2020) 150,000 cases worldwide.

(UPDATE: Friday, April 3, 2020 – Only three weeks since last being reported, there are now 1,093,107 cases worldwide and the number of deaths is now 58,729 as of 4/3/2020). 
Experts are now predicting that between 160 million and 214 million people in the United States could be infected over the course of the epidemic.
That could last for months – or even over a year – with infections concentrated in shorter periods, staggered across time in different communities.
Anywhere from 200,000 to 1.7 million people may die if the virus isn't contained.
Because big events give space for the illness to spread to far more than 2-3 people much more quickly, isolation and quarantine are a way to "flatten the curve."
In the US, several states have issued bans on gatherings of more than 250 people through the end of March.

(UPDATE: Monday, March 16, 2020 – During his daily COVID-19 update on Monday, Illinois Governor J.B. Pritzker manded that social gatherings over 50 people be canceled. The mandate will be enforced for the next 8 weeks based on the CDC guidelines. This is a significant updated the Governor's previous mandate made last Thursday, which mandated that all large-scale events exceeding 1,000 individuals be canceled for the next 30 days.)

(UPDATE: Tuesday, March 31, 2020 – Illinois Gov. JB Pritzker extends "stay-at-home" order until April 30, 2020)
(UPDATE: Friday, April 3, 2020 – Illinois officials reported 8,904 cases of COVID-19 and 210 deaths)
3. I'M HEALTHY AND MY GUESTS ARE HEALTHY,… WHY SHOULD WE FOLLOW THESE GUIDELINES?
You may be healthy, which means if you catch it, you will be sick for a few weeks, but ultimately will likely recover. If the 2-3 or more people you spread it are older or may have compromised immune systems, they will likely not be fine and their chances of not recovering is much greater.
Not everyone has the luxury of normal good health. Immunocompromised people include cancer patients and survivors, the elderly, people with Asthma, Diabetes, Lupus, Rheumatoid Arthritis and other "invisible" diseases you can't necessarily see because they look healthy, etc.
We live in a society and need to look out for one another.
4. WHAT CAN I DO TO COPE WITH THE SITUATION?
Realize and embrace that your guest list may be compromised.
From family and friends perhaps affected by the travel ban to immunocompromised guests, you will likely have to understand and accept that some guests may be unable to attend your wedding.
It's alright to feel sad and even mad about this. The best thing to do is to tell those who may be missing your event that you love them, you understand and you wish for them to remain healthy. 
Based on the date of your wedding, some guests may wish to not attend to slow the spread of the virus. 
For those guests unable to attend your event, consider hosting a live stream or Facetime your ceremony for elderly relatives unable to leave nursing homes. 
Create a personalized webpage or Facebook Group for your wedding and invite friends and family to share photos.
Consider personalized favors such as Hand Sanitizer packages for your guests. These can be found for as little as $0.85. 
Speaking of hand sanitizer, "Sanitation Stations" will be all the rage in 2020! Consider placing hand sanitizer by your guest book and near table cards at the entrance to your reception. 
And since we're on the topic of germs, perhaps ask your venue if they can prop restroom doors so guests don't need to use handles or place trash cans by exits so guests can dispose of towels used to open doors. 
Finally, heed the advice of your wedding vendors. For example, if your caterer advises against those delicious passed hors d'oeuvres you sampled during your tasting, trust them. 
5. WHICH SOURCES SHOULD I BE PAYING ATTENTION TO SO I CAN FIND OUT WHAT'S GOING ON IN THE COMING DAYS AND WEEKS AS COVID-19 EVOLVES?
Here is some recommended reading from experts in their field
World Health Organization (WHO)
Johns Hopkins Coronavirus Resource Center
If you have any questions or concerns at all, please don't hesitate to reach out. I want to have an open discussion about this with you! I am ready to help in whatever way I can.
Jason Kaczorowski
Jason Kaczorowski Photography
www.jasonkaczorowski.com
312.671.7678


See more posts: