10 TIPS FOR PLANNING A DESTINATION WEDDING
Dreaming of saying "I do" against a breathtaking backdrop, surrounded by the enchanting allure of a foreign land? Destination weddings have gained popularity in recent years for their unique charm and memorable experiences. Planning a destination wedding requires meticulous attention to detail and a sprinkle of creativity. Prepare to pack your bags and come with me as we explore tips that will help you navigate the exciting journey of planning your perfect destination wedding!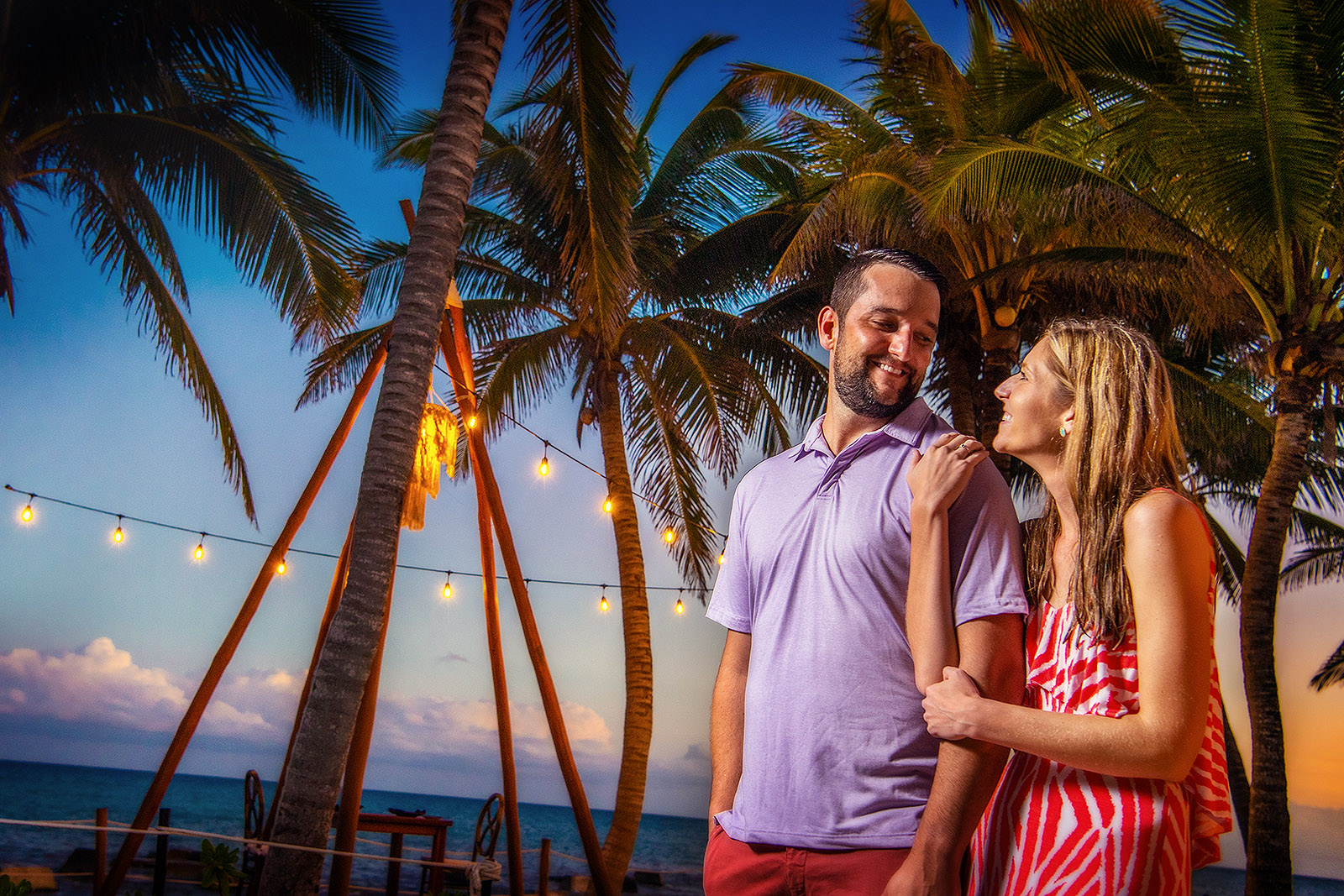 (above) I love sneaking away with couples just before all their guest arrive for their Destination Wedding. I always arrive a few days early to get a sense of the location and capture an on-location portrait session, along with the couple's Welcome Party for their guests. These are so much fun to photograph! Vibes are always high and excitement is in the warm air.
Choose the Ideal Destination
Selecting the perfect destination is the cornerstone of your entire wedding planning process. Consider places that hold significance for you and your partner, whether it's a romantic European city, a tropical beach paradise, a serene mountain retreat or even the dry, dusty playa at Burning Man. Keep in mind the travel logistics, weather, and local regulations when narrowing down your options.
(above) As the art gets more elaborate and the accommodations more comfortable, Burning Man has become a hot destination for wild weddings.
Plan Well in Advance
Time is your ally when it comes to a destination wedding. Begin planning at least 12 to 18 months in advance to secure the best venues and vendors. This also allows your guests ample time to make travel arrangements and take time off work, increasing the likelihood of attendance.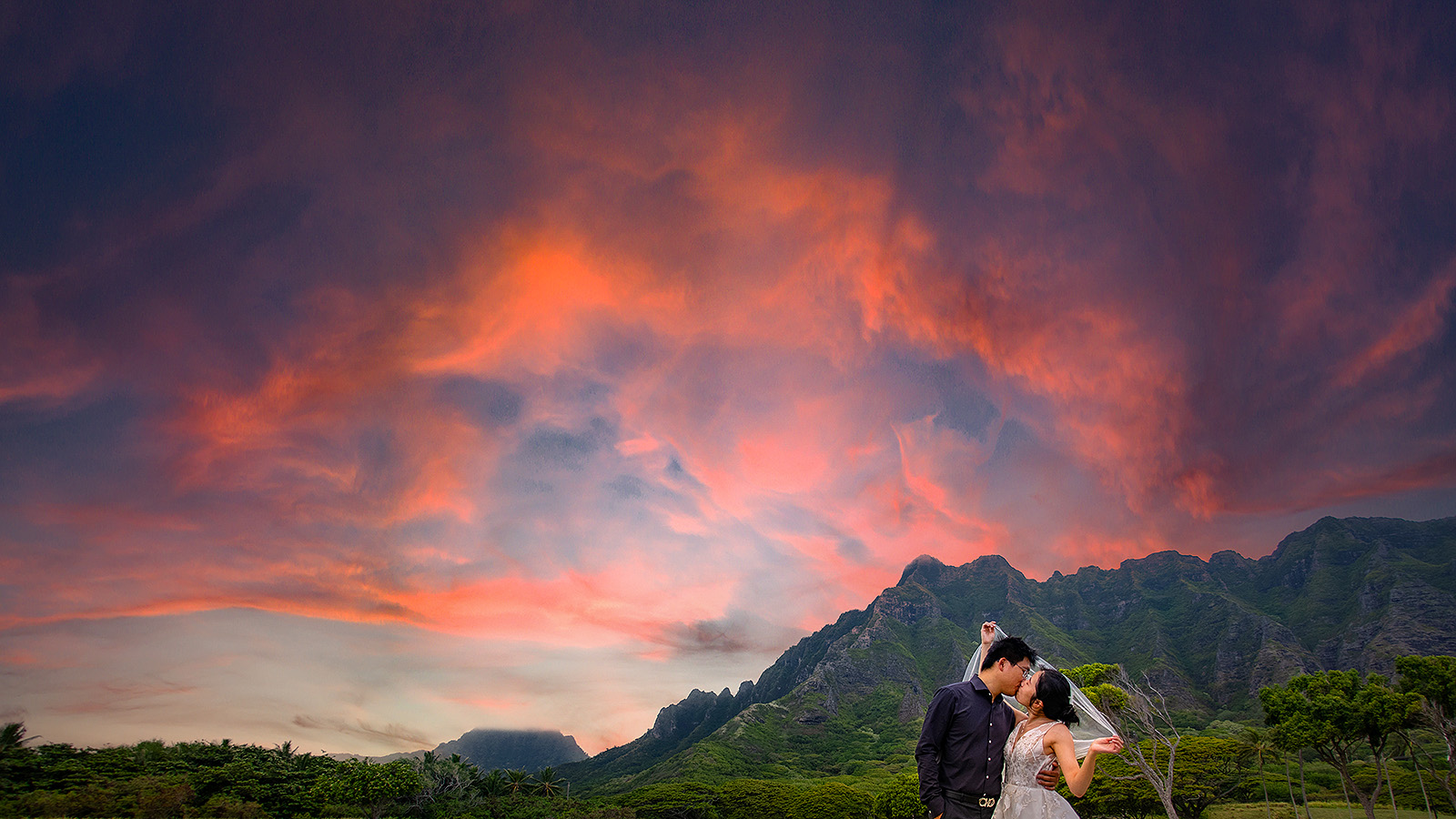 (above) Just outside of Honolulu, Hawaii on the island of Oʻahu is the Kualoa Ranch, an incredible 4,000-acre private nature reserve that has been the scene for a multitude of Hollywood movies and television shows. The Jurassic Park franchise, George of the Jungle, Mighty Joe Young, Godzilla, Fifty First Dates, You, Me & Dupree, Kong: Skull Island, Jumanji, Lost, Hawaii Five-0 and Magnum P.I., were all filmed here.
Research Local Marriage Requirements
Different countries have varying legal requirements for marriage. Research the necessary paperwork, documentation, and waiting periods required for your chosen destination. Some places might have residency requirements, so it's crucial to understand these details before committing to a location.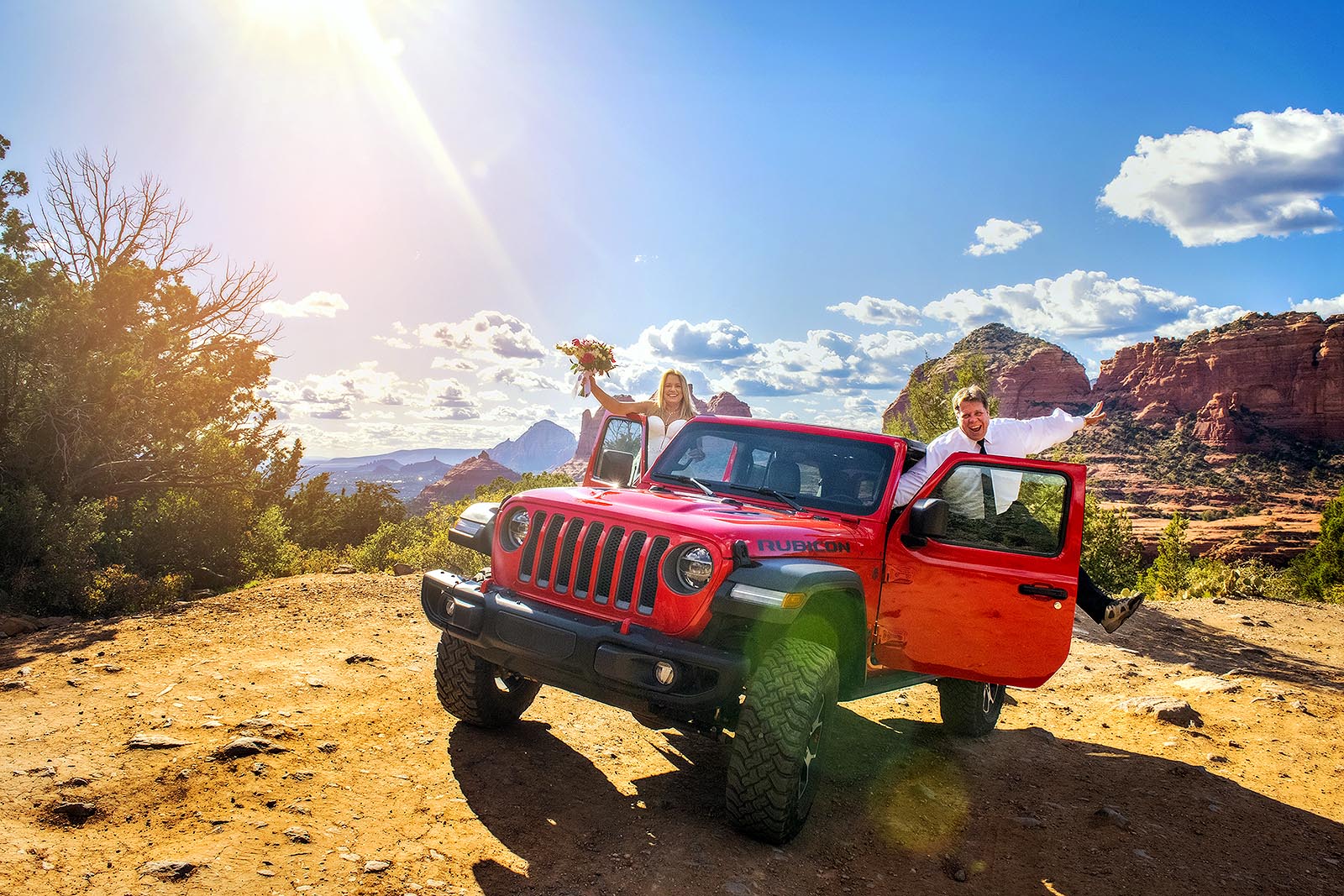 (above) Sedona is a mecca for artists, outdoor enthusiasts and love. Sedona is considered to be a deeply spiritual destination, but there are specific locations where some say they feel the energy more intensely. Native Americans believe that a spiritual transformation occurs more easily here because the veils to other dimensions are more translucent and accessible. Sedona has seven "energy vortexes" where the subtle energy that exists at these locations interacts with the subtle body energy belonging to each visitor. The energy vibrates within and emphasizes the inner being of each person. The Chapel of the Holy Cross Vortex is believed to resonate love, harmony, unity, and oneness with all who visit.
 Hire a Local Wedding Planner
Enlist the services of a local wedding planner who is well-versed in the area's customs, vendors, and legalities. A local expert will help you navigate challenges and streamline the planning process, ensuring a smooth and stress-free wedding day.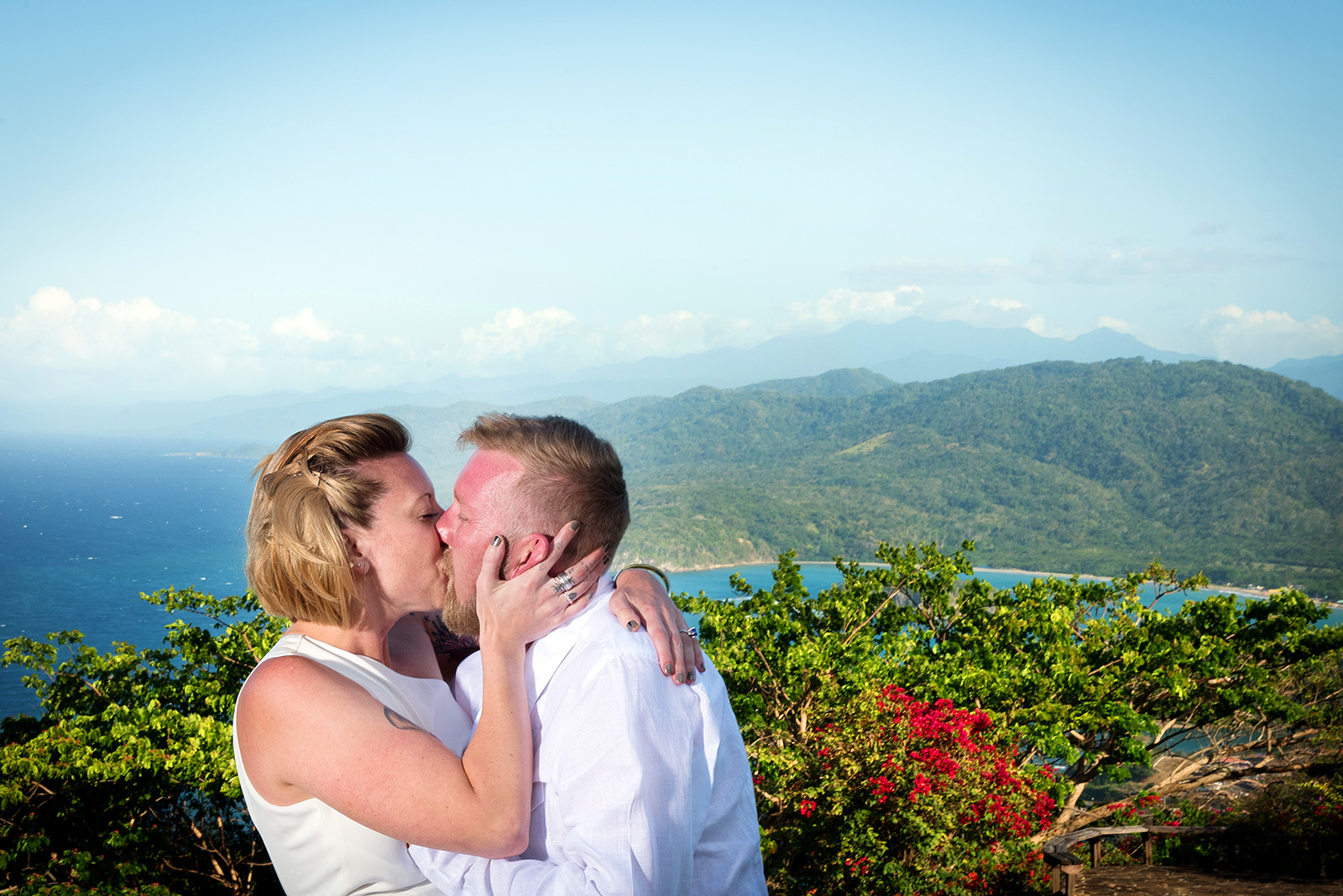 (above) Lindsey & Jon were wed high above Ocho Rios, Jamaica at the Firefly Estate, home to English playwright, composer, director, actor, and singer, Sir Noël Coward, and listed as a National Heritage Site by the Jamaica National Heritage Trust in 1978. Chris Blackwell, founder of Island Records (Bob Marley, Grace Jones. U2) bought the property and restored it to its former glory.
Budget Wisely
Destination weddings can be cost-effective or lavish, depending on your choices. Create a detailed budget that accounts for travel expenses, accommodations, venue costs, decor, catering, and entertainment. Be prepared for currency exchange rates and unexpected costs that may arise due to the destination's unique offerings.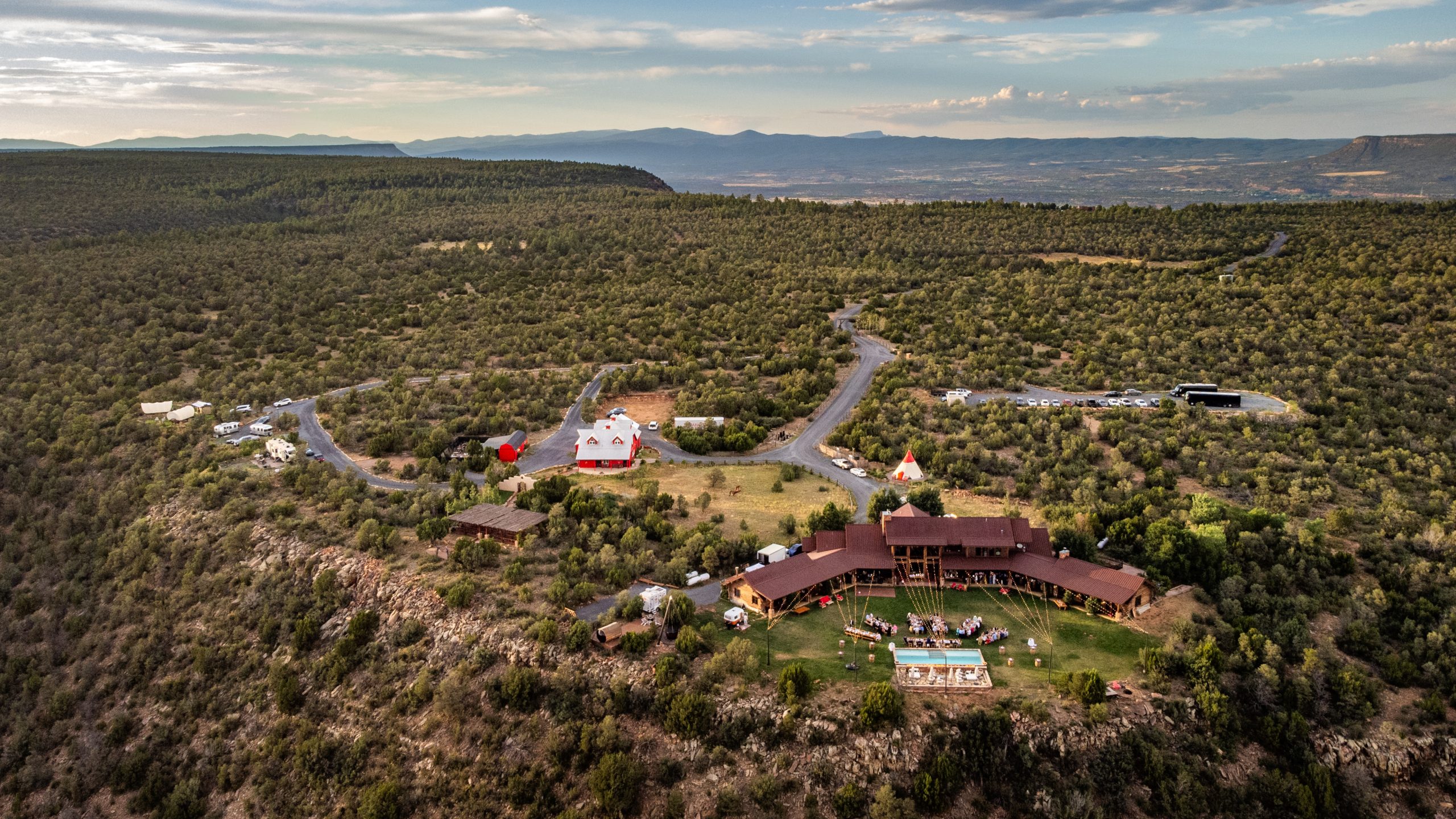 (above) The 1,650-acre Blame Her Ranch rests at the southern most tip of Glorieta Mesa, only 45 minutes from Santa Fe, New Mexico, but worlds away from everything. The ranch's entire western edge is adjacent to the 1.6 million acre Santa Fe National Forest, which provides extreme, total privacy. BHR offers 4 different venues: The Main Log Lodge, The Outdoor Gazebo (as seen above), The Knotty-Pine Barn and The 18,000 sq ft Great Lawn. The ranch sleeps 24 of your closest family or wedding party allowing everyone to stay and party exclusively in one place. Blame Her Ranch can comfortably accommodate up to 250 wedding or day guests. The Main Lodge spreads over more than 9,000 square feet and has a game room, a great room, a chef kitchen, 8 bedrooms and 8 1/2 baths, pool, outdoor kitchen, gym cauldron hot tub. Outside, there are 1,800 square feet of covered decks and patios and an expansive,18,000-square-foot lawn that can host open air or tented activities. The venue's 1,750-square-foot Knotty Pine Party Barn comes with flat screens TVs, a sound system, hay sofas, and 8 wine barrel tables and 4 bars. There is also a 250 person gazebo area by the cliffs that offer the best views in all of New Mexico.
Captured in association with Talitha Tarro Photography, Albuquerque, New Mexico
Consider Guest Comfort
Prioritize your guests' comfort by providing them with essential information well in advance. Include travel tips, accommodation options, weather expectations, and a tentative itinerary. Offering group rates for accommodations or arranging transportation between the airport and the venue can make the trip more convenient for your guests.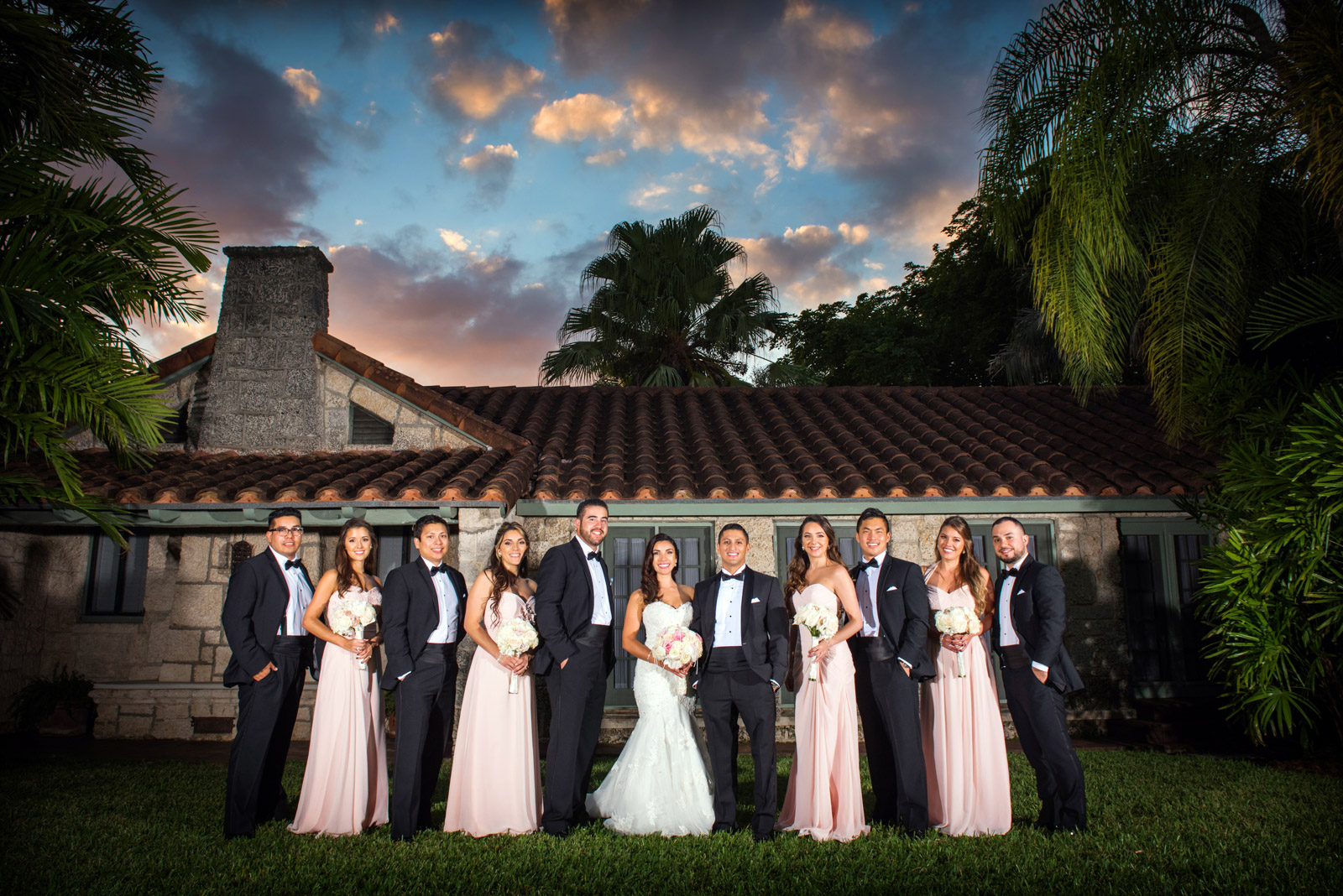 (above) Marcela & Abraham chose The Cooper Estate, located 45 minutes southwest of Miami. The  estate's oolite limestone barn and massive live oak canopies, waterfalls, ponds,  sunken grotto, and acres of manicured gardens, all naturally shaded and lined with rare palms, make it the ideal destination wedding venue in southern Florida.
Personalize the Experience
Infuse your personalities into the wedding to make it truly unique. Incorporate local traditions, cuisine, and elements into your wedding decor and activities. This not only enhances the guest experience but also creates unforgettable memories.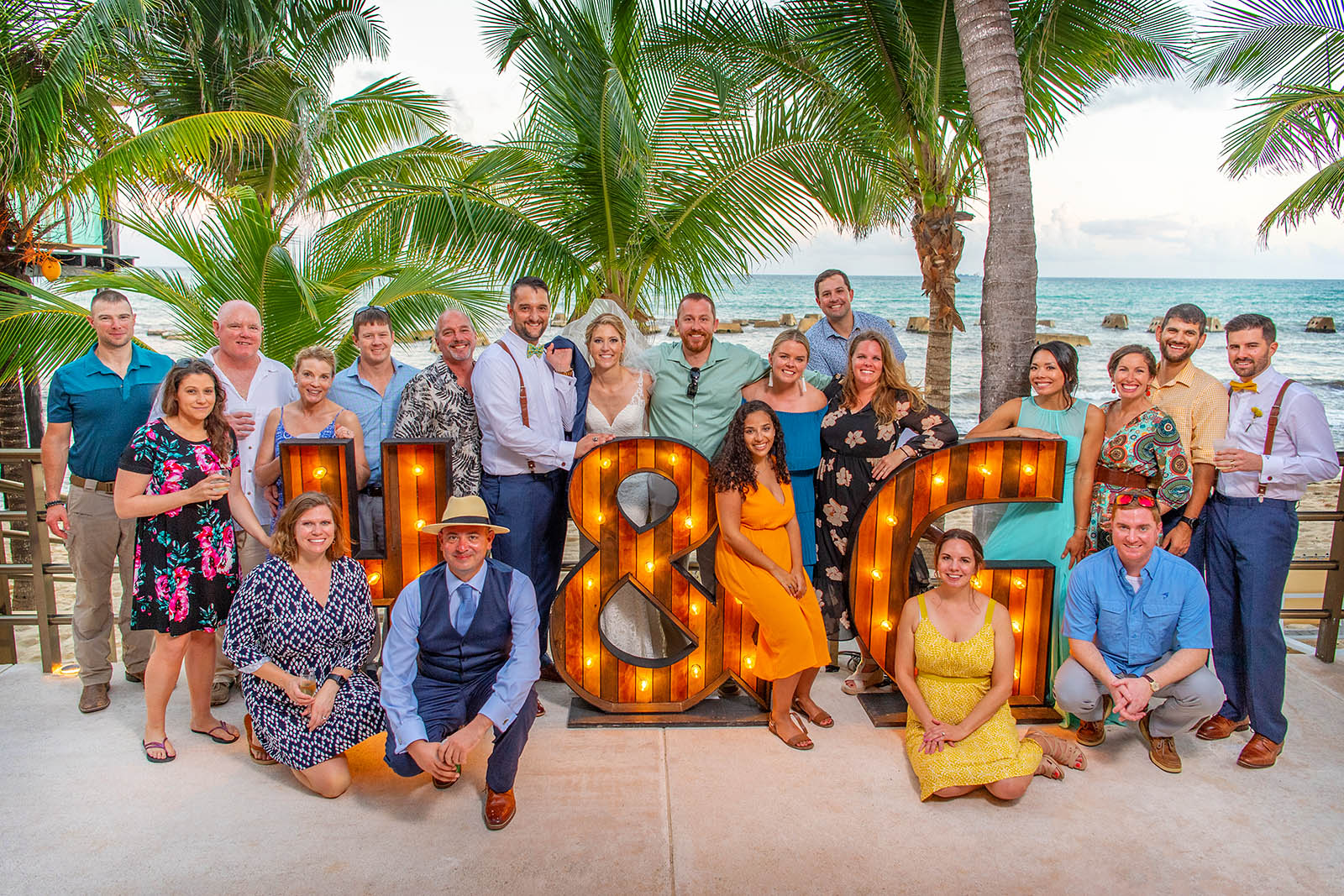 (above) Hillary & Gavin celebrated their love with a Destination Wedding south of the border in beachfront bliss at Generations Riviera Maya Resort. Situated on the shores of the stunningly blue Caribbean Sea, this secluded award-winning resort was designed with large groups in mind: 1, 2, and 3-bedroom luxury suites accommodate wedding parties & guests at this all-inclusive 5-star property. There are 5 restaurants to enjoy on-site and guests can also dine at the 16 restaurants and bars at Generations' sister properties, El Dorado Royale and El Dorado Casitas Royale.
Scout the Venue
Whenever possible, visit the destination and the chosen venue in person before the big day. This visit allows you to visualize the layout, make any necessary adjustments, and meet with vendors face-to-face. If an in-person visit is challenging, consider a virtual tour to gain a better understanding of the space.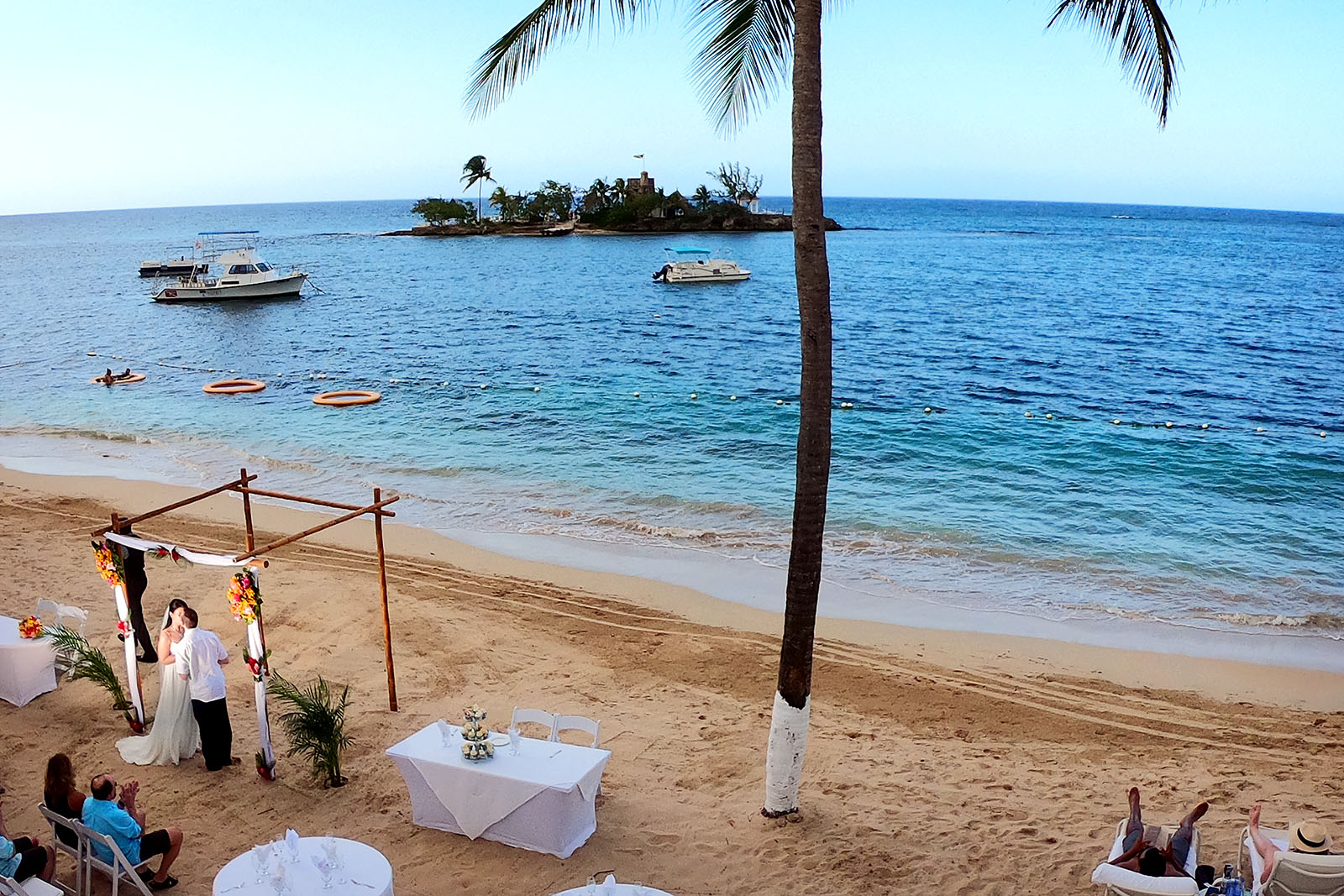 (above) Couples Resort Tower Isle located in Ocho Rios, Jamaica offers wedding couples four unique locations to get married: Ocean Front below the swaying palms and bamboo altar surrounded by up to 150 family members and friends, the Seaside Gazebo overlooking the Caribbean Sea, a more secluded Lush Garden location or you can choose to wed on their Private Island with up to 60 guests featuring a unmatched private ceremony and reception.
Plan for Weather Contingencies
Outdoor destination weddings can be affected by unexpected weather changes. Have a backup plan in place, whether it's an indoor space or renting tents, to ensure the ceremony and celebrations can continue seamlessly.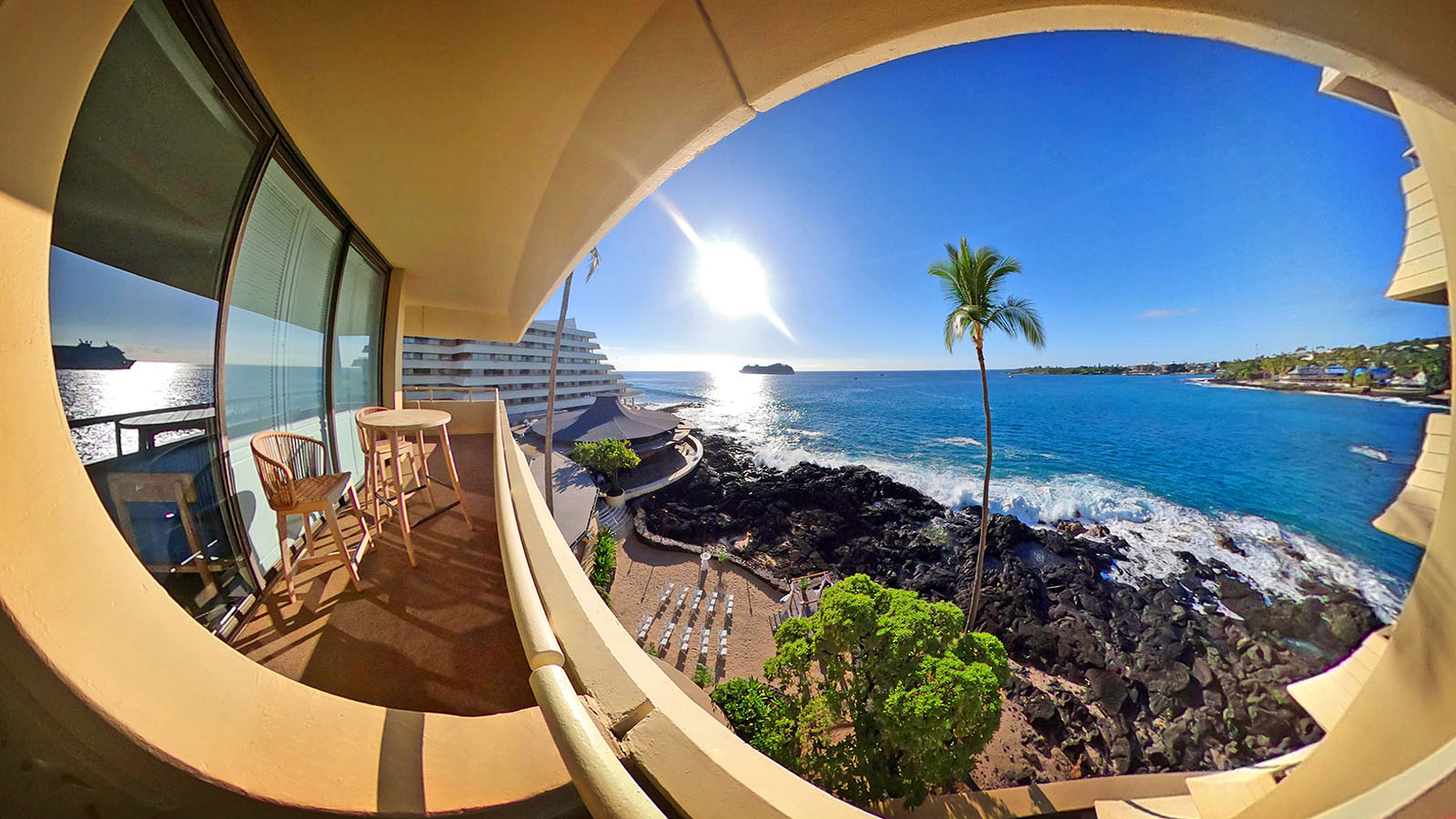 (above) Imagine beginning your happily-ever-after on the sun-soaked Kona Coast of Hawaii Island. The Royal Kona Resort on the Big Island in Kailua-Kona, Hawaii offers six versatile venues surrounded by lush foliage, lava rock and breathtaking dramatic sunset views for destination wedding ceremonies.
Communicate Clearly
Effective communication is key when planning a destination wedding. Utilize technology to your advantage, creating a wedding website or using social media groups to keep guests informed about updates, travel arrangements, and any changes to the schedule.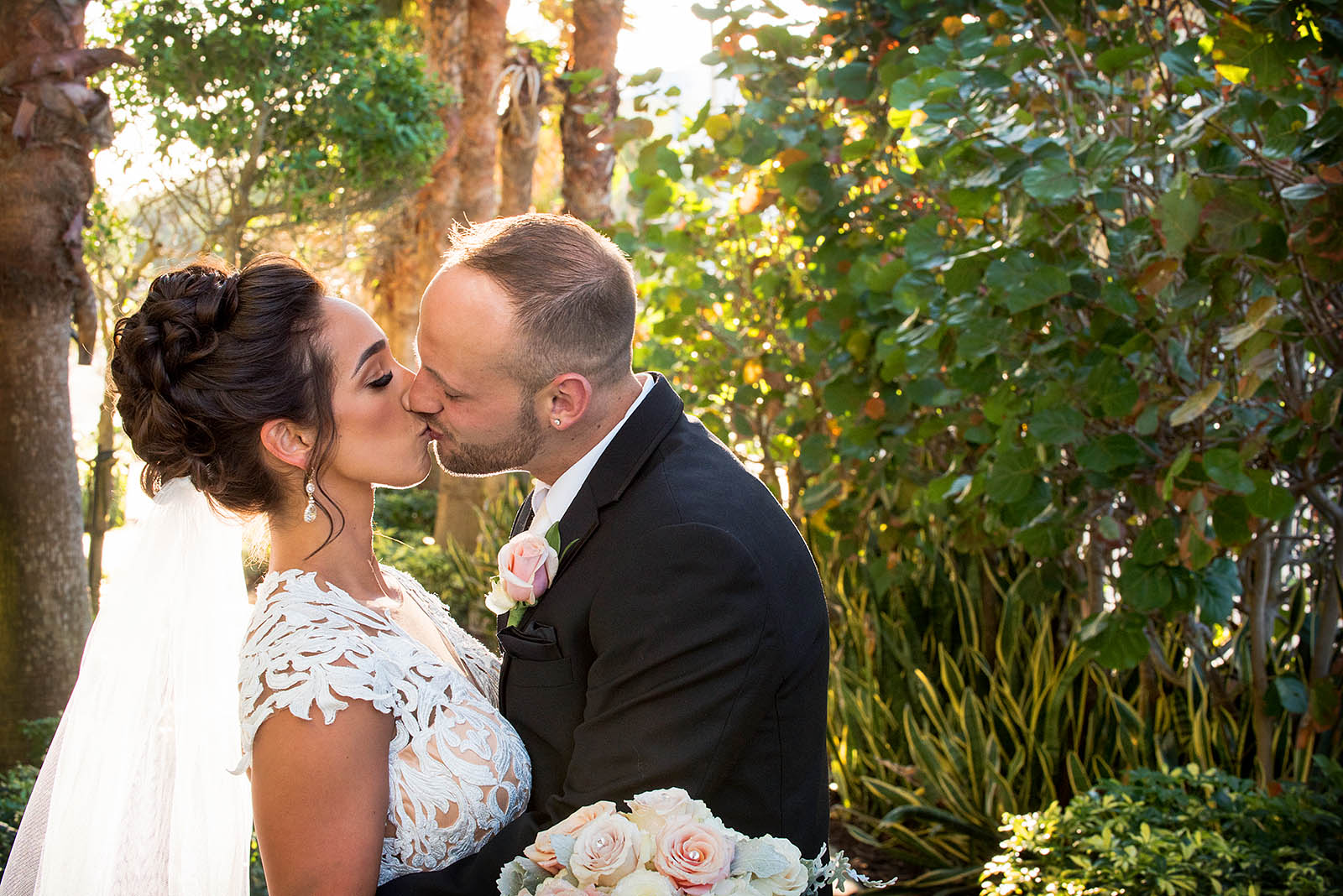 A destination wedding is an opportunity to combine your love story with the magic of a beautiful location. By meticulously planning ahead, considering your guests, and immersing yourselves in the local culture, you can create an unforgettable celebration that reflects your unique journey as a couple. With these expert tips, your destination wedding is sure to be a harmonious blend of romance, adventure, and cherished moments.
See more posts: