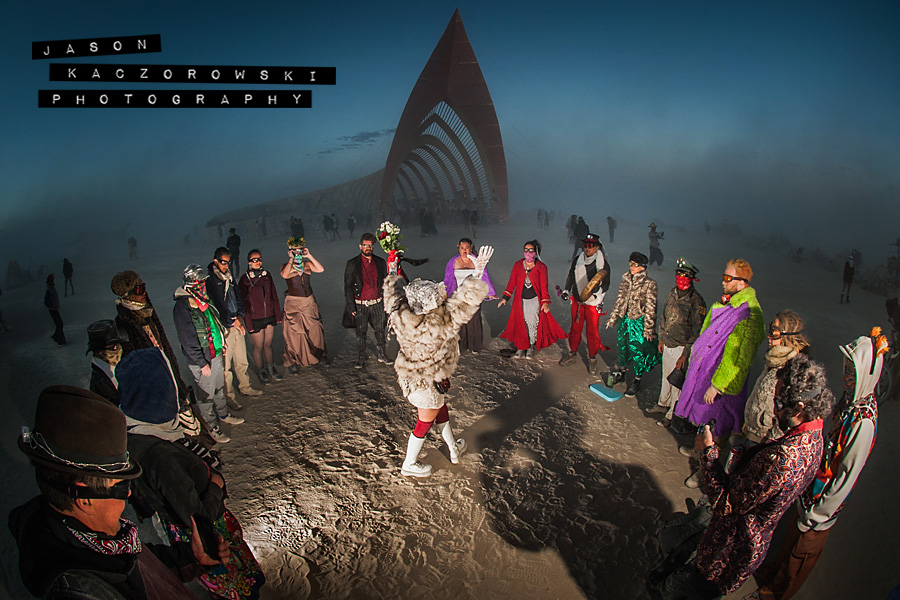 Metzalli & Chris
FRIDAY, SEPTEMBER 4, 2015
Burning Man 2015 – Carnival of Mirrors
Temple of Promise
Black Rock City, Nevada
Wind sweeps and swirls the fine dust through the air, creating a translucent curtain of white, powdery alkali that blankets everything in its path. 45mph gusts of dried ephemeral lakebed silt become Mother Nature's own coarse exfoliation. Ventilation masks prevent inhalation of playa dust into the lungs, turning to mud, clogging the alveoli and blocking the body's ability to intake oxygen. Goggles must be worn to see through the constant dust storms. Temperatures reach above 100 degrees by day and dip down to into the 40s at night. Bicycles are required to traverse the 60+ miles of roads – an area nearly 25% larger than the size of the city of San Francisco. No, this is not an ordinary wedding. This is an exercise in "radical self-sufficiency". This is Burning Man. This is Black Rock City… and it's trying its best to kill me.
New York Magazine's Daily Intelligencer reports, "As Burning Man and Silicon Valley meld, as the art here gets more elaborate and the accommodations more comfortable, Burning Man is becoming huge for weddings." Black Rock City's volunteer wedding coordinator Armadillo Puttanesca reiterates, "Wedding tourists who've never been to Burning Man think it sounds beautiful. It's not Hawaii! To get married here, it's a sacrifice." Fortunately my couple Chris Van Dyne and Metzalli Guel are veteran Burners. Metzalli returned this season for her 8th year at Burning Man to wed Chris on Friday, September 4th. And Metzalli knows a thing or two about love: She is an Ordained Priestess of Perpetual Love within an eclectic neo-pagan CAYA (Come As You Are) coven within the San Francisco Bay Area community. "I am the Priestess of Perpetual Love because I am an absolute conduit for divine love, it's like a fountain that runs through me. I have the gift of loving pretty much everyone, and for helping people realize how lovable they are," says Metzalli.
I rode to Chris and Metzalli's campsite on bicycle to capture photos of the couple's preparation. Metzalli applied her make-up inside a truck to prevent the dust and wind from spoiling her efforts. Chris escaped the elements and got dressed inside his tent. Friends gathered around outside under shade enjoying spirits at a makeshift bar supplied by their camp. Chris, along with the first wave of friends, rode the nearly 2 miles to an area known as the Deep Playa. Metzalli and a second wave of spectators and friends accompanied her on bikes a few moments later.
We arrived just before sunset at the Temple of Promise, a lobed spire arching nearly 100 feet into the desert sky. The skyward curving shrine invites participants deeper, offering a transformative path as it gradually twists and tapers down before opening into a grove of weeping willow trees. The branches of the trees are initially bare. Participants write messages on long strips of cloth and attach them to the trees, creating the gentle shade of weeping willows. The temple has become an annual space of memorial and contemplation on the playa. It has also become a place for celebrating life and love so it was befitting for Chris & Metzalli to wed before it. Weddings have occurred in temples since the early 1500s. As the Roman Catholic Church became a powerful institution in Europe, the blessings of a priest became a necessary step for a marriage to be legally recognized. By the eighth century, marriage was widely accepted in the Catholic Church as a sacrament to bestow God's grace.
The ceremony began with a grounding ritual by calling upon the elements. Next the couple made their way around their circle of friends hugging and thanking them for being a spiritual part of their lives and their day.
Next Metzalli performed a dance for her ancestors followed by calling upon her four Goddesses: La Santisima Muerte, Mistress of Death, a protectress who guards from all harm while reminding that every moment is precious; Hekate, Queen of Witches, who provides vision to see between the worlds and connects the Quantum Sea; An Morrighan, the Great Queen, who provides bravery and strength for the battle; and finally Aphrodite, Lady of Love, who provides the power to love thyself and others truly and fully.
As the couple's officiate spoke of love, perseverance and understanding, Metzalli wanted their vows to signify fully trusting one another so the couple performed a dagger (or athame) ritual which stems from Gerald Gardner's writings on the first degree of Initiation (origins of Wicca, with Gardner's own Book of Shadows, the athame represents fire). Holding a dagger to another's throat is a way of knowing they fully trust you and vice versa and in doing so, Metzalli wished to express the trust the couple has for each other visually.
The ceremonial dagger tradition was followed by a song Metzalli performed on acoustic guitar. Tears flowed through the crowd and dust trailed off of Chris' cheek.
Finally, the couple performed a traditional pagan handfasting ritual – a historical term for "betrothal" or "wedding" – and recognized as another visual bond between two people, to reinforce that the couple is now one. Friends danced in a circle surrounding the newlyweds to raise the energy of the moment and celebrate the couple's union.
Fires raged off in the distance as Metzalli and Chris shared their first kiss before hopping onto their bikes and riding off into the flames.