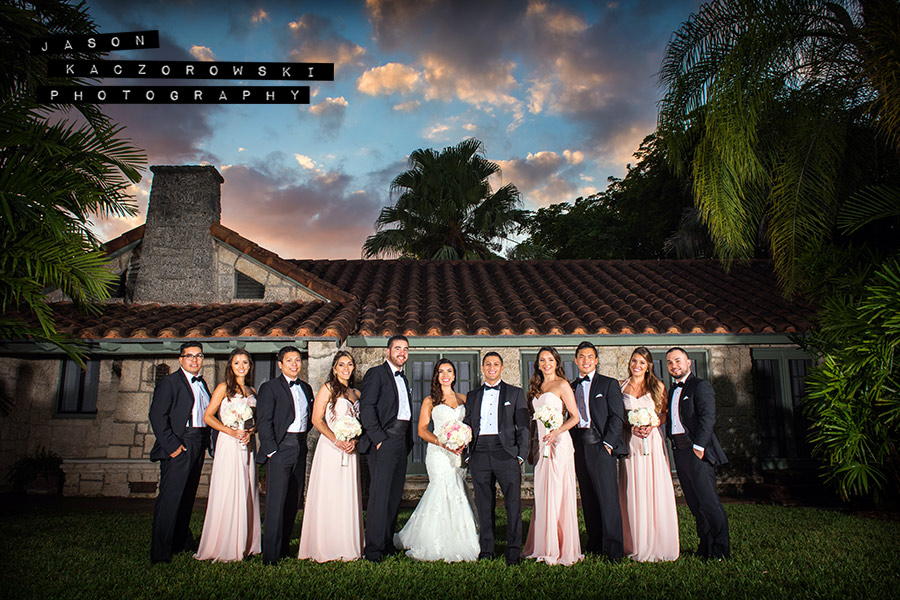 The Cooper Estate
Miami, Florida
Marcela & Abraham
Saturday, November 19, 2016
Epic Hotel
Saint Mark Catholic Church
The Cooper Estate
Chicago, Illinois
Event Coordination • Cooper Estate | Donna Ingram
Preparation Location • Epic Hotel
Make-Up Artist • Chrysti Artistry
Hair Stylist • Chrysti Artistry
Wedding Dress • The White Dress Bridal
Floral • Yira de Oro Floral Design
Ceremony • Saint Mark Catholic Church
Reception • The Cooper Estate
Cinematography • Dana Lynn
Transportation • Jessys Limousines
DJ • Entertainment Management Group
I first met Marcela and Abraham last Fall when the couple hired me to capture their engagement session photos in Chicago. The two were so impressed with their engagement pictures that they explored the opportunity to commission me to travel to Miami to capture their wedding. From the moment I met the couple, I knew I would absolutely love to photograph their wedding. Being around Marcela and Abraham is like being embraced by a warm hug. The two exude such a genuine love for one another and deep appreciation for their family and friends. Once they inquired about having me capture their wedding in Florida, I knew there was absolutely no way I could let the opportunity pass as the couple are just two people who make me want to strive to move heaven and earth to be surrounded by their love and friendship.
My team and I arrived in Miami on Wednesday, three days before the couple's big day, in order to attend their wedding rehearsal at Saint Mark Catholic Church. Following the rehearsal, Abe and Marcela invited us back to their incredible apartment in Fort Lauderdale where the couple hosted an intimate gathering of wedding party and family on their rooftop catered with gourmet food and surrounded at eye level by skyscrapers and dotted below by luxury yachts.
As I had two days until the couple's wedding, I explored Miami's South Beach and drove through the Florida Keys. I visited The Turtle Hospital in Marathon, Florida which is dedicated to the rehabilitation of endangered sea turtles. While visiting the non-profit organization, I adopted a sea turtle in the name of Marcela and Abraham and surprised the couple at the end of their wedding with their turtle's adoption certificate.
After basking in the gorgeous South Florida sun Thursday and Friday I couldn't wait for Saturday to arrive to capture the couple's wedding. The day began early at Miami's luxury Epic Hotel where Marcela and Abraham began getting ready with their bridesmaids and groomsmen. The couple's suites overlooked spectacular views of downtown Miami and Brickell Key. After capturing details and a bit of bridal preparation, I met Abe and his groomsmen for portraits atop the hotel's swanky pool deck overlooking the Miami River, Biscayne Bay and the Port of Miami. Soon I was calling a valet to retrieve my car in order to drive north to Southwest Ranches in order to capture the couple's ceremony at Saint Mark's Catholic Church.
The sprawling 25 year old, 15 million dollar Saint Mark's Evangelist Catholic Church in Southwest Ranches, Florida is an incredible location for a wedding ceremony. Father James "Jimmy" Essig performed the matrimony service which included a unique "Ave Maria" performed on piano by a special relative flown in as a surprise by Marcela's Father, Diego. Marcela noted that capturing Abraham's reaction of her coming down the aisle was one of her must-have moments. Abraham choked back tears of happiness as his bride was escorted by her parents down the aisle.
We raced against the setting sun an hour south to Homestead, Florida where the couple hosted their incredible wedding reception at The Cooper Estate. The Cooper Estate is a secluded yet spacious limestone manor nestled inside three private acres featuring massive oak trees and finely manicured grounds. Outside, the property exudes charm underneath a canopy of exotic palms. Inside the venue, candles float in vases bouncing flickering light off cedar-lined walls, offering an old world ambiance.
Marcela and Abraham kicked off their reception with introductions, a heartfelt first dance, dances with their parents and rousing toasts from their fathers and wedding party. The real excitement though began about 45 minutes into the couple's reception with La Hora Loca or "Crazy Hour" provided by performers from Top One Entertainment. La Hora Loca is based on a New Year's Eve celebration in Spain. In the Dominican Republic it's called 'Carnaval' as it is in Brazil, while other cultures may simply call it "Festival." La Hora Loca is like a carnival rolling through a wedding reception. The Latin wedding tradition begins when the lights dim, drums thump, sirens blare, sound surges, and suddenly, exotic performers begin parading through the room. Feathered dancers and martial artists somersault through guests and wonderful chaos abounds in every direction. Abraham and Marcela donned masks and party hats; sun glasses and LED light-up foam batons were passed through the crowd of revelers. The Hora Loca lasted only an hour yet the energy that was brought to the room pulsed until finally the lights came on late in the evening.
Marcela and Abraham, thank you so much for trusting me to capture your wedding. Getting to know you, your family and friends has been a unique privilege in my life. From photographing your engagement photos in Illinois to your rehearsal, wedding ceremony and reception in Florida, every minute I'm surrounded by you and your love I am enriched by your energy and extremely thankful that I was blessed with the opportunity to get to know you both. I hope you love your photos as much as we loved capturing them and spending time with you both.