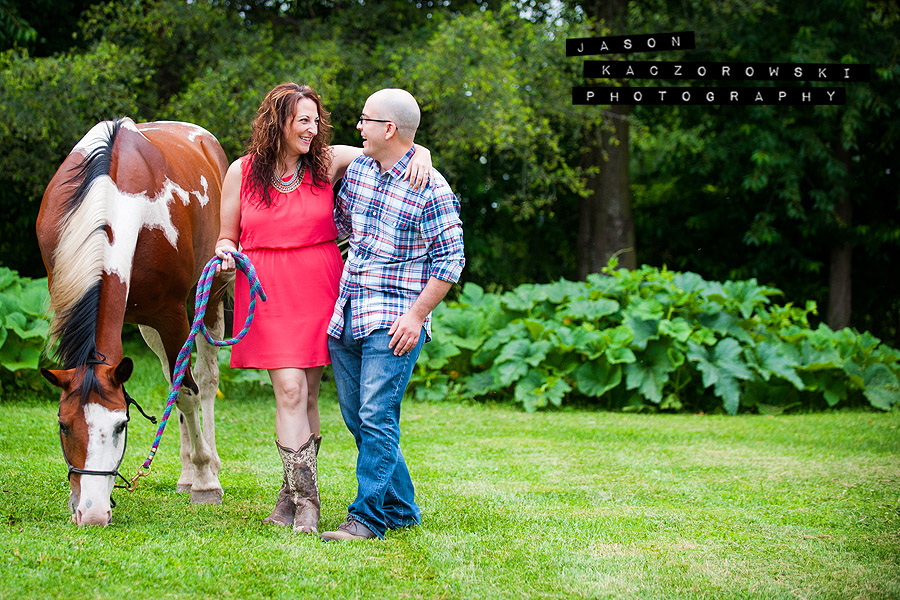 Megan + Chuck
Engagement Session
Erin's Farm
Monee, Illinois
Megan and Chuck are my first couple of 2014 to donate to the Help Rebuild Erin's Farm fund.
Though the couple's portraits were scheduled as a sunset session and I was very excited to capture photos in the country under the setting sun, unfortunately the sun didn't want to cooperate with us and poke out of the clouds yesterday. Toward the end of our portraits it also unfortunately began to drizzle. As you can see though, a little clouds and rain couldn't spoil Megan & Chuck's laughter and love. The couple was beaming with happiness from having the opportunity to cuddle with animals and one another.
Couples often ask me when scheduling their engagement pictures what happens if it rains or is overcast. Sometimes the weather doesn't look like it's going to cooperate before our session and I'll suggest we reschedule 24 hours prior to our appointment. I often create a back-up date when I schedule an initial appointment just to be safe. Based on the forecast and our availability, this can often be back-to-back days. If you arrive to your portrait session and it begins to rain or the skies are overcast, if I feel we could capture better portraits during another session we may capture what portraits we can using various lighting techniques and then reschedule our photos for a quick follow-up session. I often reschedule sessions when the threat of rain is greater than 40% as it's not only the precipitation but added cloud cover blocking the light from beaming down during our portraits. I want my clients to love their portraits and if that requires waiting for the sun to smile down us on another day then sometimes we reschedule our session.