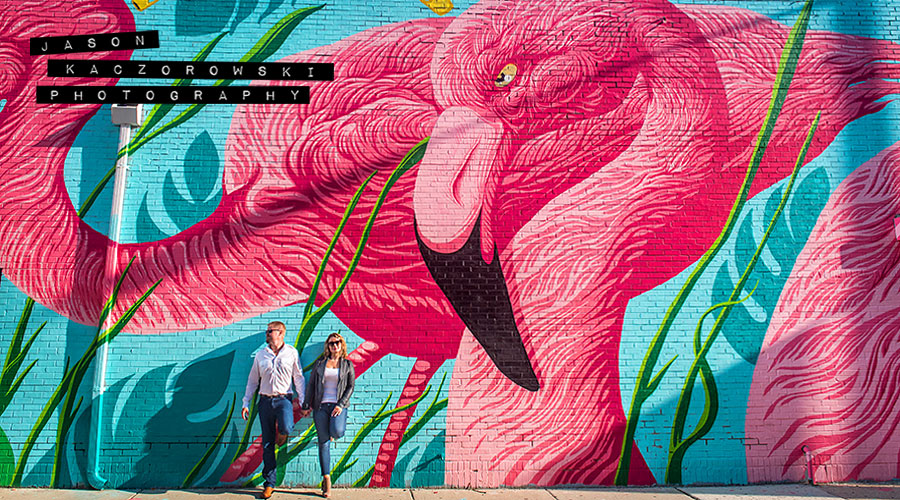 When Ela asked me to photography her engagement photos I knew the best Chicago engagement session locations to take her and her fiance, Steve. The two are getting married this November in Florida so it was natural to end their portrait session outside Phil Stefani's hot new Flamingo Rum Club at Wells & Ohio in order to capture photos beneath Andrew Ghrist & JC Rivera's latest street art collaboration of Flamingos.
We started the couples engagement session at sunrise. Sunrise is my favorite time of the day to capture engagement session pictures in Chicago because the light is so amazing, there's always parking and hardly anyone is awake so the city feels like it belongs to just my couples during their portraits. North Avenue Beach has become a staple to start many city engagement sessions because of the incredible sunrise over Lake Michigan which beams off the Chicago skyline and illuminates the sky with burning yellows and deep blues.
Another great spot to visit after stopping at the beach for photos is the Lincoln Park Zoo's Nature Boardwalk along the South Pond entrance of the park. Inspired by a tortoise shell, the zoo's most iconic attraction, which has been called "The Honeycomb", is a laminated structure consisting of prefabricated bent-wood and a series of interconnected fiberglass pods that give global curvature created by Studio Gang Architects. There's also a terrific bridge to photograph from which offers another amazing skyline view of downtown Chicago. On the opposite side of the Lincoln Park Zoo along Fullerton is another one of my favorite Chicago engagement session locations, the Alfred Caldwell Lily Pool. The Lily Pool was originally part of a Victorian garden built in 1889 by landscape architect Alfred Caldwell which has been called "a hidden garden designed to resemble a river meandering through a great Midwestern prairie".