Brewery Wedding at Chicago's Revolution Brewing
Unlike most wedding venues, breweries offer unique perks such as an assortment of craft beers on tap that you won't find at normal reception halls plus the ability to visit over and over to relive your special day. Revolution Brewing, located in Chicago's Logan Square neighborhood, has hosted over 500 weddings since 2011 and offers a dedicated team of party planners for events. Grace and Santos chose Revolution Brewing's Brewer's Lounge to host their wedding reception which offers a warm and inviting atmosphere of hand-carved mahogany wood, built-in bookcases flanking a wood burning fireplace, exposed brick walls accented in ornate lighting fixtures and upcycled remnants from bourbon barrels. Picturesque windows fill the space with natural light and provide a view of the bustling Milwaukee Avenue. The couple put their personal touch on the venue by decorating in succulents which acted as not only table card holders but also favors for their guests!
Santos met Grace by complete happenstance while the two were only in middle school. "It involved some mutual friends and a 3-way phone call. We talked, exchanged numbers and AIM screennames then spent countless hours over the next few years chatting on the phone or computer building a friendship" says Grace. "Time went on, eventually I moved to Cleveland and Santos ended up in Saint Louis. We talked less and less until we fell out of touch. That all changed one night about 3 years ago when I missed my old friend, the nicest guy I had ever known. I decided to dial his old phone number. Luckily, he picked up. We reconnected as friends, as more, and the rest is history!"
Grace admits she can't pinpoint the exact moment in time when she knew she couldn't wait to spend the rest of her life with Santos but she believes, "it's more the result of consistently showing up for one another, with love and respect, time and time again. Those moments have culminated and we've become such a strong team that I couldn't imagine life any other way."
How did you get engaged?
"We dated for about 2 years long-distance before Santos returned to the Chicago area and we moved in together. Both of our families live nearby, and everyone was very excited that he was moving back home. After we got settled into our new place, Santos suggested having a BBQ at the park on the lake just down the street under the guise of showing both of our families our new neighborhood and apartment. The REAL motivation for the party was for him to propose, and everyone was in on it but me. He got down on one knee in front of both our families and asked me to marry him in Spanish, because I had once joked to him that 'everything sounds better in Spanish'. It was the first time that we had gotten together with both his and my family which made it so special. We had the best time celebrating the engagement with everyone that night."
What were you most looking forward to on your wedding day?
"We were both very excited to enjoy all the delicious food and beer that we could dream of and dance the night away with our family and friends!"
What surprised you the most on your wedding day?   
  "How perfect the entire day was."
Was there one person who really touched you that day?
"He didn't try to, but my son Quincy. When Quincy and I danced together, I was really touched by reflecting back on how far we've come and where we are going. Most of his life it's been just him and I. We faced a lot of struggles together with me being a young single mom. So having that moment to recognize just the two of us and to think about all that we have overcome and to look forward to our new chapter with Santos was a very precious moment for me."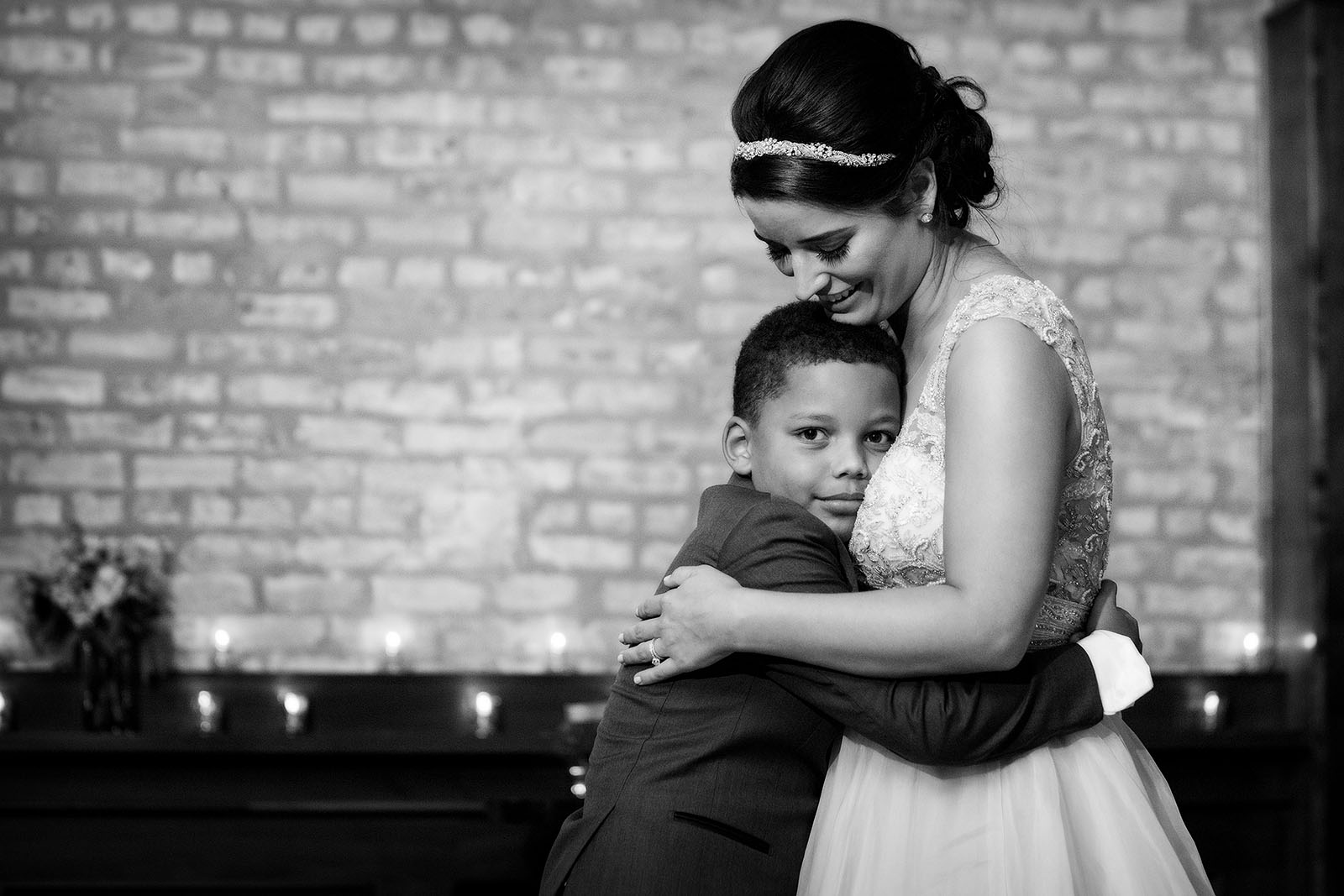 What was the most surprising thing at your wedding?
"Even though we had a first look and I enjoyed spending some time with Santos and the guys before the ceremony, I was so surprised that I still had tons of butterflies, heart pounding out of my chest excitement right before walking down the aisle."
What was the best thing that happened at your wedding?
"Santos tried to drink champagne from the bottle while hanging out of the window on the trolley. He ended up just spraying it all over his head and worrying about how his hair looked. Also, our ring bearer, Quincy did the "dab" with hilarious timing during the ceremony."
Is there any advice you would give to couples planning their wedding?
"Compromise in the planning process, make sure that there are elements incorporated that are important to each you and your future spouse. If there is a tradition that you don't want to carry on, don't be afraid to leave it out. After you've put so much thought into planning, on the day of, just let it all go and trust that it will be perfect no matter what."