COUPLES CONFLICTED OVER COVID CONFIDENCE
2021 wedding couples are feeling conflicted in the confidence that they'll be able to host their weddings in 2021 as they originally envisioned. According to The Knot, "After a year of pivoting plans, 60% said they're confident about their rescheduled wedding reception dates." In fact, these statistics nearly mirror an identical question posed to Jason Kaczorowski Photography's 2021 wedding couples: What level of confidence do you currently feel about being able to host your events as you envisioned in 2021. The resounding response shows couples are still feeling a little on the fence. Only 50% are confident that they will be able to host their weddings as they originally envisioned. Meanwhile, 14% of respondents said they were absolutely 100% confident while 14% said they had only 10% confidence that they would be hosting their weddings as they originally envisioned in 2021. 
The survey, conducted in February of 2021, polled 78% of couples who had rescheduled their weddings previously from 2020 and 22% who were planning their weddings for the first time in 2021.
71% of couples surveyed were not considering rescheduling their 2021 weddings while 29% said they have been thinking about rescheduling their weddings until the pandemic subsides.
"Our hope is to not hold our wedding until there is herd immunity or require all guests are vaccinated that will be attending" confessed one couple. Others were more optimistic saying, "We are hoping we don't have to require our guests to wear masks and that everyone can get vaccinated prior to August (2021)".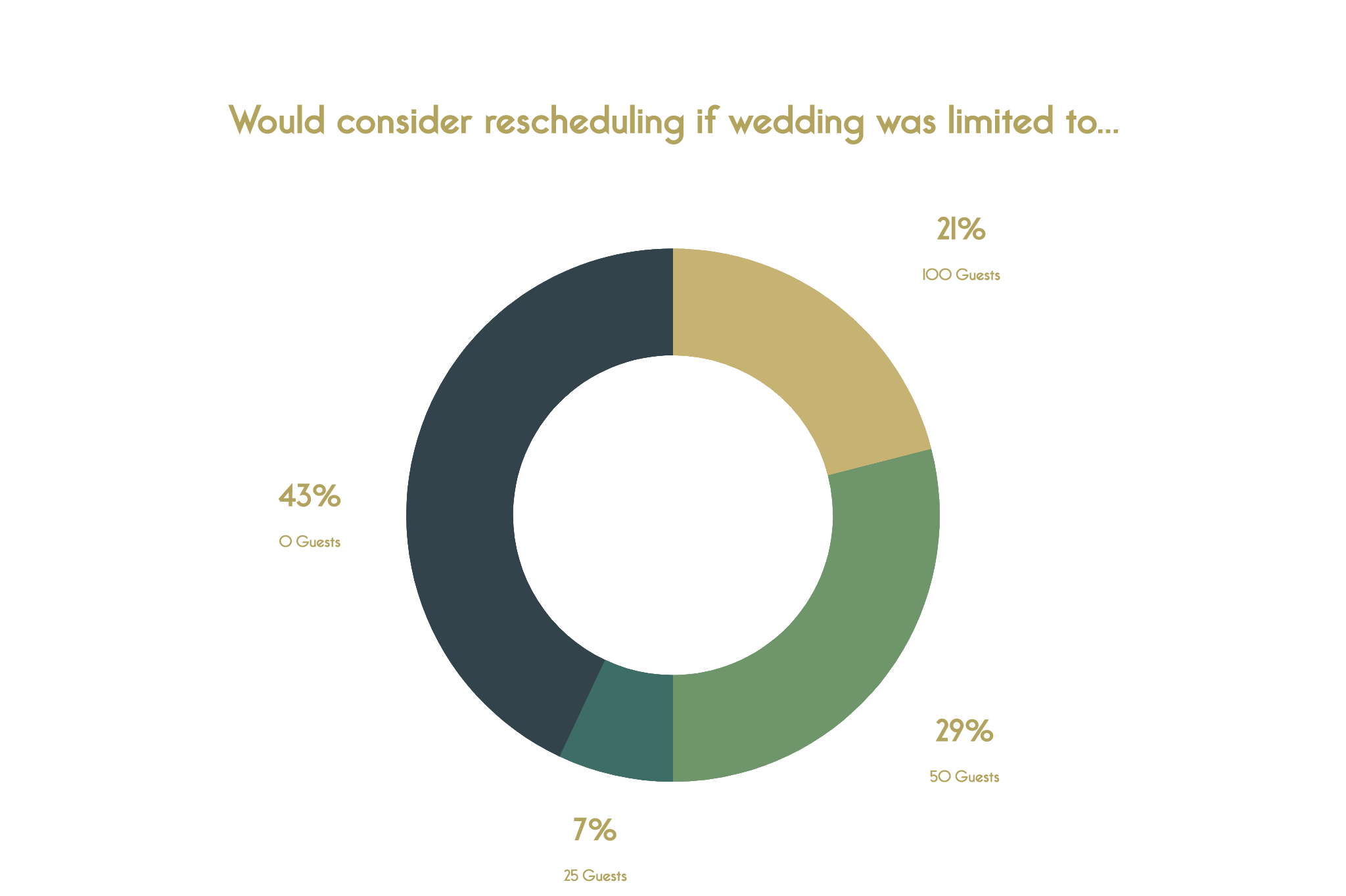 (above) 43% of 2021 wedding couples said they're ready to proceed even if no guests could attend their weddings in person. 
Survey respondents are feeling more confident that events may still occur as they envisioned as we approach this Fall.  "We are optimistic about Fall 2021 and will follow the CDC recommendations. We already waited a year so October 23 will be our wedding date regardless of the circumstances," said one couple while another Fall 2021 client stated, "We are moving forward with our event as planned, and if it can't involve all of our guests (25ish), it will just be immediate family. Either way, we're sticking with 9/10/21!"
Wearing a mask is one of the most effective ways you can ensure the safety of yourself and others. Even if you're hosting an open-air ceremony and outdoor reception , you still must comply with CDC guidelines and wear a mask if you're within six feet of a loved one, wedding party member or guest. Our survey suggests that half of all weddings this year plan to wear protective face coverings to protect others.  
Whether you're hoping to host a standard-sized wedding or considering a minimony / microwedding instead, have you considered how critical a dance floor is to your celebration? 50% of respondents claim they would cancel their wedding if they couldn't dance during their reception with their guests.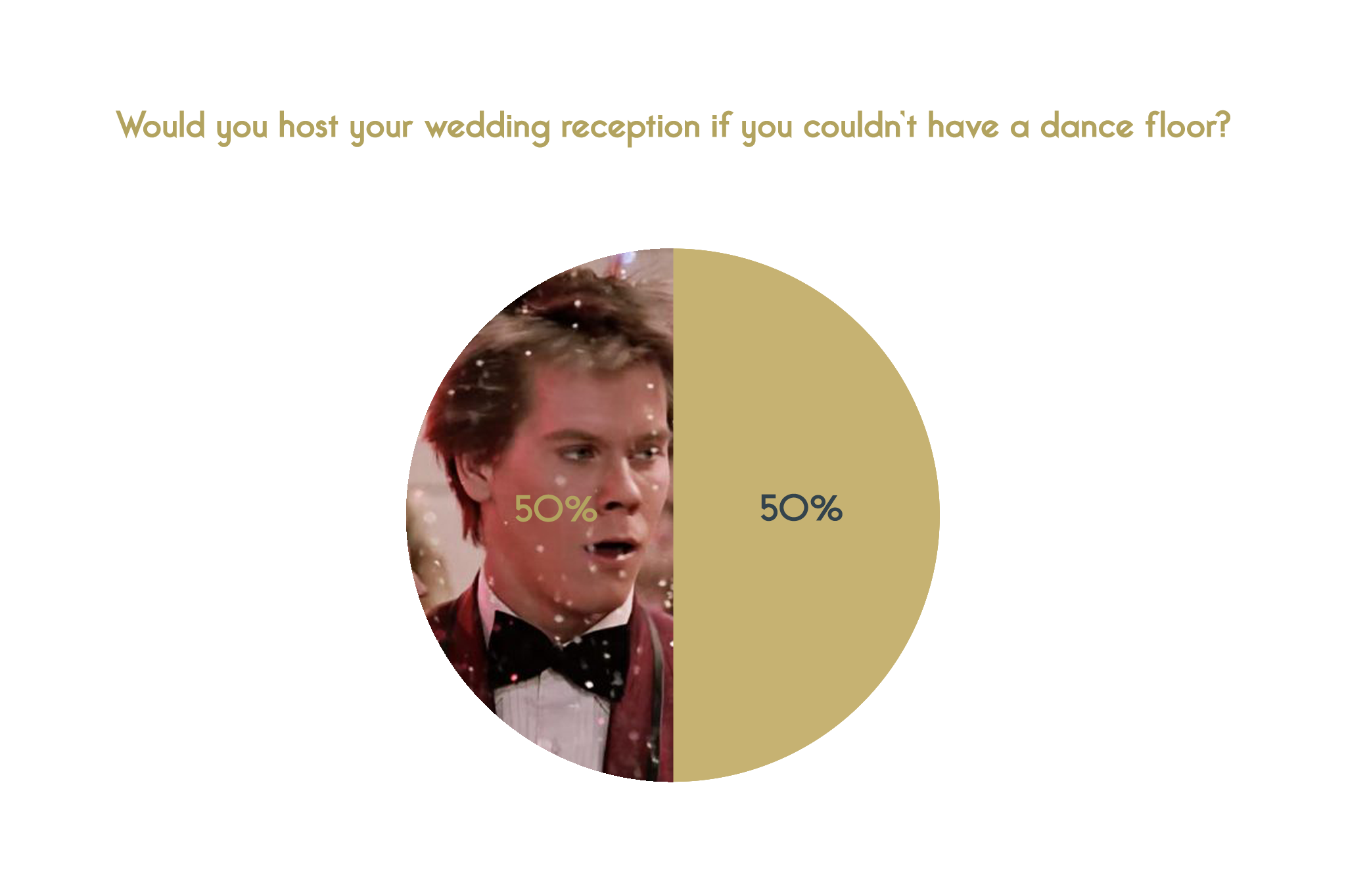 It's a smart idea to encourage your guests to socially-distance before your wedding day i.e. – limiting unnecessary contact with others for two weeks ahead of your event. That way, you can feel confident that your guests have lessened their chances of contracting the virus and spreading it at your wedding.
You can also encourage guests to get tested before the event to confirm whether or not a guest was to test positive for the virus and require quarantine.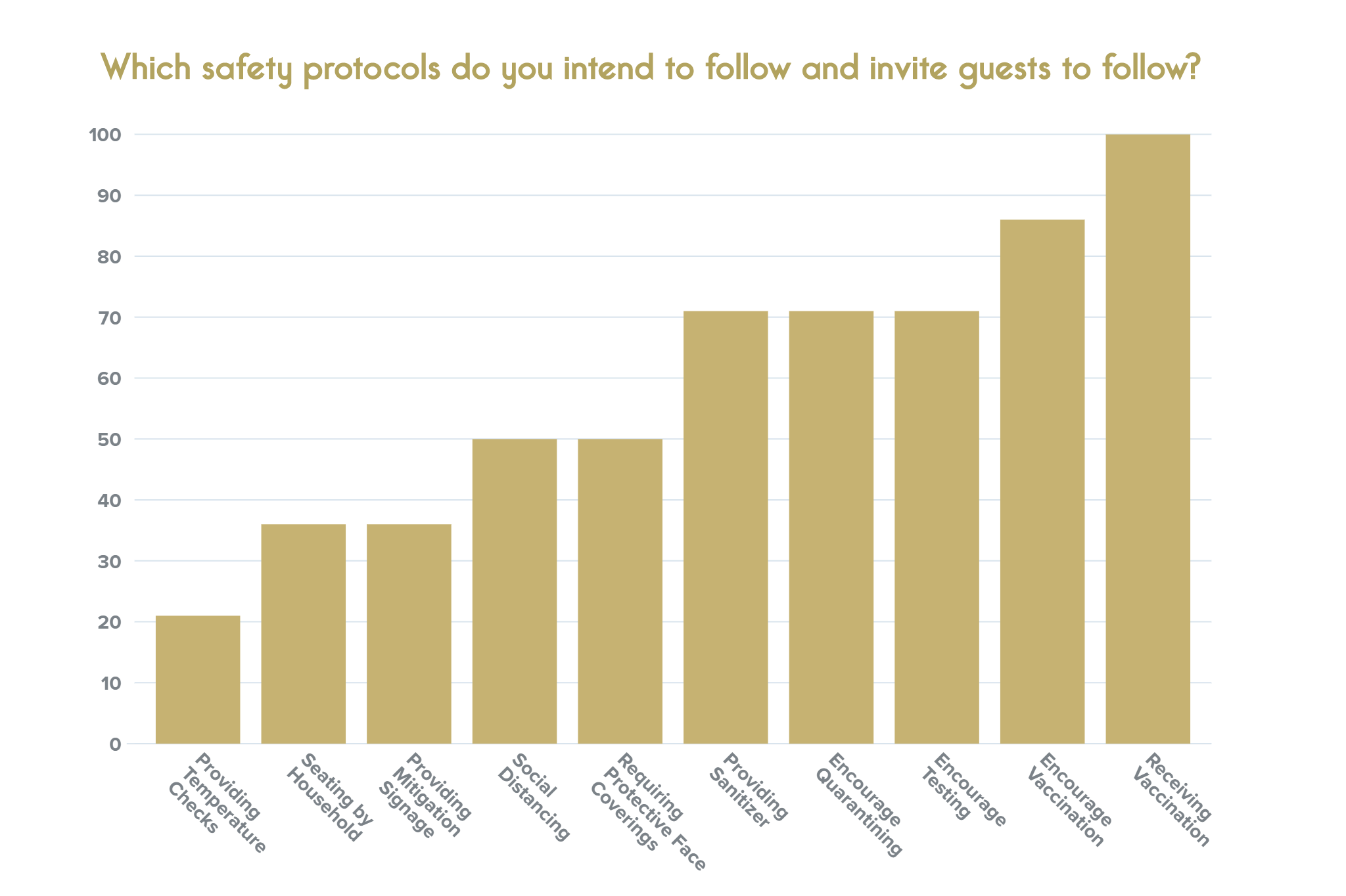 (above) Over 70% of couples confirm that they will encourage their guests to get tested and quarantine both prior to and following their weddings.
See more posts: